Senior international basketball preparation came to an end
---
---
Pierre Vincent's senior international basketball preparation matches ended with a hard fought victory against Brazil (69-59)
to complete the tournament sweep
.
This was the first match between the two nations since the 2002 FIBA World Championship for Women.
Adriana Moisés Pinto gave a master class display as a point guard during the first 10 minutes as Brazil dominated the game (23-12).
Elodie Godin started the French comeback in the second quarter with back to back scores for her side to go into the locker room trailing by just 4 points (27-31).
This so called friendly (exhibition) match became more physical during the second half and became more aggressive.
France spent all of the third quarter chasing after the game. Despite reducing the deficit to a single point at one stage they went into the final quarter trailing (41-47).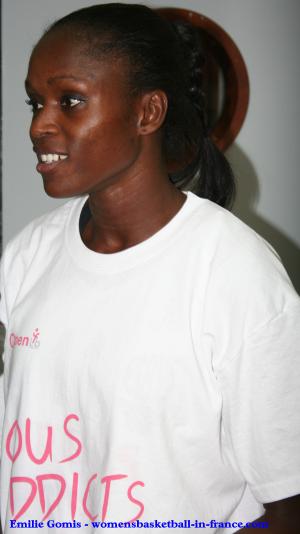 The final 10 minutes were drama all the way. The French youngster Marielle Amant and Brazilian veteran Alessandra Santos de Oliveira had a little clash as they both attempted to mark their territory in the paint.
Jennifer Digbeu and Palmira Marcal traded three-pointers for the opening scores with the game becoming more intense.
Gomis (right) was giving the Brazilians a lot to think about with her energetic play.
Pauline Jannault-Lo with a trey, Céline Dumerc and Nwal-Endéné Miyem with back to back scores brought France to within 3 points of Brazil with six minutes left to play (51-54).
One minute later France went in front (55-54) after Marcal was called for an intentional foul on Gomis.
The teams were tied for the second and last time in the game (57-57) with four minutes left to play after a three-point play by Moisés Pinto.
However Jannault-Lo put France in front for good with a three-pointer 20 seconds later. With 90 seconds to play Gomis more or less made the game secure with her only three-pointer and 14th point of the game.
For Gomis the game ended on a bad note as she had to leave the game injured with about 90 seconds left to play.
France went on to win (69-59) with Gomis leading the way with 14 points. Jannault-Lo scored 12 points while Dumerc and Miyem both scored 10 points each. Dumerc also dished out 7 assists.
Moisés Pinto was the only player from Brazil in double digits with 13 points.
France have played a total of 12 official senior international basketball matches as part of their preparation of which they won 10.
Argentina beat Japan (64-63) with a three-pointer buzzer beater by Caroline Sanchez to win the last match of the competition.
It was a thrilling match that Japan thought to have won when Nago Yuko scored with less than three seconds on the game clock. However they failed to cover Sanchez who fired in a shot from way behind the three-point line.
Florencia Fernandez led Argentina with 25 points while Sanchez finished with 22 points.
Ayumi Suzuki and Mati Takada scored 16 points each for Japan.
---
Return from new bulletin to France senior international basketball page
GO Back to the top of the page
---
senior international basketball picture credit:
womensbasketball-in-france.com

Date created: 18 September 2010
---