Senior international basketball
Third quarter was enough for France
France senior international basketball preparation continues with a short training camp in the Czech Republic.
After a successful
tournament in Ain
, Pierre Vincent was impatient for the series with the Czech Republic because it would provide his team another style of basketball.
He was not disappointed as his players had to work hard and find solutions in order to go into the locker room leading (40-38).
Emméline Ndongue had a perfect first half hitting all her shots to lead the team with 10 points.
After the pause, France switched defensive systems which stopped their opponents from scoring for five minutes.
At the same time, a trey by Edwige Lawson-Wade, 4 points by Emilie Gomis and a free-throw from Isabelle Yacoubou-Dehoui enabled France to go 10 points clear (48-38) after 25 minutes.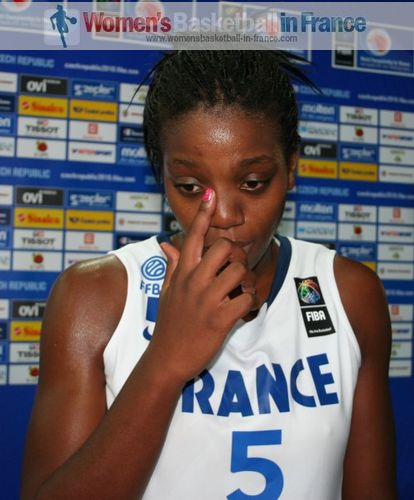 The attempt by the Czech Republic to reduce the deficit was stopped by Nwal-Endéné Miyem (left) who responded each time in scoring 6 consecutive points for France.
France went into the final quarter leading by 11 points (55-44) and had a maximum lead of 15 points (63-48) with eight minutes left to play.
France controlled the rest of the match to win the first game (74-60).
The scorers for France were: France: Isabelle Yacoubou-Dehoui 5, Nwal-Endéné Miyem 10, Clémence Beikes 2, Sandrine Gruda 6, Edwige Lawson-Wade 14, Céline Dumerc 11, Jennifer Digbeu 0, Emilie Gomis 9, Aurélie Bonnan 0, Emméline Ndongue 12, Marion Laborde 3, Florence Lepron 2
Eva Vítečková led the Czech Republic with 9 points while Katerina Elhotova and Jana Veselá scored 8 and 7 points each.
---
Return to senior international basketball
Return to the top of page
---
Senior international basketball picture credits:
womensbasketball-in-france.com

Date created: 02 June 2011
---