LFB on break - time for friendly match for Saint Jacques Sport Reims
---
---
Saint Jacques Sport Reims and Charleville played each other in a friendly derby match yesterday evening. Both sides used this match in preparation for the return to league action for the coming weekend.
You will be able to find the official French communication issued by Saint Jacques Sports (communiqué en français) here by following this link.
Reims will face Aix-en-Provence while Charleville will travel to NF1 leaders Nantes-Rezé in the top clash of the weekend in NF1.
Charleville are currently second in NF1 and were eliminated from the Coupe de France by Mondeville (69-80) last week.
So this friendly encounter was perceived to be a good test by the technical staff of Reims.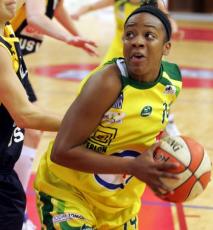 Mia Fisher (in picture) has become an important offensive weapon for Reims. She led the scoring with 18 points.
Marie Laure Kindoki-Fleury and Zuzana Klimesova used all their experience in dominating the paint and scored 12 and 6 points each.
With not much at stake in the match Reims were not consistent in their execution during the first half of the game: They won the first (16-12) but conceded the second quarter (12-13).

A few short words by the coach during the interval was all the players from Saint Jacques required as they prepared for the second half of the match. Well executed transitions during the third period enabled them to stretch their lead to (48-37) going in the final stanza.
Reims held off the challenge of their guests in an offensive final quarter to win (73-57).
Reims: Fisher 18, Kindoki-Fleury 12, Sy 11, Fresnais 9, Blanquart 9, Klimesova 6, Sinico 4, Parau 4, Pagnier 0
Charleville: Ouerghi 12, Vishnyakova 9, Mercier 7, M'Paka 7, Contessi 6, Cailleux 6, Herrscher 4, Senghor 2, Behey 2, Bouderra 2
Return from Saint Jacques Sport Basketball LFB News
Pictures courtesy of lunion.presse.fr (François NASCIMBENI)


Date: 28 February 2008
---