Preparing for playing basketball professionally
a job for Grégory Halin
Grégory Halin
's main objective is developing young basketball players for the rigours of playing basketball at a professional level.
After nine years working with the Centre Fédéral de Basket-Ball (CFBB) he has seen different generations of players who passed through the system.
Today Halin is still working for the CFBB and his official title is Entraîneur National de la Fédération de Basketball-ball. We met up with him during his first training camp for the U20 Women in Le Temple-sur-Lot on 9 June 2011 for a one-on-one interview.
We spoke to him about his career at the CFBB and his job working as a national team coach for the youth teams. We then discussed in detail about the 1991 generation of players who he is currently preparing for the European Championship in Serbia.
He also shared his opinion on LF2 (formally NF1), the second division of professional basketball in France for women and why playing in this division is an important step for the players of the CFBB.
We have included below a French version of our interview with Grégory Halin. Please note that the French version is not a translation of our article in English.
English version
Version française

Instructing playing basketball:
Grégory Halin's career at the CFBB
Grégory Halin joined the Centre Fédéral de Basket-Ball in 2002 and worked under Richard Billant as an assistant for the men's junior programme (U18).
He did this job for two seasons (2002-2004) before being given the position of head coach for the women's U16 programme (age group known as cadettes in France).
He held this position for three seasons (2004-2007). Since 2007 he is responsible for the U18 Junior programme for women.
Today the CFBB is integrated into the INSEP programme in Paris. However when Halin first joined the CFBB, the organisation was based in Toulouse.
In the summer of 2005 Halin had his first experience as a senior coach with the France U16 Women.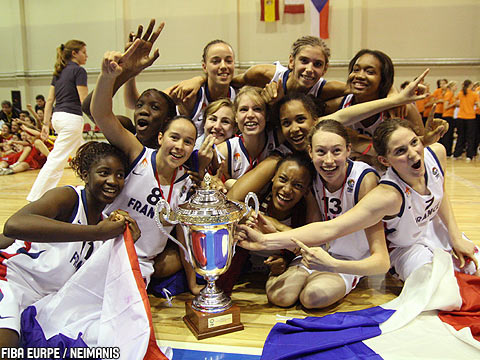 France qualified for the European Championship final but lost to Spain that was led by a young lady called Alba Torrens (65-74).
However in 2007 he won his first international title when France beat Spain in the final to become Termosteps U16 European Champion.
In 2008 he moved into the U18 age group and France finished in fourth place which qualified them for the U19 World Championship Women in 2009.
In 2009 France finished 7th at the World Championship under his guidance. He returned to the U18 once more in 2010 where France picked up a bronze medal.
With Alain Jardel stepping down from his role as U20 coach last season, Halin was appointed as the new coach.
Playing basketball with the 1991 generation
Halin knows this group well. They brought him his first European championship title as coach in 2007 in the U16 age group.
This generation also picked up a silver medal in 2009 at the U18 level. However today the team has changed. Diandra Tchatchouang and Allison Vernerey are considered to be the best players from this age group but are both absent playing basketball for the U20.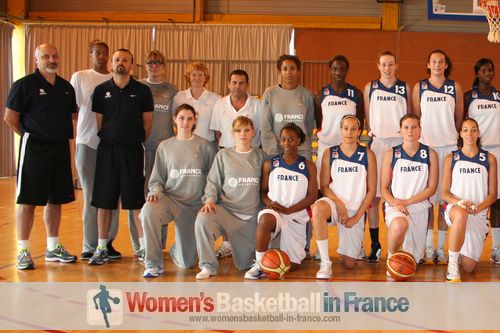 In the past the teams were structured around them. In addition Margaux Okou Zouzouo whose injury problems have not been resolved will also be absent.
Yet despite the glory of the past, this year a new team will be developed with no outstanding players to lean on. With all the players of similar level Halin will be constructing a team concept based on the individual capability of each player.
At the time of this interview the team was in the first phase of preparation with a three-game series against Great Britain.
Halin explained that the series against Great Britain gave him an opportunity to assess his players.
Despite winning the first couple of games he was not pleased with the conditioning of his players as they struggled to keep the intensity up for 40 minutes.
At the end of the first training camp he released four players with Margaux Okou Zouzouo and Marion Arfelis (right) both injured. Priscilla Lokoka and Marion Pujos are the other players released.
Halin is not one for looking back but he still remembers all the details of the 1991 generation playing basketball in the different championships. During the 2007 European Championship final he described the scene in detail leading up to Linda Bousbaa hitting a decisive three-pointer down the stretch that put France on the way to victory.
He explained that in his role as educator, he has to encourage players to do things and remain confident. Bousbaa was not known for her shooting abilities but when the ball was recycled and reached her, she had one thing in her mind and that was to shoot. Halin said that it was not his role to tell her not to but encourage her by taking on responsibility.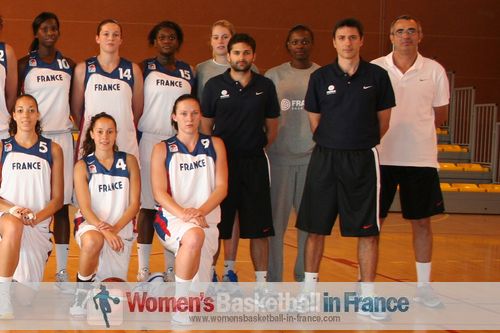 The rest is history, they ended up winning. That is how it is at championships: you can win or lose on one missed shot, a turnover, ...
For Halin, the big difference between U20 basketball and the other age groups is the role of the pivot/center. Nothing else has changed as this age group still plays basketball.
Due to the fact the players a more mature as they are approaching the senior category it is not possible like at U16 and U18 to win a championships on simple systems, fast breaks and counter attacks alone.
At U20 more variations are required especially alternating the inside outside play. The inside players between 15 to 18 years do not necessary know what they are doing. This is not the case at U20 anymore.
The physical nature of the game makes the big players inside the key at this level an important factor and that is the main difference with other age groups.
Halin also does not believe in the Division A and Division B split because for him it is all about generations. All it takes is to drop down a division because you have a weak generation one year.
For example this year the Czech Republic and Sweden have very good teams at U20 level but they are in Division B. However they would be able to compete in Division A with no problems.
It is true that certain countries like France, Spain and Russia are expected to do well. But what makes this sort of competition exciting is the surprise, that is why it is necessary to know as much as possible about all the teams and take nothing for granted.
The CFBB and playing basketball in LF2

Halin has been with the CFBB since 2002 and explained that the major role of this organisation is the preparation of youth players for playing basketball professionally.
As an instructor his role is to work on the skills of each player so that when their apprenticeship is over they will have the skills to be able to compete with the men and women playing basketball professionally all over the world.
Due to the fact that basketball is a team sport they do set aside time for team development and systems.
LF2 has become more professional and with women who have been playing basketball in the LFB or top leagues in other countries now playing in this division the standard has gone up and the championship is very interesting.
This year the CFBB only won three games, but lost a lot of games in the last minutes due to the lack of experience of the CFBB players. Yet these late defeats are part of the learning.
In the past the CFBB had only one team of 10 players, the best five or six players from one generation. In those days the team was really strong.
However today they have two teams and more players.
So the CFBB end up mixing teams around. So now the best five or six are not playing together every week like in the past, the system has become diluted.
Like all things it also depends on the generation and he hopes that with a strong generation his players will be able to win more games and finish higher up in the table and outside the relegation zone.
However it is not every year the CFBB have players like Sandrine Gruda, Nwal-Endéné Miyem or Diandra Tchatchouang.
Return to the top of the playing basketball page
Grégory Halin et l'avenir des joueuses de basketball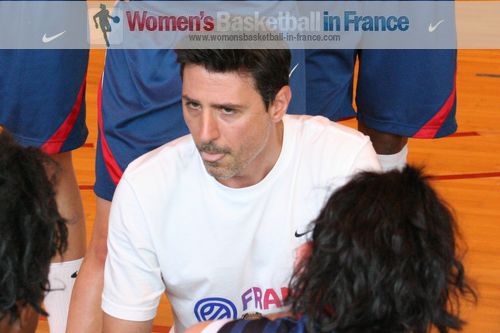 Grégory Halin commence en Centre Fédéral de Basket-ball à Paris en tant que assistant de Richard Bion, le coach de juniors garçons pour deux ans de 2002 à 2004.
Ensuite on lui confie la responsabilité des filles U16, à partir de 2004 en Centre Fédéral et en équipe de France. C'est pour trois ans.
Puis pour trois ans, à partir de 2007, il s'occupe des juniors au Centre Fédéral et en équipe de France et en même année il se voit confier la responsabilité pour les U20 filles le Campionnat d'Europe.
Concernant les 1991: en 2007 elles étaient les championnes d'Europe, en 2009 leur coach était Jérôme Fournier et lui il était au Championnat du monde et son équipe s'est placé 7ème.
Cette année, il y a deux joueuses importantes qui manquent, alors l'équipe n'est pas tout à fait la même: Allison Vernerey et Diandra Tchatchouang étaient les piliers importantes sur qui l'équipe s'appuiait avec des bonnes joueuses autour.
Donc maintenant le niveau est plus homogène et c'est l'équipe la star, il n'y a pas des joeueses très fortes. Toutes doivent apporter! Ce qui n'était pas le cas avant!
Il se souvient de son premier titre avec les U16: Linda Bousbaa qui n'est pas connue pour une joueuses très adroite, n'a pas hésité de mettre un shoot important. Il pense il faut donner de la confiance aux joueues pour prendre de la responsabilité.
Halin sait qu'une victoire se joue de pas grand chose: sur un panier raté, sur une balle perdue ...
Les 89 avaient remportés la médaille d'argent deux ans avant et les 91 le titre! Il n'oubliera jamais.
Il affirme que le basketball on ne l'invente pas, ne le réinvente pas.
Pours les U20 le basketball est très mature car les joueuses se rapprochent de séniors.
Chez les jeunes on peut gagner, on faisant beau, des courses, contre-attaque, fast break, jeu déplacé ..., mais pour les U20 le plus important est l'alternance jeu extérieur/intérieur, le rôle des intérieures est plus importantes, l'impact des intérieures, elles sont plus matures.
La France a quelques joueuses intérieures qui vont rapporter quelque chose et c'est ça qui fait la différence!
Concernant son travail en CFBB, il se concentre sur un travail individualisé afin de donner les outils techniques aux joueuses pour affronter un milieu professionnel. Mais car c'est un sport d'équipe, les entraîneurs enseignent aussi des systèmes etc.
Il ajoute que le niveau est plus dilué maintenant car le Centre Fédéral a plus de joueuses. Mail il pense dans l'avenir proche, on devrait à nouveau avoir une équipe forte en compétition en ligue féminine 2 qui maintiendra sportivement!
Halin commente éqalement que les différentes groupes en Championnat d'Europe ne reflètent pas toujours le niveau et que la qualité de Division A et B dépend des générations et donc parfois il y a - comme cette année la Suède et la République Tchèque - des équipes en Division B qui pouvaient facilement participer en Division A.
En général, il faut se méfier contre toutes les équipes, même si on a des valeurs sûrs: la France, l'Espagne et la Russie.
Return to the top of the playing basketball page
---
Go to French international youth basketball page
Go to Women Playing Basketball In France Home Page
Return to the top of page
---
Playing basketball picture credits:
womensbasketball-in-france.com
FIBA Europe
CFBB
Date created: 18 June 2011
---