Playing basketball for Toulose Métropole basket is not easy
---
---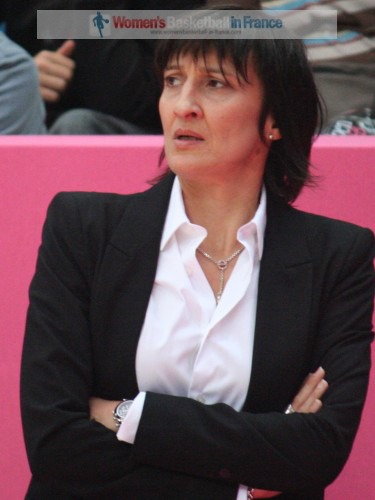 Valérie Garnier
(left) was not expecting to coach a team playing basketball in the LFB this season after the club was refused entry by the French Federation.
The club had been demoted into the second division and the players on last year's roster were free to find other clubs.
Yet Toulouse quickly resolved some of the issues with sponsors and appealed successfully against the decision.
However Emmanuelle Hermouet's injury has prevented her from returning this season and it is not clear if she will ever play again.
The club will be playing basketball in the LFB under certain conditions and will be audited by the French Basketball Federation on a regular basis.
Under these conditions Garnier started her recruitment: She picked up two American players: Shanavia Dowdell and Chandrea Jones.
In addition the club was able to persuade the much travelled Suzanna Milovanovic to come and play basketball in France again.
Milovanic played briefly at Tarbes during the 2008-2009 season as medical cover for Taisiia Bovykina.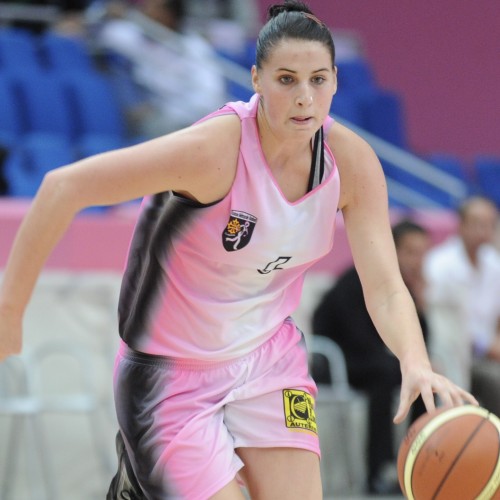 The rest of the recruitment is almost a who is who from the youth international scene with none of the players over 21 years old.
Former Serbian youth international Nina Bogicevic is joined by former French youth international Camille Aubert and Jessie de Colo (right).
Leslie Matanga who was part of the all conquering regional team from Ile de France in 2005 and 17-year old Lou Mataly from the CFBB complete the roster.
Emilie Maurice is the only player from the professional roster to return. She is joined by Lola de Angelis, who is still 16 years old.
Aubert finally recovered from her injury and back to her best will be the main point guard for the team. This will be her third season in the LFB.
De Colo is still waiting to experience a victory in the LFB after a series of 26 defeats last season with Limoges.
This team is very quick and will cause teams problems all year round.
The LFB roster for 2010-2011 is: Lou Mataly, Jessie de Colo, Camille Aubert, Chandrea Jones, Emilie Maurice, Leslie Matanga, Lola de Angelis, Shanavia Dowdell, Suzanna Milovanovic.
Go back to the top of page
---
Return to "What's New" page
Go to Women Playing Basketball In France Home Page
---
Basketball picture credits:

womensbasketball-in-france.com

Bellenger/IS/FFBB
Date created: 20 October 2010
---