Pierre Vincent takes over the reigns of the French women's senior national team
---
---
At a press conference this afternoon
Pierre Vincent
(left) was announced as the new women's national head coach. At Eurobasket 2007 in Italy Vincent was one of the assistants to Jacques Commères, the outgoing women's head coach.
Yvan Mainini, the President of the French Basketball Federation (FFBB), and Jean-Pierre De Vincenzi, the Technical Director, also announced that Michael Gomez would be the men's coach for a second time.
In October 2007 after the disappointment of the two national teams not qualifying for the Olympic Qualifying Tournaments working groups were set up to look into the future of basketball in France.
These groups eventually reported back to Mainini on a number of issues including recommendation for head coaches.
De Vincenzi confirmed the appointment of the two coaches by the working groups' recommendation. Furthermore he explained that the two men were selected on the following criteria: to be a person of experience, to understand group dynamics and to have already proved themselves at national and international level.
Mainini also said that the choice of the new head coaches was a question of character and the experience on club as well as on international level. Both men have been able to successfully take up challenges. He emphasized on the coaches experience at top level as an asset for the French teams to qualify next September for the EuroBasket 2009 in Poland for the men, and in Latvia for the women.
The women's new head coach
Pierre Vincent took France U18 men to gold in the 2000 European Championships with a team that included , Boris Diaw, Yakhouba Diawara, Tony Parker, Mickael Pietrus, and Ronny Turiaf.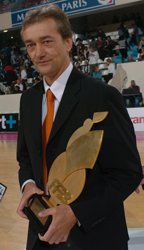 Vincent spent the early part of his career working successfully in youth development for up and coming teenagers in the U15 age category. It is his work with the U16 boys and especially U18 junior men that brought him to national limelight.
His switch to women's basketball and by joining Bourges Basket in 2003 showed his versatility. By the time he took Bourges Basket to the domestic grand slam in 2006, Vincent had become an important international figure in women's basketball and has become a regular speaker in coaching seminars around Europe.

In 2007 he took Bourges Basket to the FIBA Europe EuroLeague Women final four and then he was back with the staff of the French team as one of the two assistant coaches for Eurobasket 2007.
You can read and listen to an interview we had with him during the Open LFB last October.
Return from Pierre Vincent to LFB Basketball News
Pictures are courtesy of the Ligue Féminine de BasketBall.


Date: 12 February 2008
---