Tarbes having it easy at the Open LFB
---
The 2009 edition of the Open LFB also known as Basket and the City came to an end with Tarbes Gespe Bigorre cruising past Limoges.
After-match comments from Anne Breitreiner and Charde Houston from Tarbes are found after the report.
---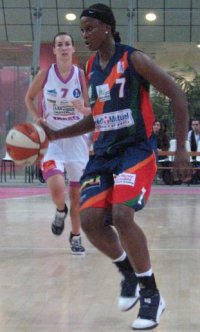 Awa Gueye (left) scored on the very first attack with less than five seconds on the game clock for Limoges.
Tarbes weathered the early storm and quickly settled in their stride. Then they scored their first points through Charde Houston off a fast break set up by Florence Lepron.
Frida Eldebrink cut off a pass by Laima Rickeviciute and went all the way to the court. She was then knocked off balance by Johanna Tayeau as she went for the lay-up.
Eldebrink hit the resulting free-throws and Tarbes went in front for good.
Moments later Anne Breitreiner was left open at the baseline and fired in a trey, to give Tarbes a lead (7-2) with 2 ½ minutes played.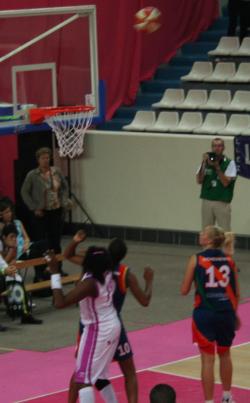 Erica Davis managed to score for Limoges.
But afterwards it was one-way traffic as Isabelle Yacoubou-Dehoui and her players dominated all sectors of the game to lead (17-6) with five minutes played.
Tarbes made the mistake of stepping off the gas and allowed Limoges back into the game.
Gueye and Tayeau made them pay as they started to hit three-pointers from all over the court as they outscored Tarbes 8-1 to trail (14-18).
The rest of the first period resembled a three-point shoot-out while the concept of defense went out of the window.
The two teams combined for a total of 9-from-13 from beyond the arc with the last one coming from Ligita Kinkeviciene from Limoges.
All the same Tarbes edged the first period (30-25).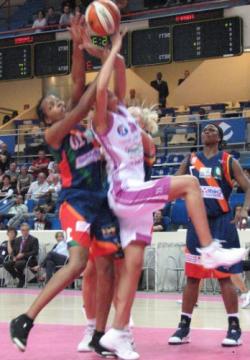 Tarbes started the second quarter more aggressively with Houston scoring 4 quick points.
Tarbes managed to close down the space more quickly so Limoges could not get any more three-points shots.
Fatimatou Sacko and Pauline Jannault added 2 points each as Tarbes stretched their lead (38-25).
Tarbes once agains dropped their guard for a second and Rickeviciute fired in a trey for her first points of the game.
Tarbes' response came almost immediately with Béatrice Castets scoring from the land of many.
The intensity of the game dropped and Tarbes slowly increased their advantage to go into the locker room leading (52-33).
Tarbes started the second half with Isis Arrondo and Eldebrink who appeared to have put an offensive block on their opponents.
Limoges managed to score just 1 point in almost four minutes of play while Tarbes were not setting the scoreboard on fire themselves as they only scored 5 points to lead (57-36).
So both coaches changed the line-up. Tarbes' experience showed as they controlled the pace (65-42) and increased their lead slowly with just under three minutes to play in the quarter.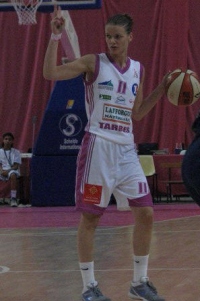 The highlight of the third quarter came at the end with a steal from Castets and a half-court pass to Eldebrink who hit a buzzer beater three-point shot from way behind the NBA three-point line (76-46).
Tarbes continued their demonstration with 8 unanswered points which included back to back three-pointers from Arrondo (84-46).
This resulted in Bertrand Parvaud calling for a time-out with 7 ½ minutes left to play.
Limoges finally broke their barren spell with a coast to coast by Tayeau (46-87) with almost five minutes played in the final period.
Tarbes were too strong for Limoges and passed the 100-point mark with a free-throw by Breitreiner and went on to win (102-53).
Open LFB: Game Statistics and play by play
Open LFB: Box Score
Watch the game here: Tarbes 102-53 Limoges
---
Open LFB Basket and the City 5 after-match comments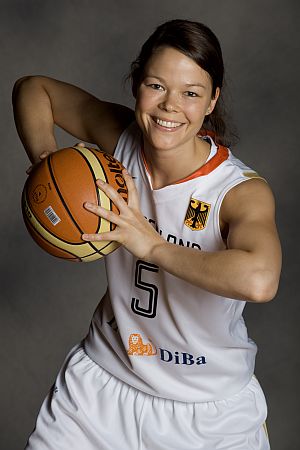 Anne Breitreiner
made Open LFB history for Tarbes when she scored Tarbes' 100th point. This was the first time that this had happened in the history of the opening day. She told us immediately after the game that she thought that they did a good job considering it was the last game of the weekend. All weekend they had been talking and meeting friends etc. Despite the victory she was cautious and said that they still had a lot of work to do so they must keep their feet firmly on the ground.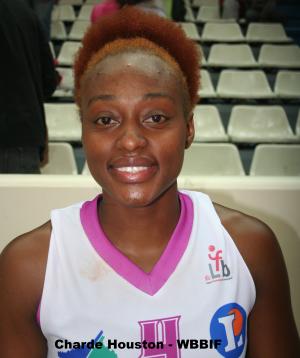 Charde Houston has not been to France before and is having a nice time. She was happy with the way the first game went and that she played okay and that they won and that Tarbes was a good team.
---
Return from Open LFB 2009 game report to LFB news
Open LFB 2009 picture credits:
Womensbasketball-in-frannce.com
Miguel Bordoy Cano
Date created: 27 September 2009

---