---
---
The last match on the first day of the Open LFB traditionally brings together the champions from the first and second division from the previous season.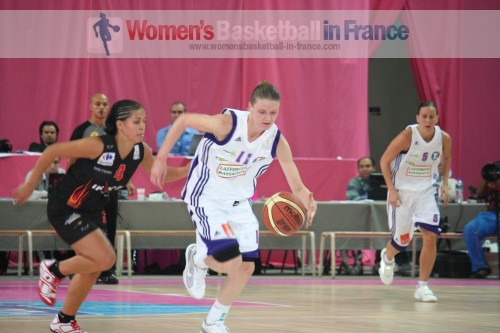 Move your mouse on the thumbnails to view pictures
---
---
Tarbes controlled the game for the first 17 minutes to lead (24-14).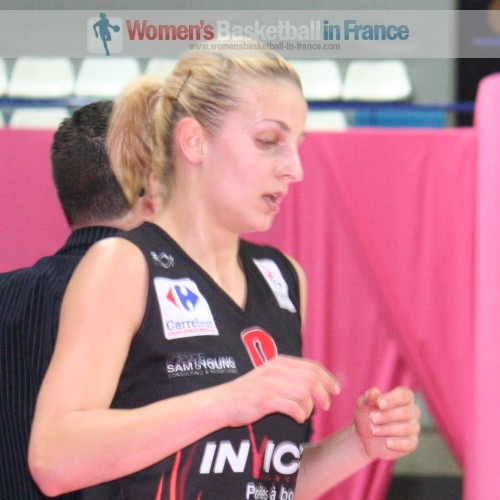 Charleville-Mézières then suddenly took control with Kristen Mann finding her shooting touch with 5 points.
This was followed by Ekaterina Dimitrova (left) hitting a shot from the land of many to almost tie the game on the buzzer.
Despite controlling the ball for 75% of the time, Tarbes went into the interval leading by only 2 points (24-22).

The third quarter was end to end basketball with direct confrontation between the point guards from both sides.
Amel Bouderra (right) and Dimitrova for Charleville were taking on Florence Lepron and Isis Arrondo.
Charleville-Mézières went 5 points clear (36-31) midway through the quarter.
They kept their advantage going into the final quarter (40-38).
The last quarter was a ding-dong affair with the lead changing hands several times.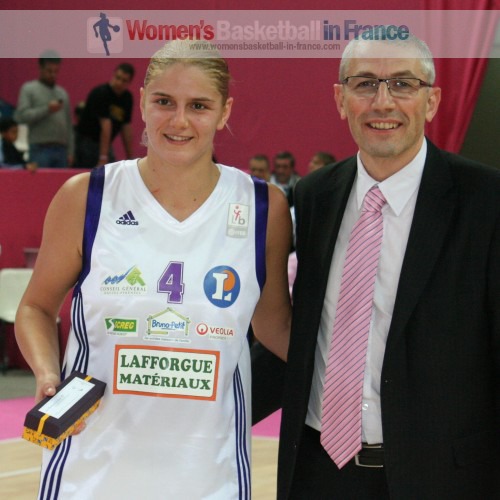 The teams were still locked together (55-55) with 75 seconds to play after MVP of the match Jelena Dubljevic (left) made two free throws.
The end was a firework display with Erin Thorn nailing a baseline three-pointer for the champions.
Kristen Mann then somehow managed to run along the baseline to score 2 points to make it a one-point game.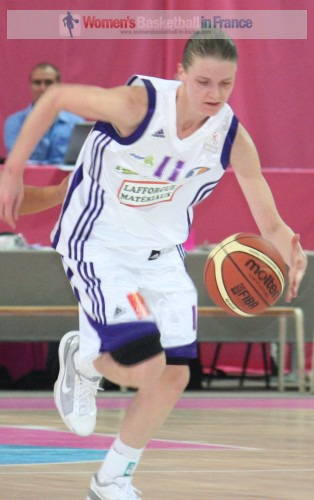 Charleville continued to press and and forced a turnover. But Florence Lepron (right) saved the day with a steal and 2 more points.
Ten seconds remained with Tarbes defending well. So Bouderra was left with a difficult shot to save the game.
However her ball hit the rim and bounced out leaving Tarbes with a hard fought victory (60-57).
Tarbes: Jelena Dubljevic 17, Erin Thorn 10, Ivanka Matic 9, Pauline Jannault-Lo 3, Isis Arrondo 4, Naura El Gargati 1, Florence Lepron 13, Darline Nsoki 0, Ana Maria Cata Chitiga 3, Vaida Sipaviciute 0
Charleville-Mézières: Amel Bouderra 4, Belinda Mboma 0, Sarra Ouerghi 4, Alexia Kusion 2, Ekaterina Dimitrova 10, Kristen Mann 23, Djéné Diawara 4, Eléonore Grossemy 0, Bojana Vulic 10
Go back to the top of page
---
Open LFB picture credits:
womensbasketball-in-france.com

Date created: 17 October 2010

---