No fireworks at the second match of the first day
at the Open LFB
---
---
Like last season the two teams played each other at the Open LFB, where
Mondeville had hit 18 three-pointers from 24 attempts while Calais had gone 5-of-11
.
Hence the expectations for this game were high. But the fireworks never happened and Mondeville had the game wrapped up by the end of the third quarter leading (58-38).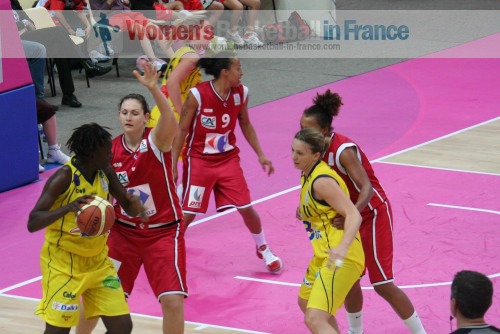 Move your mouse on the thumbnails to view pictures
---
---
The two coaches know each other well so the match was rather technical from the tip-off.
Mondeville led (9-2) with less than four minutes played forcing Cyril Sicsic to call for a time-out. His team recovered to only trail (14-20) at the end of the first quarter.
Aurélie Bonnan slipped early in the second quarter and had to leave the court for treatment.
During her absence Calais reduced their deficit. With 25 seconds to play it was a 1-point game in favour of Mondeville (34-33).
With a three-pointer on the last attack of the first half Valeriya Berezhynska sent Union Sportive Ouvrière Mondeville Basket into the locker room with a 4-point lead (37-33).
After the break Mondeville went to work physically and blew Calais away with a 21-5 run to cruise to victory (81-55).
USO Mondeville: Touty Gandega 2, Anne-Sophie Pagnier DNP, Esther Niamké-Moisan 4, Aija Brumermane 10, K. B. Sharp 12 (5 assists, Lenae Williams 22, Yacine Sene 2, Pauline Thizy 3 , Aurélie Bonnan 13 (13 rebounds), Valeriya Berezhynska 13
COB Calais: N'Deye N'Diaye 8, Sylvie Gruszczynski 7, Cocks Micaela 3, Mélanie Devaux 0, Aurélie Cibert DNP, Mélanie Arnaud 8, Manon Sinico 8, Pelagia Papamichail 9, Brigitte Ardossi 8
Go back to the top of page
---
Picture credits:
womensbasketball-in-france.com

Date created: 17 October 2010

---