Union Hainaut Basket are defeated by
Bourges Basket at the Open LFB
---
---
The final game of the 2010 Open LFB brought together Bourges Basket against Union Hainaut Basket - Saint Amand.
The first 20 minutes were lively with both sides trying to gain the upper hand. Bourges Basket led for most of this time with Cathy Joens and Ilona Burgrova leading the scoring with 8 and 7 points each.
Union Hainaut went into the locker room trailing by just 2 points (39-31) and were thankful for the scoring of Jasmon Covington (left) with 15 points.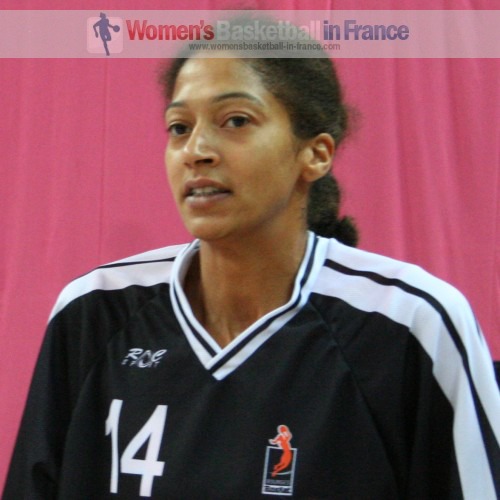 Bourges stepped on the accelerator at the start of the third quarter. With Nwal-Endéné Miyem and Paoline Salagnac adding points to Joens' trey they went 10 points clear (41-31) with 24 minutes on the game clock.
With Covington finding it difficult to score, Bourges were able to control the pace of the game. They went into the final quarter leading (46-37).
Emméline Ndongue (right) and her team were never in trouble and cruised to victory (59-48) with the players except for their youth internationals playing at least 16 minutes.
Ndongue who finished as top scorer for Bourges was awarded the MVP trophy for the match.
Bourges Basket: Anaël Lardy 2, Maja Miljkovic 3, Nwal-Endéné Miyem 4, Margaux Galliou 0, Styliani Kaltsidou 5, Jennifer Digbeu 0, Catherine Joens 10, Paoline Salagnac 9, Emméline Ndongue 16, Ilona Burgrova 3
Union Hainaut: Steffi Sorensen 7, Emilie Duvivier 11, Clémence Beikes DNP, Emilie Silbande 3, Noémie Lemaire 0, Céline Girard DNP, Laetitia Kamba 4, Jasmon Covington 19, Elsa Martins DNP, Alison Bales 4
---
---

Move your mouse on the small pictures to view
Go back to the top of page
---
Picture credits:
womensbasketball-in-france.com

Date created: 17 October 2010

---