---
---
The game was preceded by an Open LFB award ceremony in which Alexia Plagnard, Leilani Mitchell and Bruno Blier were presented with their accolade of the year awards.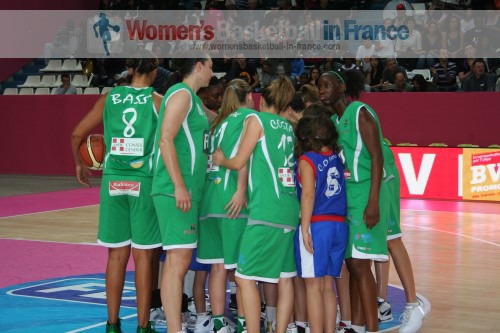 Move your mouse on the thumbnails to view pictures
---
---
Then Arras got off to a flying start with a trey by
Olesia Malashenko
before the spectators could settle into their seats.
The first two minutes were tough for both sides as they tried to make openings to score. Yet the ball refused to drop with Arras holding on to the lead.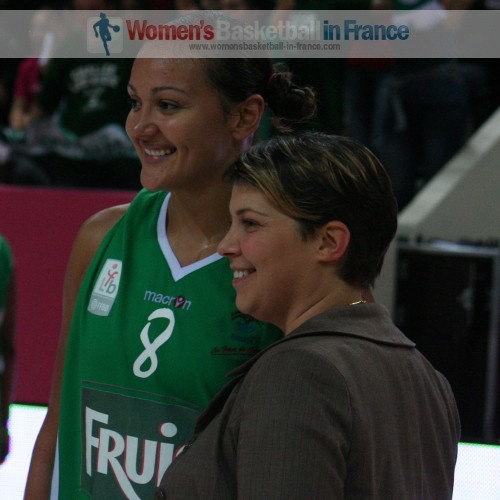 However things swung in favour of Challes-les-Eaux Basket as Mistie Williams-Bass (match MVP) went on the rampage. She finished the first quarter with 14 points as Challes opened up an 11-point lead (22-11).
Nothing was working for Arras. They failed to score a single point in over six minutes of the record quarter allowing Challes-les-Eaux to stretch their advantage to 23 points (34-11).
Bruno Blier called for a time-out and for a couple of minutes Arras gave the impression that they would come back. Leilani Mitchell and Johanne Gomis were scoring three-pointers while Pauline Akonga N'Simbo found her way to the basket.
However the joy was short lived as Williams-Bass and Romy Bär dictated the play for Challes-les-Eaux.
The game went from bad to worse with Malashenko picking up a technical foul with 24 seconds remaining in the quarter.
Challes went into the locker room ahead (44-23) with 21 points coming from Williams-Bass.
Arras tried to keep Challes-les-Eaux out of the paint and beyond the three-point line as they chased after the score.
Challes only scored 11 points during the third quarter but still went into the final quarter with a 16-point lead (55-39).
Arras continued to chip away at the deficit as they out-hassled Challes-les-Eaux at every moment.
Marielle Amant was fouled during the intense battle and with 75 seconds Challes' advantage was down to 5 points (68-65).
Williams-Bass contested an offensive rebound with Aija Putnina, with a result of Putnina picking up a foul despite her being left sitting on the ground.
Williams-Bass split the pair. The game became scrappy with Malashenko hitting a three-pointer with 10 seconds left to play.
Challes-Eaux somehow managed to run the clock down to O.2 seconds before a foul was called.
This enabled them to hold on to win (70-66).
Challes-les-Eaux: Romy Bär 8 (6 assists and 6 steals), Bianca Thomas 18, Alexia Plagnard 1, Sabrina Palie DNP, Mistie Williams-Bass 32 (14 rebounds, 11 drawn fouls), Magali Lacroix 4, Elodie Tadeuszak DNP, Clarisse Costaz 0, Lalya Sidide DNP, Jennifer Fleischer 7
Arras: Leilani Mitchell 8, Laury Aulnette DNP, Krissy Badé 0, Johanne Gomis 15 (5 steals), Olesia Malashenko 13 (4 assists), Adja Konteh 0, Marielle Amant 6, Aija Putnina 5, Pauline Akonga N'Simbo 19, Juliana Mialoundama DNP
Go back to the top of page
---
Open LFB picture credits:
womensbasketball-in-france.com

Date created: 17 October 2010

---