NF1 round 30: smiles in Armentières as they have qualified for the NF1 final four
---
---
There was a lot at stake in the final NF1 round for five clubs. Two clubs were still in the hunt for the final place in NF1 final four. Three other teams were also in competition to see who would finish in the highest position at the bottom end of the table.
The suspense was total as Armentières and Dunkerque, the two teams in the final four battles were drawn against Marseille and Pleyber-Christ, two teams in competition at the bottom end of the table.
Relief for Armentières after a long wait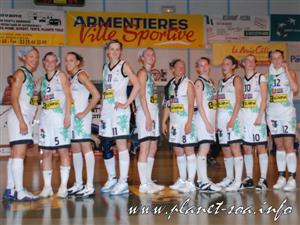 Stéphane Lalart
, the head coach of Armentières had a long wait after their victory against Marseilles (95-65) due to the fact that their match tipped off an hour earlier than that of Dunkerque. In terms of the match he explained: "We did what we had to do, everything was well executed from A to Z."
The hero of the match was Rachel Coumba. She finished with a double-double, 29 points and 13 rebounds. She also dished out 4 assists and made 3 steals. Armentières led (48-28) at the break and paced themselves to a comfortable victory.
Armentières will now play Nantes-Rezé in the NF1 final four semi-final. Marseille drop to 15th place and now have to wait and see if they will stay in NF1 next season.
Dunkerque do not travel well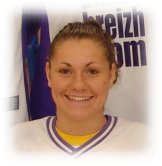 Pleyber-Christ ended the LFB ambitions of Dunkerque with an emphatic victory (88-57).
Aude Kernévez
(left) was on fire as she knocked down 34 points, dished out 3 assists, took 8 rebounds and drew 7 fouls.
Céline Lix got the show started for Pleyber-Christ. Within two minutes they had already opened a gap (8-3) which grew to (21-9) by the end of the first period.
Dunkerque were hit for 7 at the start of the second period from their hosts (9-28) which finally woke them up. They started to find their mark from beyond the arc and Dace Brumeremane started to work inside. All the same Pleyber-Christ went into the interval leading (40-26).
Dunkerque's problems of beating teams in the lower half of the table came to haunt them as they suffered a third period collapse (25-10) to leave them a massive task in the final period (36-65).
Dunkerque were unable to claw back the deficit. With this defeat the NF1 final four dream comes to an end.
Pleyber-Christ finished the season on a high and are in 14th place. This side has the smallest budget of the clubs currently in NF1. Yet they have a good chance of being re-elected for next season as they are first in line.
---
---
The rest of the news from NF1 round 30
No miracles for Lyon and Julie Le Bris as they fell to Nice (70-66). Lyon's NF1 survival depended on winning this game. Nice led for most of the game but were unable to build a significant lead and went into the final period with a slight advantage (55-53).
Lyon had lost Julie Legoupil due to injury during the third period and were not able to make up the two points. They trailed by 4 points as the game entered money-time.
Lyon were not able to turn around a game this season during the closing minutes of a game. Their Achilles heal was to hurt them once more. Lyon finish the season in 16th place and are very unlikely to be in NF1 next season.
However it will be a shame as they have built a new arena that would befit any team in the top leagues.
Nantes-Rezé had little trouble in beating Limoges (68-47). Limoges were without three key players for the last match of the season due to injury and then they lost Maryska Kowalik early in the game.
Charleville ended the last chapter in the history of Racing Club Strasbourg with a routine (82-54) victory. Charlivelle will play Basket Landes in the other semi-final of the NF1 final four.
Basket Landes finished the regular season with a comfortable (71-51) win over the CFBB. Rennes went down to La Roche (62-72) and Voiron lost out to Lot Garonne UST (65-72).
NF1 round 30 results
Nantes-Rezé 68-47 Limoges
Basket Landes 71-51 CFBB
Charleville-Mézières 82-54 Strasbourg
Pleyber-Christ 88-57 Dunkerque
Armentières 95-64 Marseille
Rennes 62-72 La Roche
Voiron 65-71 Lot Garonne UST
Nice 70-66 Lyon

Standing after NF1 round 30 - Final Nationale Féminine 1 2007-2008 Classification
| | Club | Points |
| --- | --- | --- |
| 5 | Dunkerque | 49 |
| 6 | Limoges | 46 |
| 7 | Rennes | 45 |
| 8 | Lot Garonne UST | 44 |
| 9 | Nice | 44 |
| 10 | Strasbourg | 43 |
| 11 | La Roche | 43 |
| 12 | CFBB (INSEP) | 42 |
| 13 | Voiron | 41 |
| 14 | Pleyber-Christ | 39 |
| 13 | Marseille | 38 |
| 14 | lyon | 38 |
Return from NF1 round 30 to "What's New" page
Return from NF1 round 30 to Amateur Basketball
Look back at the previous round reports
NF1 round 30 pictures courtesy of Armentières SO and Pleyber Christ basketball clubs

Date: 25 May 2008
---