NF1 round 27 preview
---
---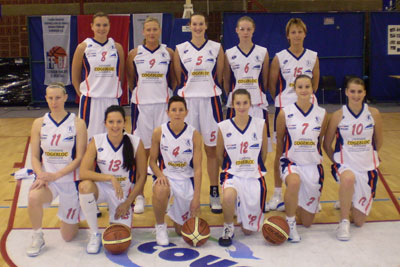 NF1 round 27:Dunkerque need to win at home
After a week's break allowing the amateur basketball clubs to have centre stage in the Coupe de France, NF1 resumes this weekend. There are only four games left. Yet still five teams are in the hunt for the end of season play-off.
Two of those teams meet this weekend in what can be billed as the top game of the week. What follows is a complete run down of this weekend in Nationale Féminine 1 (NF1).
Dunkerque, currently fifth, receive leaders Nantes-Rezé in the top class of the weekend. Dunkerque's home form has been inconsistent this season. Their defeat against Limoges in round 26 has not helped their cause. Another defeat for them and victories for the teams above this weekend could put them out of the play-off grid for good.
Nantes-Rezé have found the going tough recently and have managed to maintain their two-game lead at the top due their close rivals losing games recently. Nantes-Rezé have already qualified for the play-off and are now looking for direct promotion to the LFB. They are still two games clear of the their rivals and a victory on the road against Dunkerque this weekend will be them in a strong position to achieve this.
As for the match itself between the two sides it is likely to be won in the paint with Dace Brumermane for Dunkerque against the Nantes-Rezé twin towers Sandrine Ronot and Yuliya Andreyeva.
Basket Landes will hope to bounce back after their defeat against Pleyber-Christ as they take on the NF1 team of the moment Limoges. Limoges have won their last six games and Djéné Diawara has been explosive since her return. Limoges are out of the play-off race but would like to continue their winning streak. They have already beaten Basket-Landes this season.
Etoile Voiron hope to continue upward trend in NF1 round 27
Voiron have been in the relegation zone for most of the season. However with the news that Lot et Garonne UST are leaving NF1 next season, they have a good chance of escaping the drop. They will have a tough game against highflyers Charleville-Mézières.
Charleville-Mézières are tied in second position with Basket Landes and need a victory to keep the pressure on the leaders Nantes-Rezé. Laurence Clauss-Lemarchand, the head coach from Voiron, has been working on her young players short commings. If they concentrate for the full 40 minutes they might hit the Mézières Achilles heal, the poor form playing away from home.
Armentières are quite solid at home and have already attained the season's objectives of finishing in the top half of the table. They are lying in fourth place at the moment and are still in the hunt for a play-off spot. For sure Armentières will not be taking their match against Rennes lightly.
Rennes have also achieved their aim for the season and will be under no pressure in order to attempt to surprise their hosts and keep up the challenge for a possible sixth place finish.
In the remaining games Racing Strasbourg host La Roche. La Roche have not enough points to secure their position in NF1 for next season. they will be looking to just upset their hosts. The CFBB have a tricky tie against Lyon. Lyon are hoping that their victory against Basket Landes is not a one off as they fight for their survival in NF1. It is not the club's intention to inaugurate their new Arena playing basketball in NF2.
Pleyber-Christ and Céline Lix have a good opportunity to remain on the tail of Voiron and Lyon as they take on Nice. Nice are safe in NF1 for next season and are at the moment recovering from their recent tragedy.
In the last game of the weekend Marseilles take on Lot et Garonne UST. Marseilles must win this match in order to keep their survival hopes intact.
---
Return from NF1 round 27 Preview to "What's New" page
Return from NF1 round 27 Preview to Amateur basketball News
Look back at the previous round
Pictures courtesy of the FFBB

Date: 26 April 2008
---