Basket Landes beat Réze-Nantes at home in November and this weekend they completed the double (71-61). This is the first home defeat of the season for Réze-Nantes.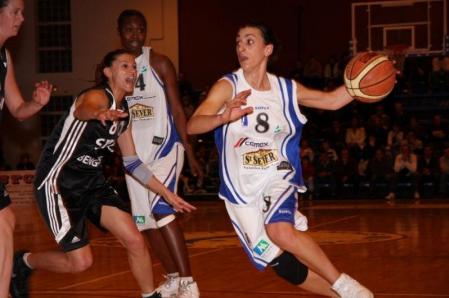 Basket Landes got the better of their hosts in the first period (22-13) and never looked back. By the interval they had stretched their advantage to (42-28). The home side reduced the deficit by 4 points by the end of the third period (43-53) but were not able to claw the rest back in the final quarter.
Anaïs Le Gluher was the match winner for Landes with 24 points which included 4-of-7 from behind the arc. She was supported by Elisabeth Montero (above) who dished out 10 assists.
Nantes' lead at the top has now been reduced to one game. If at the end of the season Nantes and Basket Landes finish with identical records, Basket Landes will be placed higher due to their better head to head record.
La Roche appeared to be asleep at the start of their game against Armentières and trailed (9-17) after seven minutes. They then woke up and within two minutes hit their guests 8-1 to come back into the match. The home side went into the interval with the lead (35-33).
After the break it was the turn of the visitors from the North to fall asleep which profited the hosts as they went on a 31-10 rampage. La Roche went into the final period leading (66-43).
There was no way back for Armentières and La Roche won (86-65). Armentières now drop to fifth place in the table but are mathematically assured a place in NF1 for next season.
Disaster for Charleville-Mézières as they fell in the last five minutes against Temple-sur-Lot
Charleville-Mézières's end of last season struggles continue again this season as they let a 13-point advantage evaporate at the end of the game.

Temple-sur-Lot applied an aggressive zone during the final period and passed in front for the first and only time five minutes before the end of the game as they crushed their guests 15-4 in the final period to win (65-59).

In the other matches Dunkerque had a comfortable road victory against Nice (71-49) and move into fourth position. Whereas Limoges beat the CFBB (77-72).

Voiron beat Racing Strasbourg (70-63) and Rennes got back to winning ways as they saw off Marseille (90-64).

Lyon held off the challenge of Pleyber-Christ (75-61).
NF1 Round 24 Results
Nantes-Rezé 61-71 Basket Landes
Le Temple-sur-Lot 65-59 Charleville-Mézières
Nice 49-71 Dunkerque
La Roche-sur-Yon 86-65 Armentières
Limoges 77-72 CFBB (Insep)
Voiron 70-63 Strasbourg
Lyon 75-61 Pleyber-Christ
Rennes 90-64 Marseille
NF1 classification /standing after 24 rounds
| | Club | Points |
| --- | --- | --- |
| 5 | Armentières | 40 |
| 6 | Lot Garonne UST | 37 |
| 7 | Rennes | 36 |
| 8 | Nice | 36 |
| 9 | Limoges | 36 |
| 10 | La Roche | 35 |
| 11 | Strasbourg | 35 |
| 12 | CFBB | 34 |
| 13 | Lyon | 31 |
| 14 | Voiron | 31 |
| 13 | Pleyber-Christ | 30 |
| 14 | Marseille | 29 |
Return from NF1 round 24 to "What's New" page
Return from NF1 round 24 to Amateur Basketball
Look back at the previous round
NF1 round 24 pictures courtesy of Basket Landes

Date: 30 March 2008
---