Illkirch-Graffenstaden and La Roche-sur-Yon set the pace as NF1 basketball watched the Open on LFB-TV.
---
---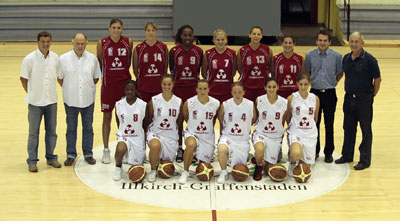 After only three weeks the NF1 basketball season is down to two teams with perfect records.
Illkirch-Graffenstaden
(SIG) won for the second time at home this season against US Laveyron (70-48).
The two teams played in the French amateur cup final and also NF2 championship play-off last season. So they are no strangers to each other.
Allison Vernerey led the scoring for Illkirch-Graffenstaden with 23 points and 10 rebounds. With this victory the SIG go top of the table.
The other team setting the pace in NF1 is Roche Vendeé (La Roche-sur-Yon) coached by Mathieu Chauvet. He took his side to Dunkerque and took all the points (61-55).
Four of his players were in double digits with Jennifer Galand and Lucija Laskova topscoring with 14 points apiece. Although they are unbeaten, they are second to the SIG on point average.
If there is such thing as a shock in NF1 basketball, then it was the victory of Pleyber-Christ against Toulouse.
The game went to overtime. Toulouse with Anda Jekabsone appeared to have weathered the storm until Marie Chemineau hit an unexpected three-pointer that sent the home fans wild and tied the game (75-75).
Then after Jekabsone (who scored 32 points) had a rare miss, Céline Lix-Boubala concluded a fast break with a lay-up.
With the clock running down Toulouse decided to foul Chemineau. This appeared a good choice as she had missed her previous attempts from the charity stripes. However this time she split a pair (78-75). Toulouse had 2.3 seconds left to save the game, but failed.
Elsewhere Charleville-Mézières were taken to overtime before handing Armentières their first defeat of the season (75-72).
Nice took advantage of the absence of José Ruiz , the Strasbourg ABC coach, to win their first match of season (89-69). Ruiz was suspended for one match from coaching for picking up three technical fouls last season.
Nathalie Billaud had the hot hand for Colomiers as she knocked down 28 points in their victory against Voiron (85-72).
Rennes recorded victory number one of the season with a comfortable win against Ifs (85-65). Meanwhile Limoges also won by the same score on the road against the CFBB.
All the results:
Illkirch Graffenstaden 70-48 Laveyron
Charleville Mézières 75-72 Armentières
Colomiers 85-72 Voiron
Pleyber-Christ 78-75 Toulouse
Dunkerque 55–62 La Roche-sur-Yon
Nice 89-69 Strasbourg
CFBB 65-85 Limoges
Rennes 85–65 Ifs

---
NF1 enjoying the limelight (round 2)
Return from NF1 Basketball Nationale Féminine 1 to index page
Return from NF1 Basketball news to women playing basketball blog page
picture credits:
S.I Graffenstaden team picture - SIG Amateur

Date: 01 October 2008

---
---