Charleville-Mézières are getting closer to leaving NF1 basketball
The NF1 basketball schedule for
Charleville-Mézières
had to be changed due to their Coupe de France exploits.
They had to bring their home game with Nice BC 06 forward because there are no free weekends left in the regular season calendar.
Charleville-Mézières face Bourges Basket on Sunday, 18 April 2010 in the semi-final of the French Cup.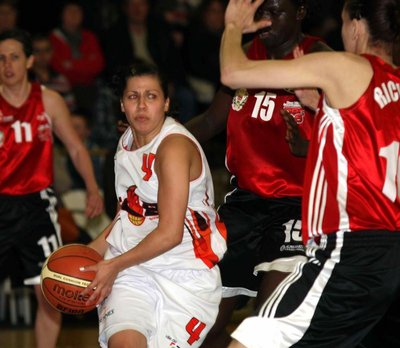 Charleville-Mézières did not waste much time in getting going. Amel Bouderra (left) scored with her first shot of the game with less than six seconds on the game clock.
For Nice nothing was going right offensively and they trailed (4-14) after five minutes. By the end of the first quarter they were 18 points behind (12-30).
Nice picked up and had the better of the second and third quarter to go into the final quarter trailing (55-63).
Djéné Diawara (23 points and 21 rebounds) from Charleville went to work at both ends of the court during the final quarter.
With the assistance of Carine Contessi (17 points) and Bouderra (7 assists) they outscored their guests 24-9 to win the game (87-64).
Sarra Ouergh was the the other player in double digits for Charleville-Mézières with 20 points.
For Nice BC 06 Emilie Silbande-Petiteau led the way with 25 points.
UHB-SA who have two defeats more than Charleville-Mézières are the only team that can stop them from winning the title.
If Charleville-Mézières win one of their last three games then the promotion to the Ligue Féminine de Basketball will be secured.
The rest of news from Saturday
It appears nothing can stop NF1 basketball with no planes, a few trains and traffic jams all over France.
However all the games scheduled for Saturday took place.
Roche Vendée have helped Charleville-Mézières by beating Union Hainaut Basket (74-59) in the competition for direct promotion.
A victory for Charleville-Mézières next week or a defeat for Union Hainaut Basket will secure promotion for Charleville into the Ligue Féminine de Basketball.
Roche Vendée remain in third place.
Illkirch-Graffendstaden keep their final four hopes alive by beating Rennes (65-52). For Rennes the season is over. Yet they cannot be relegated but are out of the play-off race.
Pleyber-Christ have broken all their records this season and by beating CSP Rézé (74-67) have secured their place in the second division for next season.
Elsewhere Voiron stay out of the relegation zone with a (96-63) win against Tours. US Laveyron's relegation problems continue after falling to Dunkerque (62-71).
Charnay-lès-Mâcon was the only team in the bottom 5 to come away with a victory. They beat the CFBB (70-62).
Lyon BF eliminated Reims BF from the play-off picture with a (78-73) victory to bring the round to a end.
All the NF1 basketball results from round 27 of the 2009-2010 season are listed below:


Roche Vendée 74-59 UHB-Saint-Amand

CSP Rezé 67-74 Pleyber-Christ

Voiron 96-63 Tours (TVL 37)

Reims BF 73-78 Lyon BF

Charleville-Mézières 87-63 Nice BC 06

Illkirch-Graffendstaden 65-52 Rennes

Charnay-et-Mâcon 70-62 CFBB

Dunkerque Malo 71-62 US Laveyron

Go back to the top of page
---
Round 26: UHB-SA qualify for final four
Return from NF1 Amateur Basketball news to the Nationale Féminine 1 index page
Return from NF1 Basketball news to women playing basketball blog page
Go to Women Playing Basketball In France Home Page
---
Basketball news picture credits:

l'Union.Presse

Date created: 16 April 2010
Last updated: 18 April 2010
---