A surprising weekend of NF1 basketball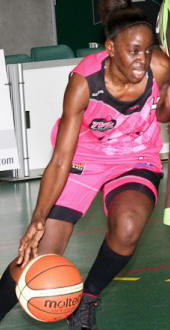 The NF1 basketball calender is so compact that Roche Vendée and Charleville-Mézières had to play their NF1 games in mid week because of their participation in the Coupe de France this weekend.
Roche Vendée took on Tours (TVL 37) on Wednesday and had to wait until late in the final quarter to turn things around.
Tours led (68-67) with five minutes to play but were unable to hang on allowing Roche Vendée to win (80-74).
Clarisse M'Paka (left) led all scoring with 25 points but still ended up on the losing side. Tours are just one defeat away from automatic relegation.
Charleville-Mézières led from start to finish in their victory (76-52) against the CFBB. Amel Bouderra and Djéné Diawra with 25 and 13 points respectively were the match winners.
For the CFBB Eléonore Grossemy and Héléna Akmouche led the way with 16 and 10 points each.
Two minute game highlight video from Ardennes TV on the victory of Charleville-Mézières.
Saturday night basketball in NF1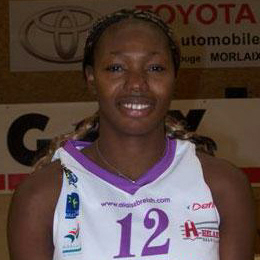 Pleyber-Christ ended their negative series with a road victory against Reims (81-72). They took the lead for good early in the second quarter with a trey by Aude Kernévez (22-21) and never looked back.
Mélanie Venier had a good shooting day with 25 points while Naignouma Coulibaly (left) pounded the boards for a total of 17 rebounds and 23 points.
Rennes have lost a couple of close games recently. However this weekend it was their time to win. They travelled to Dunkerque and came away with the victory (66-65).
The match was decided in the very last second by French youth international Kadidia Minte who calmly fired in a couple of free-throws.
The play-off ambitions of Nice BC 06 took a knock as they fell on the road to Charnay-lès-Mâcon (77-80).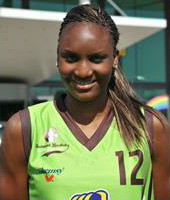 UHB-SA are finding NF1 basketball tough these days and had to dig deep to beat Voiron. Nadja Morgan's free-throws gave Voiron the lead (76-75) as the game went into the final minute.
With 30 seconds left to play Morgan was called for a foul on Laëtitia Kamba (right). Kamba hit the resulting free-throws. She was then fouled once more and again she scored for her team's last points of the game.
She finished the game with 20 points thanks to 12-of-13 from the free-throw line.
Voiron managed to settle themselves for the last 20 seconds but just managed to score 1 point and hence dropped the game (77-79).
With this victory UHB-SA are the second team to qualify for the NF1 final four.
Lyon once again kept it close, this time they hung on to deny CSP Rezé (69-67).
Lina Brazdeïkyte (left)turned the clock back a few hours early for Illkirch-Grafenstaden as she led them to victory (73-67) against US Laveyron.
She finished the game with 19 points, 7 rebounds and 5 steals.
Lyon BF have played a game less than the SIG. They will play this game next weekend against US Laveyron. If Lyon win then they will move into fourth place and knock the SIG down to fifth place.

All the NF1 basketball results from round 25 of the 2009-2010 season are listed below:


Voiron 77-79 UHB-Saint-Amand

Dunkerque Malo 65-66 Rennes

Reims BF 72-81 Pleyber-Christ

Illkirch-Graffendstaden 73-67 US Laveyron

CSP Rezé 67-69 Lyon BF

Charnay-et-Mâcon 80-77 Nice BC 06

Charleville-Mézières 76-52 CFBB

Roche Vendée 80-74 Tours (TVL 37)

---
Round 24: Tours' NF1 basketball negative series is over
Return from NF1 Amateur Basketball news to the Nationale Féminine 1 index page
Return from NF1 Basketball news to women playing basketball blog page
Go to Women Playing Basketball In France Home Page
---
Basketball news picture credits:

Tours (TVL 37)
Pleyer-Christ basketball club (PCBC)
UHB-SA
SIG Amateur

Date created: 27 March 2010
---