Tours' NF1 basketball can not get any worse
---
---
Charlotte Michalak
who is in her first season of NF1 basketball was hit by a car just before her match this weekend for CSP Rezé. She suffered a broken leg and various other injuries.
It goes without saying that her basketball season is over. Michalak hails from the North of France. She played youth basketball at the USVO basketball academy.
She was a non-playing member of the USVO first team during the 2006-2007 season. She moved on to Challes-les-Eaux and played in the second team while continuing her higher education.
This season (in 13 matches) she averaged 6.9 points and played 15 minutes per game.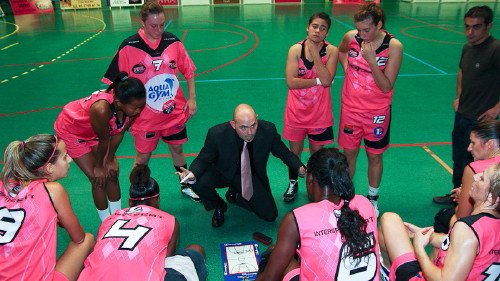 Can it get any worse for Tours Val de Loire Basket?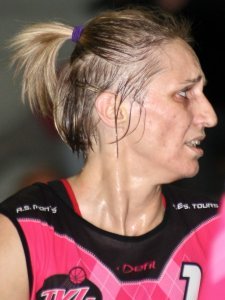 Tours Val de Loire Basket (TVL)
's NF1 basketball experience is turning into a nightmare. In November they lost
Patricia Da Silva
when she injured her knee.
It was confirmed recently that she would not be returning to the club. Then in December they lost Dessislava Anguelova (right) for the rest of the season after she popped her ACL.
To add to the misery, last weekend Babette M'Bah-Nerrière sprained her ankle and will be out for some time.
Albena Branzova, who is now 38 years old, joined the club in December as medical cover for Da Silva. She played well in her first few games. But since the Christmas break she has been struggling.
This weekend TVL lost at home (68-111) to Avenir de Rennes and registered their ninth consecutive defeat.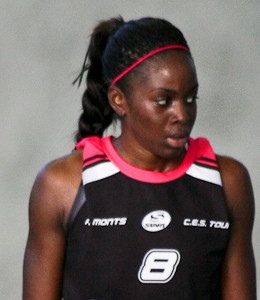 TVL started the game aggressively and matched their guests (8-8) during the first four minutes.
Rennes then stepped on the accelerator while TVL lost Babette M'Bah-Nerrière with a sprained ankle. Rennes hit 15 unanswered points and led (29-13) by the end of the first quarter.
Clarisse M'Paka (left) and Johanna Boutet did their best to keep TVL in the match. They reduced the deficit to 7 points (32-39) with four minutes to the interval. However both players were in foul problems with 3 fouls each by the interval. As a consequence TVL fell behind (39-50).
Frédérique Prudhomme, the head coach from Rennes, exploited the fouls problems of their hosts by playing at high speed and frequently turning her bench.
In addition with Virginie Kévorkian (22 points, 5 assists, 4 steals), the captain conducting the play, Rennes had it easy and scored 61 points during the second half of the match.
Rennes remain in seventh place while TVL remain deep in the relegation zone in fifteenth position.
---
---
Notes from the other NF1 basketball games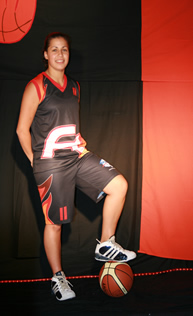 Charleville-Mézières travelled to Brittany to face Pleyber-Christ this weekend. The expected dual between
Djéné Diawara
(13 points, 15 rebounds and 5 assists) and Naignouma Coulibaly (18 points and 11 rebounds) took place, with Diawara coming out on top.
Coulibaly was called three times for fouls on Diawara and had to leave the game for 5 fouls with four minutes remaining.
Charleville-Mézières ran out winners (87-53) with Amel Bouderra (right) top scoring with 23 points.
UHB-SA snapped their two-game losing streak by beating US Laveyron (72-54) after a slow start. Clémence Beikes was once again the star of the match with 22 points, 7 assists and 4 steals.
Roche Vendée came away with an important victory (79-64) against Illkirch-Graffenstaden while Dunkerque ended their negative series with a road win (85-74) against Voiron.
Reims waited until the final quarter to get on top of Nice BC 06. With eight minutes to play Nice led (52-43). Philippe Sauret, Reims head coach, called for a time-out and changed his team's tactics.
Six minutes later and 15 unanswered points on the scoreboard Reims were back in control (58-52).
The last couple of minutes were tense. It took a trey by Zuzana Gujaraidze to knock out Nice for good (63-58).
Two free-throws from Laure Belleville with three seconds left to play was enough for Charnay-lès-Mâcon to take the game away from CSP Rezé (61-59).
Lyon BF had no trouble in defeating the CFBB (72-56).
All the NF1 basketball results from round 17 of the 2009-2010 season are are listed below:

Roche Vendée 79-64 Illkirch-Graffenstaden
CSP Rezé 59 - 61 Charnay-Mâcon
Etoile de Voiron 74-85 Dunkerque Malo
Reims 63 - 58 Nice BC 06
UHB-SA 72-54 US Laveyron
Lyon BF 77-52 CFBB (INSEP)
Tours 68-111 Rennes
Pleyber-Christ 53-87 Charleville Mézières

---
NF1 Basketball round 16:Surprises to start the new year
Return from NF1 Amateur Basketball news to the Nationale Féminine 1 index page
Return from NF1 Basketball news to women playing basketball blog page
NF1 Basketball news picture credits:

David Savary
flammesbasketcarolo

18 January 2010

---