NF1 basketball preview 2008-2009
---
---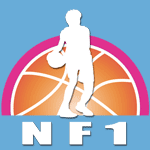 Despite the fact that there are more teams in NF1 basketball (16 teams) than in the LFB (12 teams) this division is an amateur league. Games are only played during the weekend, officially only on Saturdays, hence one match per week for 30 weeks.
At the end of the regular season the top four teams will then play off over a final four weekend to determine which side will be crowned as French Champion.
The bottom four clubs at the end of the season are candidates for automatic relegation. In the last four seasons this has not happened as other clubs have dropped out of the division or clubs have refused promotion.
The sixteen teams for the 2008-2009 season are:
Sports Ouvriers Armentiérois
CFBB (INSEP)
Flamme Carolos Basket Ardennes Asptt (Charleville-Mézières)
Union Sportive Colomiers Basket
Dunkerque Malo Basket Club (DMBC)
Strasbourg Illkirch-Graffenstaden (SIG)
Club de Basket d'Ifs
Union Sportive Laveyron Drome Basket
Limoges ABC en Limousin
Nice Cavigal Olympic
Pleyber-Christ Basket Club
Avenir de Rennes
La Roche Vendée Basket Club
Strasbourg Alsace Basket Club
Toulouse Métropole Basket (TMB)
Etoile de Voiron Basket Féminine

With the re-election of COB Calais in the LFB and the liquidation of Mourenx, there is no club from the LFB playing in NF1 this season.
The second big change this season in NF1 is the recruitment policy of most of the clubs. The big spending of the past three seasons which has seen many clubs fall by the wayside has been replaced with caution.
As a result a lot more U21 players will be seen in action as clubs are either reverting back to their centre of formation (basketball academies) or attracting promising youngsters from other development centres.
In the past, pre-season results gave an indication of teams to watch. This year it was not the case as the NF1 clubs took part in more regional matches instead of playing each other.
Yet for us there are five clubs that should be challenging for the regular season title and the four play-off spots: Armentières, Charleville-Mézières, Dunkerque, Limoges and Toulouse.
---
---
NF1 Basketball favourites for 2008-2009
In terms of recruitment Toulouse will have the most interesting roster for this season. Emmanuelle Hermouet will make her return to club basketball after having completed her assignment with the French National team.
When you then add the names of Anda Jekabsone, Amandine Lacrabe and Nadia Peruch then you are speaking of players with LFB experience. Aurélie Noirez is making her return to France after a successful time with Maryland in the USA where she was a member of the 2007 NCAA championship team.
This side should definitely be play-off material once Valérie Garnier, the head coach, integrates all the players.
Last season Dunkerque had a problem beating teams in the bottom quarter of the table. So they missed out on a play-off spot on the last day of the championship when they lost to Pleyber-Christ.
They have not made any real changes to the team from last year as all the major players have remained. In addition they have picked up the experienced veteran Bénédicte Fombonne from Villeneuve d'Ascq and the speedy point guard Amélie Fresnais (left) who played in Reims last season after coming from Limoges, NF1.
Limoges finished last season on a high with 9 victories from their last 11 games. They continued in this stride with a solid preparation for 2008-2009 Nationale Féminine 1 championship.
Despite losing a few players from last season they have acquired some talented youngsters with Johanna Tayeau (19 years) from Bourges Basket (NF2) and Jessie de Colo (18 years) from Dunkerque (NF1) including two U18 players from their own basketball academy (centre de formation).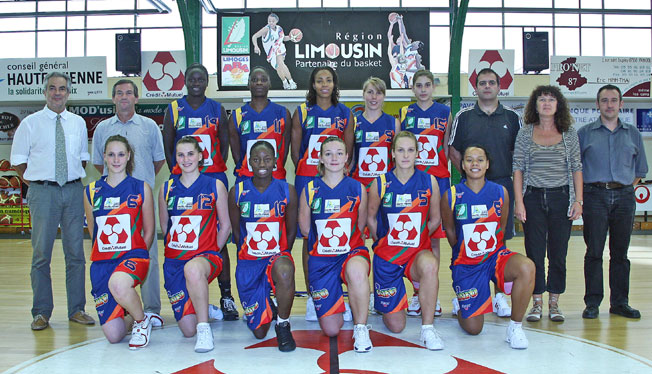 The mixture of youthful exuberance with the solid roster, put together by Bertrand Parvaud, should make them one of the most interesting teams to watch.
Armentières' head coach Stéphane Lalar stated recently that people should not get carried away by their qualification for the final four last season. The primary objective for the season was to secure their position in NF1. He has more or less the same roster as last season with mainly players from the region.
Charleville were the favourite for promotion for the last two seasons with the most impressive and most expensive roster in the division. However this will not be the case this season as they have cut back on costs.
They have actually gone for youth players that have either played for France at youth international level or come from the Bourges Basket academy.
Yet they have acquired the service of veterans Céline Fromholz and Dana Boonen (Belgium international). Both players played at Rennes last season.
---
NF1 Basketball challengers
If the clubs mentioned above fail then some of these clubs could sneak in to the top four: Graffenstaden (SIG), Nice, Rennes, Roche Vendée and Strasbourg ABC.
Frédérique Prud'homme, Rennes' head coach, has had to put together a new team. But she has acquired some experienced players: Virginie Kévorkian from Mourenx (LFB) and Nadja Morgan from Nice COB.
However Prud'homme's eye for youth players with Lorraine Lokoka from Bourges (NF2) and Carole Leclair from Tarbes (LFB) and Maud Médénou from the CFBB will make the team one of the fastest movers in NF1 this season. Hence they should be difficult to play against and have been hard to beat in their home court.
Strasbourg ABC are the mystery teams for the moment with a lot of personnel changes. Their new coach, José Ruiz, was at the Olympic Games with Mali and did not arrive until 25th August 2008.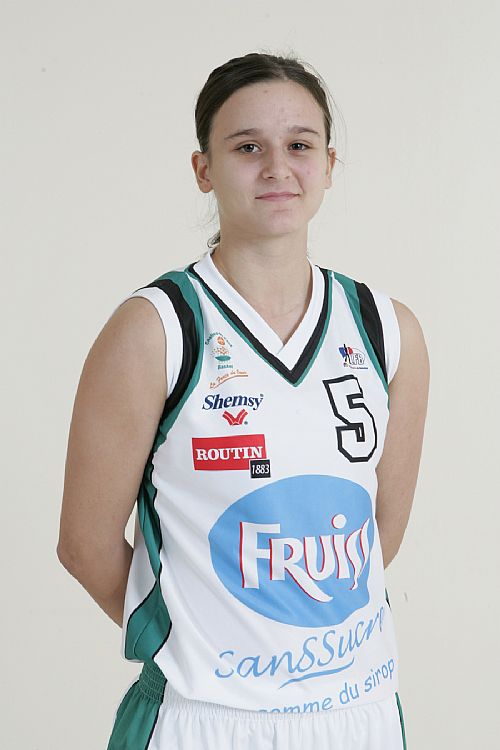 Ruiz comes from the centre de formation from Lattes Montpellier and has brought along Charline Servage in addition to two players from Mali Djéné Diawara (20 years) and Astan Dabo (16 years and supposedly 2m03).
Furthermore Claire Vanhoutrève (19 years, right) is returning back to her home club (Racing club de Strasbourg) after her time at Challes-les-Eaux (LFB).
Then there will Melissa Washington from Saint Amand (LFB) and Laurence Cayot who is making her return after a year's absence.
The integration of these new players with the few remaining makes them an unknown team.
There is not much difference between the SIG, Nice and Roche Vendée in their roster. Each club has its gems and on any given day they might beat any of the top teams in the Nationale Féminine 1.
For the SIG they have Philippe Breitenbucher with 16 years of experience with the club. They have no plans of returning to NF2 in a hurry. The addition of Allison Vernerey (left), Aminata Kornate and Jessica de Amorim to join the SIG youngster Aline Fischbach will probably give them the youngest roster in the league.
Nice had mixed fortunes last season. But their head coach Odile Santaniello has been able to gather an impressive roster this time around.
Voiron's strength is their coach, Laurence Clauss-Lemarchand who has developed a number of youth players over the last two seasons. With the addition of the experience from Stéphanie Pognon from Challes-les-Eaux and Delphine Lecoultre from Basket Landes (NF1) you should expect fireworks from this team during this season.
---
NF1 Basketball preview for the remaining clubs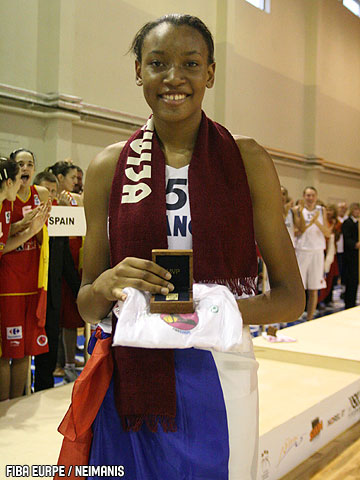 The CFBB (*see under section) can neither be promoted nor relegated and will be made up of players born 1991/1992 form the French National Basketball Academy (INSEP).
Diandra Tchatchouang (right), who was the NF1 young player of last season, will lead the side.
Pleyber-Christ have been re-elected the last two season and hope to finish outside the relegation zone this time round. This side is made up of 75% of local players and will be looking this season to play more with players from their own academy.
All the same Céline Lix-Boubala, who returned from maternity leave in February 2008 will be the driving force in the team.
US Laveyron are going to experience their first season in NF1 and it will be difficult for them.
Colomiers have added the experienced Flore Perotto, who - two seasons ago - played for Montpellier (LFB), and Irena Spirkova, an experienced player from the Czech Republic. They have the ability to surprise.
Ifs left the NF1 basketball scene voluntarily two seasons ago and are now back with a young team. They are not expected to challenge the top teams and are likely to spend most of the season in the relegation zone. But who knows!
*The CFBB (Centre Fédéral de Basket-Ball) is a team of young women playing basketball based at INSEP (Institut National du Sport et de l'Education Physique) in Paris. The players join the CFBB at 15 and stay for three years. In the first year they play in NF2 and for the players retained to continue their basketball education they play basketball in NF1 in the following two years. As this is a national development group their teams in NF1 and NF2 can neither be promoted nor relegated.
---
Links to other NF1 Basketball Stories for 2008-2008
NF1 Basketball teams rosters for 2008-2009
NF1 Basketball news as season gets ready to start
Return from NF1 Basketball Preview 2008-2009 to Nationale Féminine 1 index page
Return from NF1 Basketball Preview 2008-2009 to women playing basketball blog page
NF1 Basketball preview picture credits:
Diandra Tchatchouang - Fiba Europe
Claire Vanhoutrève - FFBB (2007-2008)
Limoges team photo - Limoges ABC
Remaining pictures - womensbasketball-in-france.com
Date: 13 September 2008

---