Limoges' NF1 basketball season is almost perfect
---
---
The rules state that the clubs that finish in the bottom four places at the end of the NF1 Basketball regular season will be relegated to NF2 and be replaced from teams that are promoted from NF2.
It is already clear that this season like the other years will some of the clubs in the bottom 4 places will still be allowed to play in NF1 next season.
As a result clubs are now fighting to finish in the highest position possible for re-election at the end of the season.
NF1 final four position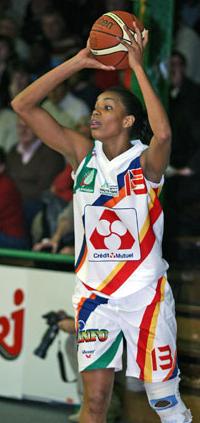 Limoges have booked their ticket for the 2009 NF1 final four after winning on the road against Toulouse (75-65).
Cora Duval (left) was once again the match winner for Limoges with a double-double 22 points, 10 rebounds and 5 assists.
Limoges were also grateful to the work of Barbara Cousin who held the team together during the last five minutes when her team-mates were hampered by foul problems.
Toulouse stays in fifth place and are still in the play-off picture.
Roche Vendée cruised past Armentières (97-63) and are back in sole possession of fourth place.
Armentiéres remain in second position and still require two wins for a place in the final four.
Illkirch-Graffenstaden allowed their hosts Nice to open up a 15-point lead (4-19) with five minutes played.
The SIG then went to work and reduced the deficit to 7 points by the end of the first period and by the interval trailed by only 3 points (42-45).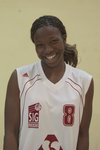 Aminata Konaté (right) was the match winner for the SIG with her 34 points.
Aline Fischbach contributed 20 points as the SIG ran out winners (80-65).
The SIG stay in third position but have the same number of points than Armentières.
Dunkerque pulled off an important victory (70-56) against Charleville-Mézières. This defeat leaves Charleville-Mézières in sixth position.
| | Club | Points |
| --- | --- | --- |
What is happening at the bottom
The CFBB cannot be relegated and despite winning (75-72) against Pleyber-Christ, they remain in last position.
Adja Konteh led the scoring with 19 points for the CFBB.
Voiron recovered from their overtime defeat last weekend to hold off Ifs (87-84) while Rennes crushed Colomiers (103-82).
Colomiers, Pleyber-Christ and Ifs are all on identical records and occupy 13th through 15th position and are three games behind Laveyron and Voiron.
With Pleyber-Christ having to play Colomiers in the last game of the season, one of these two teams will finish in the relegation zone even if they win their next three games.
Strasbourg ABC may be going into administration before the season ends and fell at home to US Laveyron (64-69).
US Laveyron are now three games clear of the teams behind them and are just one victory behind the three clubs ahead of them.
---
All the results from round twenty-six for the Nationale Féminine 1 are listed below:
Toulouse 65-75 Limoges
Roche Vendeé 93-67 Armentières
Nice 65-80 Illkirch-Graffenstaden
Dunkerque 70-56 Charleville Mézières
Strasbourg ABC 64-69 US Laveyron
Rennes 103-83 Colomiers
CFBB (INSEP) 75-72 Pleyber-Christ
---
Look back at the NF1 Basketball news from round 25
Return from NF1 Amateur Basketball Nationale Féminine 1 to index page
Return from NF1 Basketball news to women playing basketball blog page
NF1 basketball news picture credits:

Limoges ABC
SIG Amateur
Date: 12 April 2009

---