NF1 basketball reaches the crucial part of the season
---
---
Limoges
are closing in on a place in the NF1 basketball final four. They were made to sweat before overcoming fifth-placed Charleville-Mézières (52-51) in a dramatic final quarter.
Jeanne Senghor-Sy was the only player from Limoges in double digits with 11 points. For the hosts Amel Boudara and Dana Bonnen scored 13 and 12 points each.
This was the second consecutive defeat for Charleville-Mézières and they still remain in fifth position.
On Friday evening Dunkerque hosted Armentières and came out second best in the North derby despite leading for most of the game.
Dunkerque went into the final period leading (52-47). They only lost the advantage during the last two minutes of the game allowing Armentières to win (60-56).
Armentières remain in second position two games behind the leaders.
In the derby match of the East Illkirch-Grafffenstaden came out on top against Strasbourg ABC (78-68).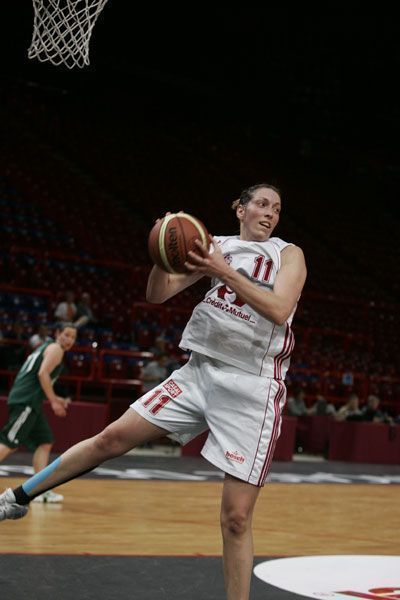 The SIG led (16-7) by the end of the first period. They completed an 8-0 run to lead (21-7) early in the second period.Strasbourg ABC fought back slowly and trailed by only 6 points at the interval (23-29).
Céline Schmitt-Sender (left)scored 12 points for the SIG during the third period as the host held on to the lead (55-50) going into the final period.
foul trouble restricted the participation Schmitt-Sender during the final period but she still finished with a game high 23 points and 11 rebounds.
A sequence of three-point shooting by the SIG and quality passing from Audrey Koop (12 assists) saw the SIG hold off the challenge of Strasbourg ABC.
The SIG did have a bad day from the foul line as they only managed 7-from-20.
With this victory the SIG can no longer finish in the relegation zone as they move into third position.
Elsewhere in NF1 basketball
| | Club | Points |
| --- | --- | --- |
Roche Vendée lost another Brittany derby on the road, this time to Rennes (82-74).
Roche Vendée drop to fourth place and are just one game ahead of the team lying in fifth position.
Toulouse move into joint fifth position after their comfortable victory against the CFBB (71-45).
Nice have almost ended their play-off ambitions after losing at home to Voiron (63-75).
Pleyber-Christ won at home (73-64) against US Laveyron but failed to win by more than 10 points, which may be important if the two teams finish tied at the end of the season.
Colomiers also won at home by beating Ifs (73-62) and have the better record of the two teams.
The relegation rules in NF1 basketball are simple. The bottom four teams, excluding the CFBB, will be relegated.
However nearly every season a number of clubs that finish in the relegation zone remain in the division because other teams pull out of NF1.
All the results from round twenty-three for the Nationale Féminine 1 are listed below:
Dunkerque 56-60 Armentières
Charleville-Mézières 51-52 Limoges
Illkirch-Graffenstaden 78-68 Strasbourg ABC
Rennes 82-74 Roche Vendée
Nice 63-75 Voiron
Colomiers 73-62 Ifs
CFBB 45-71 Toulouse
Pleyber-Christ 73-64 US Laveyron
---
Look back at the NF1 Basketball news from round 22
Return from NF1 Amateur Basketball Nationale Féminine 1 to index page
Return from NF1 Basketball news to women playing basketball blog page
NF1 basketball news picture credits:

FFBB
Date: 15 March 2009

---