Ligue Féminine de Basketball
News from round 26
A lot of live basketball for one evening
Delight for Mondeville, disappointment for Lyon
The 2011-12 Ligue Féminine de Basketball's regular season has come to an end with a bang. For the first time in the history of LFB-TV, three games were broadcast simultaneously, while two other games were covered by radio commentary.
The match between Bourges Basket and Challes-les-Eaux was shown live because Challes had a chance of finishing in second place provided Montpellier lost to Lyon.
However Bourges Basket did not give Challes-les-Eaux much of a chance. After a 20-7 second-quarter run, they killed the game as a contest leading (42-25).
Challes chased hard during the second half and reduced the deficit to 7 points on a couple of occasions but this was as close as they got.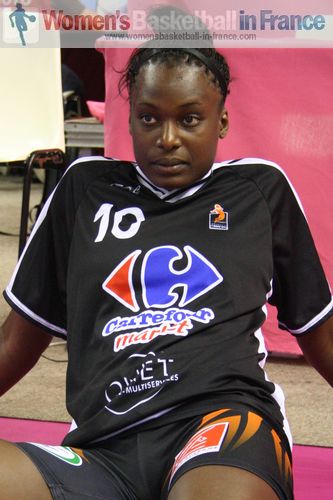 The final score in favour of Bourges Basket was (71-63). Jennifer Digbeu (in picture) hit identical buzzer beaters at the end of the first and second quarter with a volleyball-style flip back that is likely to find its way to Youtube.
For Bourges Basket Kiesha Brown with 20 points was the leading scorer. Céline Dumerc was the only other player in double figures with 11 points. Challes-les-Eaux was led by Mistie Mims with 19 points.
Lattes Montpellier needed 11 final-quarter points by Edwige Lawson-Wade to finally put down Lyon (78-69).
Lyon's injury list is long but their biggest handicap this season has been fouling. Once again Julie Legoupil was in foul problems from the first quarter and eventually fouled out.
Leslie Ardon kept herself out of foul trouble and scored 18 points while Krystal Thomas did the work in the paint to score 22 points and take 13 rebounds. Charline Servage had a great first half in which she scored 11 points to finish the game with 13. However all these efforts came to nothing as they allowed Montpellier to win.
Montpellier finished second place and will have home advantage against Challes-les-Eaux if a third game is required in their play-off series.
For Lyon the season is over. They are officially relegated to LF2. However like every year we have to wait and see if all the teams promoted will actually be able to play in the LFB.
The rest of the news from the final Ligue Féminine de Basketball round
USO Mondeville secured 4th place after a tough match against Basket Landes (58-49). This match had a play-off atmosphere because 4th place was the prize for the winner.
A good first quarter for Mondeville (16-11) left Basket Landes using a lot of energy chasing the game. Although Basket Landes led briefly during the second quarter the hosts managed to go into the locker room leading (25-23) thanks to late scores from Laëtitia Kamba (13 points).
The rest of the game was tactical with USO Mondeville holding onto the lead. Ingrid Tanqueray and K. B. Sharp added 14 and 12 points each for the winners. Justyna Zurowska was the only player from Basket Landes to hit double figures with 12 points.
Leilani Mitchell (in picture) has played her last game for Arras unless her club in the WNBA allows her to come back for the French Cup final. Mitchell gave her best performance of the season scoring a game high 21 points as well as dishing out 4 assists as Arras beat Charleville-Mézières (71-67).
For Charleville Valeriya Berezhynska led the way with 17 points while Djéné Diawara and Anne-Sophie Pagnier scored 15 each. Both teams are not involved in post-season play.
Hainaut Basket beat Villeneuve d'Ascq (61-56) in the third LFB match of the evening. With Villeneuve d'Ascq already eliminated from post-season play, there was not much at stake in this match.
However the match was played in a typical derby spirit with the pendulum swinging both ways. It was not a classic match but Hainaut had to dig deep to get the victory. Amisha Carter led the scoring for the winners with 19 points (8-of-28). Kathy Wambe also had 19 points for Villeneuve.
Aix-en-Provence have had a season to forget and they failed to end the season on a high note as they lost at home to Cavigal Nice (70-74). However their status in the LFB remains because Lyon failed to overturn Lattes Montpellier.
Cavigal Nice already relegated were led to victory with Merike Anderson and Jeanne Senghor-Sy with 16 points each. Nathalie Hurst and Sylvie Gruszczynski led Aix-en-Provence with 22 and 20 points respectively.
LFB results from round 26:
Lyon 69-78 Lattes Montpellier
Bourges Basket 71-63 Challes-les-Eaux
Hainaut Basket 61-56 Villeneuve d'Ascq
Nantes-Rezé 58-68 Tarbes
Arras 71-67 Charleville-Mézières
USO Mondeville 56-49 Basket Landes
Aix-en-Provence 70-74 Cavigal Nice

2011/2012 Final regular season standing
---
Look back at what happened in round 25
Go to Ligue Féminine de Basket 2011-2012 page
Leave Ligue Féminine de Basket - Season 2011-2012 page and return to home page
Return to the top of Ligue Féminine de Basketball page
Ligue Féminine de Basketball picture credits:


womensbasketball-in-france.com


Date created: 11 April 2012

---