Ligue Féminine de Basketball
News from round 25
Regular season title for Bourges Basket
4th place still not decided
After 25 rounds of matches in the 2011-2012 Ligue Féminine de Basketball we know the eight teams that will participate in the post season. We also know who the regular season champions are. However we are still waiting to find out which team will take the all important 4th place for the championship play-off series.
Bourges Basket clinched the regular season title in a difficult road trip against Charleville-Mézières (77-74).
Bourges Basket led (11-4) after five minutes but ended up losing the first quarter (15-17).
The hosts rode their luck despite losing their captain Yacine Séné for most of the quarter. They went into the interval leading (35-28).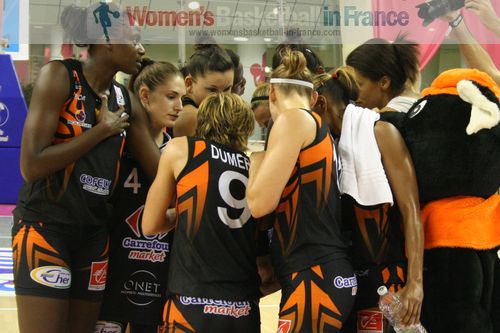 Charleville-Mézières somehow managed to push their advantage up to 13 points. But with Valeriya Berezhynska (14 points) and Amel Bouderra on 4 fouls and Djéné Diawara (10 points) fouling out, Romuald Yerenaux lost his cool and picked up a technical foul.
Cathy Joens (20 points) hit the 4 free throws and from then onwards Bourges started to chase down the score.
Joens was on fire during the third quarter and hit a magical basket that is sure to be on youtube (it was a case of shooting the ball and hoping for the best).
Bourges were back in the game and went into the final quarter with a 1-point deficit (51-52).
The two teams exchanged the lead at the start of the final quarter before drawing level (55-55) for the second and last time in the game.
Bourges edged in front (60-59) with five minutes to play. Céline Dumerc (14 points) hit a couple of three-pointers and Bourges Basket led (72-63) with three minutes to play.
Zoi Dimitrakou (17 points) and Anne-Sohie Pangnier (13 points) hit some big shots from beyond the arc for the hosts but Bourges held their ground with Emméline Ndongue (14 points) and Nwal-Endéné Miyem (13 points) showing off some of their defensive skills.
As so often at Charleville-Mézières, the last shot of the game was taken on the buzzer. This time it was Pagnier with a half-court shot that went in.
This defeat ended Charleville-Mézières' chance of qualifying for the LFB Challenge Round.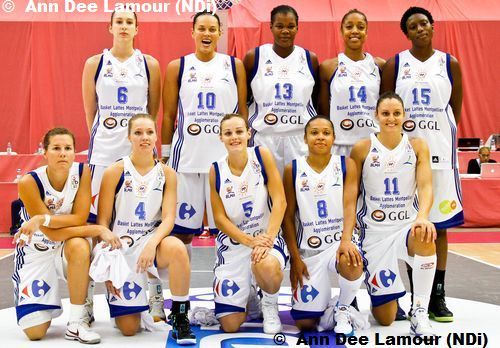 Lattes Montpellier lost for the third time this season to Nantes-Rezé after their French Cup quarter-final defeat on the road. They lost (65-74) and remain in second place with a game advantage over Challes-les-Eaux who won this weekend.
Challes-les-Eaux were without Emilija Podrug but still had no problems in beating Tarbes (75-48) with Mistie Mimms, Danielle Page and Rommy Bär scoring 17, 15 and 13 points respectively.
Tarbes are out of the play-off for the French Championship title but have qualified for the LFB Challenge Round.
Ligue Féminine basketball news from the other games
Villeneuve d'Ascq needed big performances by Kathy Wambe (22 and 6 assists), Olayinka Sanni (17 points and 11 rebounds) and Sidney Spencer (18 points and 15 rebounds) to hold off Lyon (84-76).
For Lyon Leslie Ardon went 6-of-10 from beyond the arc to lead the way with 24 points while Krystal Thomas chipped in 16 points and 14 rebounds.
Despite the victory Villeneuve cannot qualify for the LFB Challenge Round which means no European basketball once again next season.
Basket Landes beat Aix-en-Provence (81-56) to keep their hopes for a place in the top 4.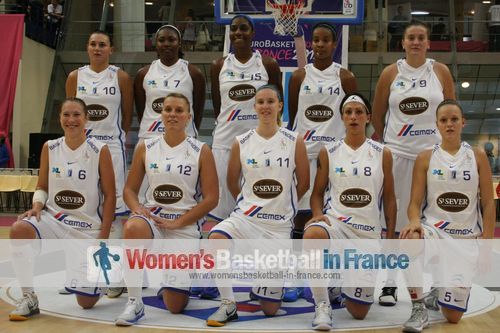 The future of Aix-en-Provence and Lyon in the LFB will be decided in round 26. For Lyon to avoid relegation they must win and Aix-en-Provence lose, otherwise Lyon are relegated.
USO Mondeville ended their series of 4 defeats with a road victory against Arras (75-59). USO Mondeville will face Basket Landes in their last match of the season. The winner of this game will finish in 4th place and face Bourges Basket in the Championship play-off series.
As usual with Cavigal Nice playing at home, it was a high scoring game that ended up in defeat. Hainaut Basket won (84-70) with 27 points coming from Maria Solopova and Tracy Albicy playing her first minutes in the Ligue Féminine de Basketball this season.
The post-season situation is as follows:
Championship Play-off: Bourges Basket, Challes-les-Eaux, Lattes Montepellier, (Basket Landes or USO Mondeville)
LFB Challenge Round: (Basket Landes or USO Mondeville), Hainaut Basket, Nantes-Rezé, Tarbes
LFB results from round 25:
Basket Landes 81-56 Aix-en-Provence
Villeneuve d'Ascq 84-66 Lyon
Challes-les-Eaux 75-48 Tarbes
Charleville-Mézières 74-77 Bourges Basket
Cavigal Nice 70-84 Hainaut Basket
Lattes Montepellier 65-74 Nantes-Rezé
Arras 59-75 USO Mondeville
---
Look back at what happened in round 24
Go to Ligue Féminine de Basket 2011-2012 page
Leave Ligue Féminine de Basket - Season 2011-2012 page and return to home page
Return to the top of Ligue Féminine de Basketball page
Picture credits:


womensbasketball-in-france.com
Anne Dee Lamour


Date created: 8 April 2012

---