Ligue Féminine de Basketball
Aix-en-Provence might have saved
their season
Coaching in the Ligue Féminine de Basketball can be sometimes stressful. Last season Bruno Blier was leading Arras into the EuroCup Women final. This year he is trying to save Aix-en-Provence from relegation.
Blier's first visit back to his former club since his departure last May ended well for him and Aix-en-Provence as they won (87-74).
Once again Nathalie Hurst was on fire. She went 6-of-8 from behind the arc and top scored with 24 points. Her team-mate N'Deye N'Diaye who played just 19 minutes but hit 6-of-8 shots from the field scored 14 points.
Aix-en-Provence never trailed in the match. By half time they led (52-32). With Cindy Lima keeping out of foul problems and a balanced offensive effort during the second half of the match they managed to hold off Arras from coming back into the game.
For Arras Pauline Akonga N'Simba fired in 23 points. The three other non-French players from the club also finished with double digits scores.
Provided the penalty to Tarbes remain, then Arras' chance of qualifying for the LFB Challenge Round has almost gone.
Aix-en-Provence's safety in the LFB will be assured if Lyon BF lose their next game.
Ligue Féminine de Basketball round 23 news
Once again Cavigal Nice lost in a high scoring game on their home court to Nantes-Rezé (76-89). Sarah Michel led the Nantes attack with 23 points and was well supported by Lenae Williams who contributed 20 points.
With Tarbes' victory against Villeneuve and the victory of Aix-en-Provence, Cavigal Nice are one defeat away from relegation to L2F.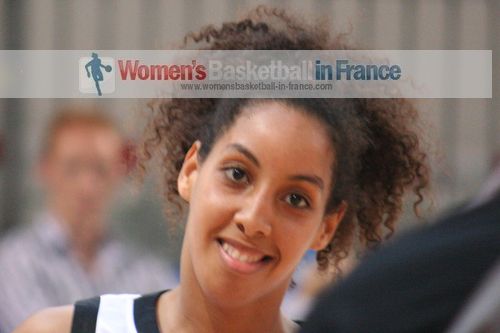 The only good news from Cavigal Nice this weekend was the return of Majda Ghariani (in picture) who had been absent since the Open LFB.
After their defeat against Bourges in the Coupe de France, USO Mondeville were once again on the wrong side of Bourges Basket (48-57) and as a result have still not been able to secure fourth place.
Mondeville were unable to get their offensive game going and with Giedre Paugaite and Naignouma Coulibaly in early foul problems from the first quarter their chances of winning were slim.
Bourges Basket never trailed and with Styliani Kaltsidou absent, it was the turn of Kiesha Brown to step up offensively in leading the attack with 15 points. Laëtitia Kamba was the leading scorer for Mondeville.
Charleville Mézières beat Union Hainaut (51-50). However the game ended in controversy with a cancellation of a buzzer beater:
The catch-and-shoot shot by Marina Solopova (14 points) went in as the clock expired and the match officials validated the score. The officials then had a discussion with the time-keepers and then cancelled the score.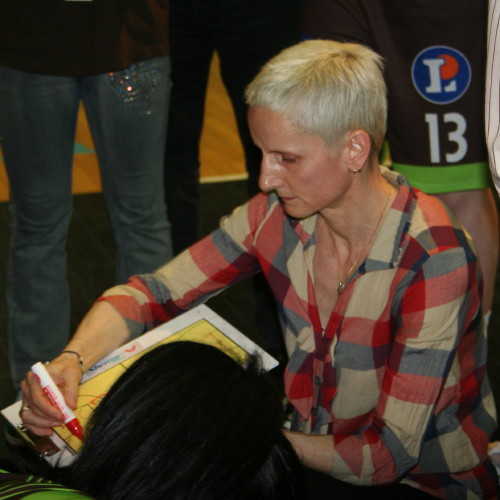 Corinne Benintendi (in picture), the coach from Union Hainaut, was upset. She explained that each match at this stage of the season was a final with everybody playing to avoid relegation and fighting for a place in Europe.
Anne-Sophie Pagnier was the leading scorer for Charleville-Mézières with 10 points.
Basket Landes kept their hopes alive of a top 4 finish with a comfortable victory (86-50). Basket Landes led from start to finish and more or less made the games theirs in the first quarter leading (25-8). Allison Hightower had her best game so far for the club with a game high 22 points.
LFB results from round 23:
Lattes Montpellier 74-70 Challes-les-Eaux
Villeneuve d'Ascq 83-89 Tarbes
Cavigal Nice 76-89 Nantes-Rezé
Basket Landes 86-50 Lyon BF
Charleville-Mézières 51-50 Hainaut Basket
USO Mondeville 48-57 Bourges Basket
Arras 74-87 Aix-en-Provence

---
Look back at what happened in round 22
Go to Ligue Féminine de Basket 2011-2012 page
Leave Ligue Féminine de Basket - Season 2011-2012 page and return to home page
Return to the top of Ligue Féminine de Basketball page
Picture credits:


womensbasketball-in-france.com


Date created: 18 March 2012

---