Ligue Féminine de Basketball
Lattes Montpellier remain title contesters
Tarbes fighting for survival
The 2012 Ligue Féminine de Basketball regular season title chase is turning into a two-team battle after Lattes-Montpellier beat Challes-les-Eaux (74-70).
With Bourges Basket having played one game more than Montpellier, they remain in first place.
For Challes-les-Eaux who are now two games behind Montpellier, their hopes on finishing first with three games remaining now depends on other teams helping them out by beating Lattes Montpellier and Bourges Basket.
Unfortunately the issue about the 8-point sanction against Tarbes has not been resolved although the first appeal was rejected earlier this week.
In terms of the sanction "To be or not to be" is still the question, because the President of Tarbes is appealing once more.
Tarbes also have a tough schedule to finish in the Ligue Féminine competition with games against Montpellier, Challes-les-Eaux and Nantes-Rezé.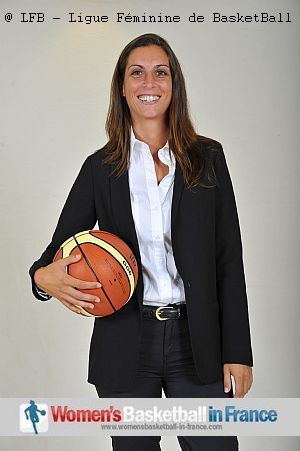 Meanwhile on the basketball court interim Head Coach Marie-Pierre Uriarte (in picture) is performing wonders as Tarbes won again, this time on the road against Villeneuve d'Ascq (89-83).
Ana Cata-Chittiga and Paoline Salagnac scored 17 points while Alex Montgomery chipped in 16 points. Florence Lepron helped out offensively with 11 points while giving out 5 assists. Lizzie Murphey completed the double-digit scoring with 12 points.
For Villeneuve the chance of finishing in fourth place has more or less disappeared with this defeat. The major difference between the two teams at the end was the three-point shots made.
Villeneuve were 2-of-10, while Tarbes went 4-of-11. For Villeneuve Olayinka Sanni was the leading scorer with 21 points, Sidney Spencer who played the full 40 minutes scored 19 points while Emilie Gomis and Sabrina Palie scored 13 points each.
The relegation scenarios should become clearer after the matches for Aix-en-Provence, Lyon BF and Cavigal Nice this weekend.
Lattes Montpellier win but have lost Kristen Mann
Lattes Montpellier had a deeper bench and led for most of the match and in the end just held on to win by 4 points.
It is not news anymore that Challes-les-Eaux only have a seven-player roster but with Anäel Lardy still suffering with her shoulder injury and Mistie Mims (23 points) playing on one good leg Challes-les-Eaux were not supposed to have a chance of winning this game.
However they matched Montpellier in the first quarter (22-22) despite their coach Aldo Corno (in picture) picking up a technical foul late in the quarter.
In the second quarter Montpellier took advantage of foul problems for Mims and Emilija Podrug (14 points) to open up a 10-point lead (42-32) with good shooting from Ana Lelas (15 points by half time).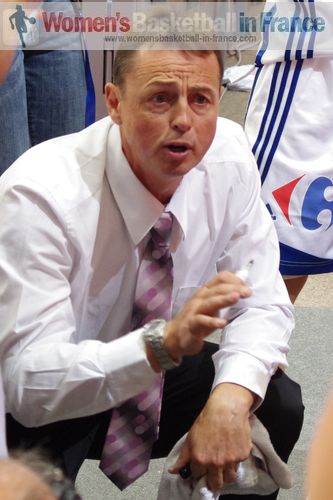 Valéry Demory appeared to have the right tactics after the break with Kristen Mann (17 points) hitting the long shots as the advantage grew to 15 points.
However Challes refused to give in and trailed by just 9 points going into the final quarter.
Montpellier failed to put the game away. But with just under three minutes to play it appeared that with 2 points by Diandra Tchatchouang their victory was assured with an 11-point cushion.
Mims and Danielle Page (15 points) had other ideas and Challes-les-Eaux reduced the deficit to 7 points with about 90 seconds to play.
The game became more scrappy. Both teams stepped up defensively. Unfortunately with about 20 seconds to play Mann went down badly in the paint at her end of the court. The game was stopped and her team-mate and captain Gaëlle Skrela who is a qualified physiotherapist rushed on the court to attend to her.
The game was held up for a while until she was taken off the court. The game was then restarted and within two seconds Mims hit her first three-pointer of the game (70-74).
The game was stopped again because Montpellier complained to the officials about the inbound being taken before all their players were on the court.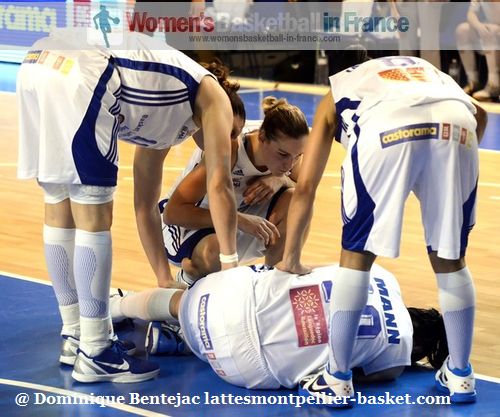 The confusion was not helped because the three-pointer was removed from the total.
The only reason we can give for this incident blowing out of proportion was that Montpellier had lost the aggregate score lead over the two games. Challes had won by 4 points earlier in the season.
The remaining 15 seconds were long with both teams using time-outs. However no more baskets were scored and Montpellier had the victory (74-70).
Mann's injury looked very bad and she is booked for surgery on 17 March.
---
Look back at what happened in round 22
Go to Ligue Féminine de Basket 2011-2012 page
Leave Ligue Féminine de Basket - Season 2011-2012 page and return to home page
Return to the top of Ligue Féminine de Basketball page
Picture credits:


womensbasketball-in-france.com
LFB - Ligue Féminine de Basketball
Dominique Bentejac lattesmontpellier-basket.com


Date created: 17 March 2012

---