Ligue Féminine de Basketball
Bourges Basket bounced Villeneuve d'Ascq
For Villeneuve d'Ascq's first Ligue Féminine home match of the season the home fans were in good voice and hoping that the momentum from their
Open LFB victory against Aix-en-Provence
would continue.
En bas du page vous trouvez un sommaire du match en français.
In the end the home fans left disappointed as their team paid the price for a poor first quarter in which they managed just 4 points in the paint and allowing Bourges to open up a 13-point lead (13-26).
Villeneuve spent the rest of the game chasing after the score without much success. Both sides were frustrated with the officiating which was at times bizarre.
For Villeneuve d'Ascq, Jillian Robbins played her final game. She is released from 1 October because the club wants to bring in a player in the style to Elodie Bertal.
Ligue Féminine game report - Nwal-Endéné Miyem destroyed Villeneuve by herself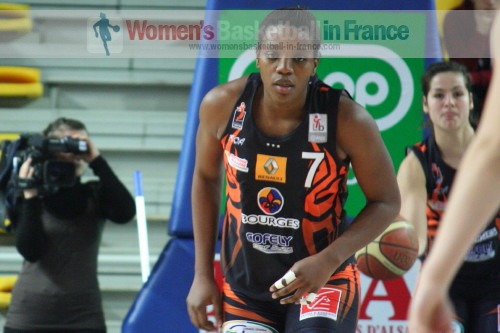 Bourges Basket needed a couple of minutes to get going before blowing the hosts apart with a 13-2 run with 8 points coming from Nwal-Endéné Miyem (in picture) to regain the lead (13-5).
Bourges stretched the advantage to (21-8) after back to back scores from Céline Dumerc.
The hosts somehow stopped the leakage but still ended up the first quarter trailing (13-26).
Bourges Basket went 11-of-16 from the field while Miyem was leading the way with 11 points.
Villeneuve d'Ascq switched to zone in the second quarter and Bourges started to miss their shots.
Villeneuve chipped away at the score slowly before accelerating their offensive with back to back three-pointers by Anne Breitreiner (26-30) with four minutes to play in the first half.
Bourges woke up and with Miyem once again finding her scoring touch they were able to regain control of the game.
The Villeneuve players panicked and rushed their shots while Bourges were able to go into the locker room with a 9-point cushion off the back of a Cathy Joens' trey (37-28).
The second half of the game was all Bourges Basket as they maintained a double-digit advantage all the way to the end of the match.
The home fans' hope of a victory rested in the hands of Emilie Gomis who scored the last 8 points which included a couple of three-pointers for her team in the third quarter to reduce the deficit to 12 points going into the final quarter (47-59).
Jennifer Digbeu and Joens' three-point shooting was all Bourges needed to maintain the advantage.
Villeneuve d'Ascq 60-70 Bourges Basket
Villeneuve d'Ascq: Rokiatou Coumaré DNP, Anne Breitreiner 13, Sabrine Bouzzenna 0, Alice Nayo 0, Laurie Datchy DNP, Emilie Gomis 21, Kathy Wambe 6 (6 assists), Olayinka Sanni 18 points (8 rebounds), Sabrina Palie 2, Jillian Robbins 0
Bourges Basket: Margaux Galliou Loko 2, Ieva Kublina 4 (9 rebounds), Nwal-Endéné Miyem 24 (8 rebounds), Styliani Kaltsidou DNP, Céline Dumerc 9 (6 assists), Jennifer Digbeu 16, Cathy Joens 12, Marielle Amant 6, Kiesha Brown 6, Lisa Bacconnier 0
Bourges Basket domine Villeneuve d'Ascq handicappé dans la raquette
On presque retrouve l'ancienne machine de Bourges Basket avec une Endéné Miyem en feu qui marque déjà 11 points de ses 24 en total dans le premier quart-temps et une Céline Dumerc qui assure pour que Bourges Basket a l'avantage (26-13) après dix minutes.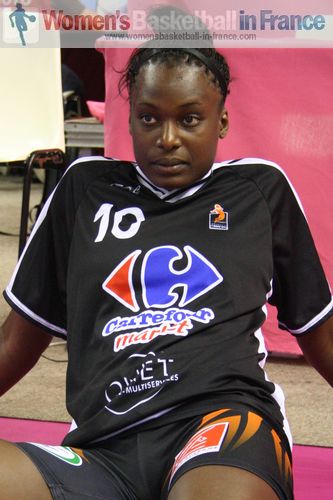 Le manque des joueuses dans la raquette pour Villeneuve d'Ascq avec que Olayinka Sanni qui tempte le tout, l'ESBVA essaye de serrer la défense pour revenir sur leurs adversaires.
Villeneuve avec Anne Breitreiner et ses deux tirs-primés se rapprochent aux Berruyères (26-30). Mais Bourges se réveille et Cathy Joens termine les attaques avec un tirs-primé pour prendre un avantage de 9 points à la fin du deuxième quart-temps (37-28).
La deuxième mi-temps voit une équipe ESBVA sonnée avec seule Emilie Gomis capable de se battre marquant les derniers 8 points dont 2 tirs-primés du troisième quart-temps (47-59).
Pourtant Jennifer Digbeu (dans l'images) et Joens lui répondent et conclurent le match avec un bon avantage (79-60).
Du côté de Villeneuve, l'entraîneur Abdou N'Diaye remplace l'absente Elodie Bertal par l'Américaine Cathrine Kraayveld pour renforcer les intérieures. Par conséquence, l'Américaine Jillian Robbins quitte l'aventure de la ligue avec ESBVA-LM.
---
Go to Ligue Féminine de Basket 2011-2012 page
Leave Ligue Féminine de Basket - Season 2011-2012 page and return to home page
Return to the top of Ligue Féminine de Basketball page
Picture credits:


womensbasketball-in-france

Date created: 30 September 2011
---