Ligue Féminine de Basketball
Eight wins have been enough for LFB survival in the past
The statistics of the Ligue Féminine de Basketball should prove that their eighth victory respectively of Challes-les-Eaux and Lattes-Montpellier this weekend bring them to the first milestone of the LFB season as no team with eight wins have ever finished the regular season in the relegation zone.
However already with seven wins in the regular season of the LFB so far three teams had escaped the drop: Toulouse in 2010, Saint Amand in 2007 and Nice in 2006.
Mathematically Challes-les-Eaux and Montpellier just need seven more wins to avoid the relegation group and have more or less started preparing to fight for the regular season title.
What happened in the Ligue Féminine de Basketball in round 8?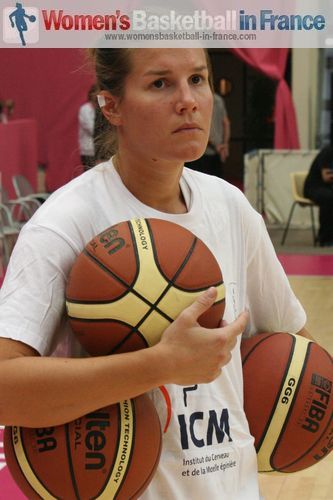 We have to had to wait until this weekend to see Gaëlle Skrela (in picture) from Montpellier fire on all cylinders.
Although she scored 12 points in the first quarter, Villeneuve edged the quarter (25-24).
Her team started to take hold of the game after 15 minutes and went into the locker room leading (43-34). For Villeneuve once again Olayinka Sanni was in foul problem with 3 at the interval.
Montpellier cruised all the way during the second half with Skrela finishing with 22 points, 4 steals and 3 assists. Ana Lelas added 16 points while Fatimatou Sacko and Sandra Dijon-Gérardin added 14 and 11 points each. Edwige Lawson-Wade had 9 points and 9 assists.
For Villeneuve Sanni held her nerve by not committing any fouls during the second half. She finished the match with 27 points and 10 rebounds. Emilie Gomis hit 21 points while delivering 4 assists. Anne Breitreiner and Sabrina Palie scored 13 and 11 points each.
At the moment Mistie Mims (right) for Challes-les-Eaux is unstoppable. She fired in 22 points hitting 9-from-11 from the floor. She also picked up 14 rebounds. Despite her dominance her team-mate Danielle Page with 18 points and 10 rebounds was the catalyst in the victory (84-72) against Cavigal Nice.
Cavigal Nice's offensive threat with Merike Anderson and Fabienne Constant did their best as usual with 12 and 21 points. But it was not enough with the rest of their team-mates battling as usual to hold off another defeat. In addition they were without Krysten Boogaard.
Kelsey Bolte whose season has not really taken off in France was not on the team sheet.
Basket Landes are alone in third place in the Ligue Féminine de Basketball after securing a road victory against Nantes-Rezé.
Basket Landes did not play well while dominating the rebounds. They trailed by 7 points with eight minutes to play. However they did not panic and slowly reduced the deficit to a single point with five minutes remaining (55-56).
Nantes-Rezé once again hit the self-destruct button with Doriane Tahne fouling out on an offensive charge. Shortly after her departure Katarina Manic put the guests in the lead for good. Basket Landes finished the game with 4-from-4 from the charity stripes (61-56).
Only Julie Barennes for Basket Landes reached double digits with 11 points but six other players scored at least 6 points.
For Nantes Johanne Gomis and Sarah Michel had 14 and 13 points.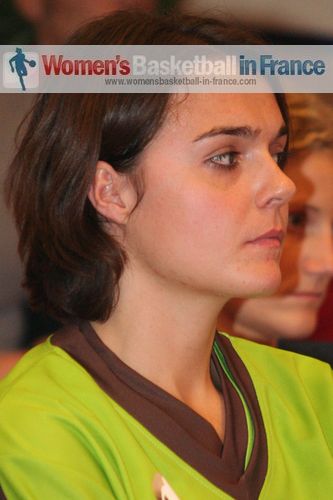 Clémence Beikes' (right) absence from the court did not stop her from celebrating the victory of Hainaut Basket against Bourges Basket (53-48).
Bourges Basket had a terrible shooting day with 15-from-58 and if not for 14-of-17 from the free-throw line would have been completely blown away.
Hainaut Basket trailed (23-25) at the break. However with good shooting and solid defending they dominated the second half of the game with the trio Amisha Carter (16 points and 12 rebounds), Petra Stampalija (15 points) and Ashley Houts (14 points) doing most of the scoring.
Arras escaped from Lyon with the victory (64-60) thanks to the offensive duo of Pauline Akonga-N'Simbo (23 points and 14 rebounds) and Gabriela Marginean (22 points).
Mame-Marie Sy-Diop was the only player from Lyon who shot the ball well, hitting 8-of-12 from the field and a perfect 5-of-5 from the free-throw line for 23 points.
Tarbes had a bad start (1-9) against Charleville-Mézières but recovered to tie the first quarter (13-13). They went on to dominate the game to win comfortably (68-50). Pauline Krawczyk led the Tarbes attack with 14 points.
Greek international Zoi Dimitrova also had 14 points for Charleville.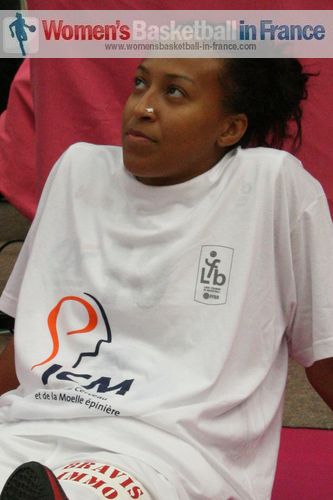 In the last game of the 8th round of the Ligue Féminine matches USO Mondeville and K. B. Sharp (25 points and 4 assists) overturned Aix-en-Provence (66-55).
Aix-en-Provence dominated the opening minutes (11-2) and held the lead until half time (31-29). The hosts started to struggle but still had the advantage (39-38) after 27 minutes of play.
Hervé Coudray, the coach from Mondeville called for a time-out and as a result his team put on an 11-0 sequence to never look back. They went into the final quarter in front (49-41).
They did not stop and stretched the advantage to as many as 15 points before settling for an 11-point margin victory.
LFB round 8 results:
Aix-en-Provence 55-66 USO Mondeville
Tarbes 68-50 Charleville-Mézières
Nantes Rezé 56-61 Basket Landes
Lyon 60-64 Arras
Hainaut Basket 53-48 Bourges Basket
Lattes Montpellier 91-75 Villeneuve d'Ascq
Challes-les-Eaux 84-72 Nice

---
Go to Ligue Féminine de Basket 2011-2012 page
Leave Ligue Féminine de Basket - Season 2011-2012 page and return to home page
Return to the top of Ligue Féminine de Basketball page
Ligue féminine picture credits:
womensbasketball-in-france.com

Date created: 13 November 2011

---