A new Ligue Féminine de Basketball
record for Natalie Hurst
There was just one home victory on the first day of round 12 action in the Ligue Féminine de Basketball as Aix-en-Provence held off Basket Landes (59-54) thanks to a magnificent performance by Natalie Hurst. In the three other matches the visitors walked away with two points each.
Hainaut Basket left their arena wondering how they came off second best (64-67) to Cavigal Nice. Hainaut Basket went in front with just over five minutes played and appeared to be cruising with an 11-point advantage going into the final quarter.
Olga Tarenko, the coach from Cavigal Nice, did not seem to panic despite her team trailing by 14 points (44-58) with just eight minutes to play. She started to mix her defensive strategy.
Treys by Aminata Konate (12 points and 4 assists) and Stéphanie Dubois (right) and solid post play by Fabienne Constant (12 points) made it a 5-point game (58-65) with just under 38 minutes played.
Then the Hainaut Basket players panicked, fouled and turned the ball over unnecessarily. With 90 seconds to play Elodie Decker punished them with a shot from the land of many.
The Cavigal Nice's comeback was complete with 23 seconds remaining in which Jeanne Senghor-Sy (14 points) converted a turnover into 2 points for her side to go into the lead.
The hosts failed to score again and fell for the second time at home this season from a team promoted to the Ligue Féminine de Basketball.
For Hainaut Basket Amisha Carter had 26 points and 15 rebounds in the defeat. She also picked up 6 steals, while her team-mate Petra Stampalija had 16 points. Carine Paul was not on the roster for this game as she had slipped and rolled her ankle during the midweek EuroCup Women match.
Natalie Hurst lights up the Ligue Féminine de Basketball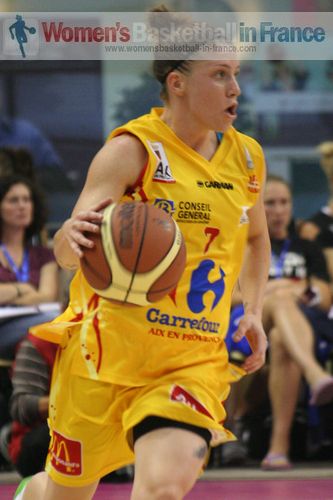 Natalie Hurst (left) from Aix-en-Provence took on Basket Landes single-handedly in the offensive during the first 20 minutes with 27 of her team's 30 points. Her contribution enabled Aix-en-Provence to lead (30-23) at the interval.
Hurst did not score during the third quarter with Basket Landes being able to come back into the match and lead briefly. However 6 points by N'Deye N'Diaye at the end of the quarter enabled Aix-en-Provence to regain the advantage going into the final quarter (41-37).
The last quarter was up and down basketball. Basket Landes were unable to close the gap despite making it a 1-point game (49-50) with 3:30 left to play.
Aix-en-Provence needed the victory and with steady shooting from the charity stripes held on to win (59-54). Hurst finished the match with 31 points. Her total includes 5-from-7 from beyond the arc and a perfect 6-of-6 from the free-throw line.
In the remaining two games on Saturday night the visitors Challes-les-Eaux and Villeneuve d'Ascq came up on top.
Challes-les-Eaux huffed and puffed for three quarters and yet trailed (49-43) going into the final quarter against Tarbes. Mistie Mims had picked up her 4th foul around the 26-minute mark, so Tarbes appeared to have the advantage despite a low shooting percentage.
Challes-les-Eaux went to a high press for most of the final quarter which more or less stopped Tarbes from getting more scoring opportunities.
Tarbes also did not help themselves with a couple of unforced turnovers and allowing Mims to dominate the offensive rebounds.
However Mims (24 points and 15 rebounds), despite her four fouls, scored 12 final-quarter points in her team's 23-10 run to win the game. She also finished with 11 offensive rebounds and went 8-of-12 from the charity stripes. German international Romy Bär scored 11 points while Anäel Lardy finished with 10 points and 5 assists.
Despite poor shooting by both sides in this game Alexia Plagnard from Challes went a perfect 3-of-3 from the floor. For Tarbes Paoline Salagnac and Ana Cata-Chitiga were the only players with double-figure scores of 18 and 11 points.
Villeneue d'Ascq won their second game in a row by beating Lyon (72-63). Villeneuve's three-point shooting and their ability to get to the free-throw line was the main difference between the two teams.
Emilie Gomis led Villeneuve to victory with 22 points, 4 assists and 3 steals which included 5-of-10 from beyond the arc.
Also Anne Breitreiner shot a couple of treys to go with her 16 points while Catherine Kraayeveld went 3-of-6 from beyond the arc in scoring her 11 points.
Villeneuve also made 27 trips to the free-throw line scoring 17 times. Whereas Lyon were to make just 4 trips to the charity stripes.
Marion Arfelis (right) led the scoring for Lyon with 17 points. She was 5-of-7 from beyond the arc. Leigh Aziz had 12 points while Julie Legoupil had 11 points (2-of-5) from beyond the arc.
The match between Bourges Basket and Charleville-Mézières was not played due to illness to most of the players from Charleville-Mézières.
---
Look back at what happened in round 10
Go to Ligue Féminine de Basket 2011-2012 page
Leave Ligue Féminine de Basket - Season 2011-2012 page and return to home page
Return to the top of Ligue Féminine de Basketball page
Picture credits:


womensbasketball-in-france.com


Date created: 11 December 2011

---