Ligue Féminine de Basketball, round four
Lots of suspense
The old saying in the Ligue Féminine de Basketball is that winning games at home is essential for championship play-off ambitions. Lattes Montpellier and Challes-les-Eaux made no mistakes at home to remain on top of the LFB.
Veuillez trouver en français un résumé de la quatrième journée du championnat en bas du page.
Lattes Montpellier ended the perfect record of Arras (76-66) with Edwige-Lawson Wade scoring 15 points, dishing out 13 assists and drawing 8 fouls. Captain Gaëlle Skrella added 16 points.
Challes-les-Eaux also won at home (74-59) against USO Mondeville to share the lead of the championship.
Tarbes bounced back from defeat in the EuroLeague Women competition with a home victory against Aix-en-Provence (82-65) with 26 points coming from Pauline Salagnac.
Lyon BF were close to their first victory but once again fell short in the final minutes allowing Bourges Basket to escape defeat with a road victory (54-47).
For Cavigal Nice the defeat against Basket Landes came in the final ten seconds (57-58). Nantes-Rezé also fell at home (65-75) against Saint Amand Hainaut Basket.
The weekend started with the LFB TV match won by Villeneuve d'Ascg against Charleville-Mézières (75-70).
Stories and statistics from the weekend action of the ligue féminine de basketball can be found by moving down the page.
Edwige Lawson-Wade is enjoying her return to Ligue Féminine de Basketball
Edwige Lawson-Wade (right) had scored 22 points in Montpellier's EuroLeague Women victory against Cras Basket in midweek. She was yet again in the limelight. Besides scoring 15 points, Wade dished out 13 assists and drew 8 fouls as Lattes Montpellier beat Arras (76-66).
Arras made things difficult for themselves from the start of the encounter despite leading (4-2). With their physical approach Pauline Akonga-N'Simbo and Gabriela Marginean picked up 2 quick fouls each.
Montpellier, playing at home, punished Arras further with Ana Lelas and Gaëlle Skrela hitting the free throws to go into the lead.
Lawson opened her account with a trey. By the end of the first quarter she had 5 assists, 1 steal and was fouled on 3 times as her team finished with a 9-0 run to go ahead (23-15).
For Arras Leilani Mitchell and Alexandra Tchangoue combined for 10 points.
Montpellier continued to attack with a 7-2 run at the start of the second quarter (30-17).
Arras did their best to stay in touch but with Akonga-N'Simbo and Marginean picking up their 3rd foul respectively and Lawson-Wade on fire they went into the locker room trailing (26-40).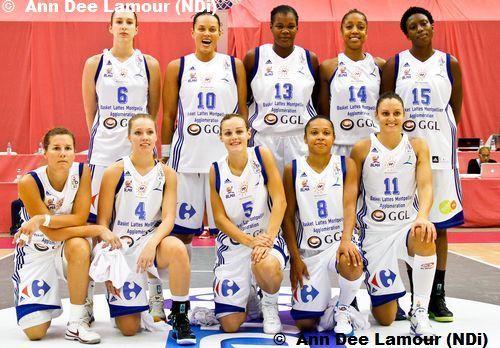 Montpellier dropped their guard briefly in the third quarter for Joyce Cousseins-Smith taking advantage to score 5 unanswered points.
Montpellier woke from their slump and regained control going into the final quarter (61-42) in front.
The game was lost for Arras. But that did not stop Adja Konteh once on the court from trying to turn things around.
However Montpellier were too strong and well organised to be worried and maintained a sufficient advantage to secure the victory.
Lawson-Wade had 13 assists and went 5-of-6 from the free-throw line. Arras had 12 assists and were 1-of-3 from the charity stripes.
Lattes Montpellier 76-66 Arras
Lattes Montpellier: Léa Blatrie DNP, Virginie Brémont 6, Mathilde Roche DNP, Edwige Lawson-Wade 15 (13 assists), Kristen Mann 7, Ana Lelas 8, Gaëlle Skrela 16, Sandra Dijon-Gérardin 6, Stephany Skrba 8, Fatimatou Sacko 10
Arras: Joyce Cousseins-Smith 10, Leilani Mitchell 12 (10 rebounds), Alexandra Tchangoue 6, Adja Konteh 7, Krissy Badé 2, Pauline Akonga-N'Simbo 9, Nadezdha Grishaeva 10, Gabriela Marginean 10
---
Paoline Salagnac fired Tarbes to victory
Cindy Lima once again found herself in foul problems early. She had scored 8 points by the time she picked up her 2nd foul and had to return to the bench with her team leading (21-9).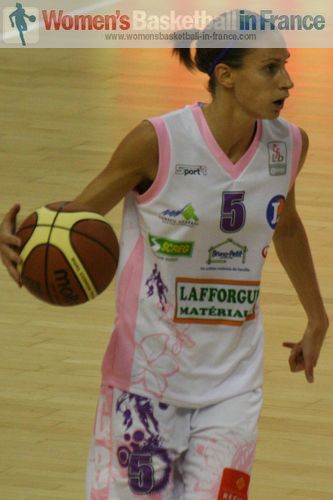 Paoline Salagnac (left) started the Tarbes recovery scoring all her team's points in a 9-2 run. Charlotte Preiss scored just before the buzzer to bring Tarbes to within 3 points of Aix-en-Provence at the end of the first quarter (20-23).
A trey by Lubica Drljača with the first shot of the second quarter tied the game (23-23).
However it was not until the 14th minutes when Tarbes went into the lead for good through Salagnac. Yet it was the youthful exuberance of Elodie Guillenteguy with the last 5 points of her team that gave Tarbes some breathing space going into the locker room (43-36).
Tarbes ended the game as a contest with their dominant paint play with Ana-Maria Cata Chitiga, Naura El Gargati and Daria Mieloszynska-Zwolak to stretch the lead into double digits (49-36) after 23 minutes.
6 more points by Salagnac finally put Tarbes on their way as they maintained a double-digit advantage until the end of the game.
Salagnac finished the game with 26 points and 3 assists while Mieloszynska-Zwolak was the only other player in double digits. Isis Arrondo was the only player that did not get on the score sheet.
Aix-en-Provence had five ligue players in double digits. But their 21 turnovers cost them 10 points as well as their short bench maybe the chance of a second victory in the Ligue Féminine de Basketball.
Tarbes 82-65 Aix-en-Provence
Tarbes: Elodie Guillenteguy 7, Paoline Salagnac 26, Lauren Neaves 7, Isis Arrondo 0, Naura El Gargati 5 (4 assists), Florence Lepron 6 (5 assists), Lubica Drljača 9, Ana-Maria Cata Chitiga 4 (8 rebounds), Charlotte Preiss 8, Daria Mieloszynska 10
Aix-en-Provence: Emmanuella Gorjeu 0, Tamara Abalde 10, Nathalie Hurst 10 (3 assists), Kelly Corre 2, Sylvie Gruszczynski 8, Cindy Lima 10, Lina Jansone 14, N'deye N'Diaye 11
---
Nothing is working for Nantes-Rezé in the Ligue Féminine de Basketball
Aminata Nar Diop has still not arrived in France. During the game Nantes-Rezé suffered another injury with Caroline Aubert who will be paying a visit to the dentist.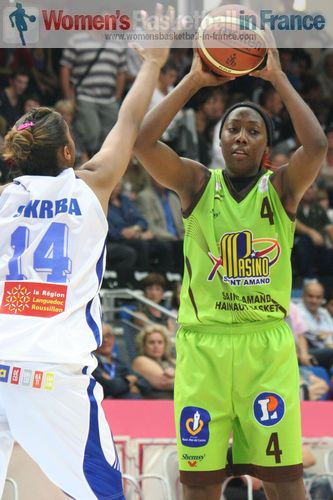 Saint Amand Hainaut Basket scored the first 4 points of the match and held on to the advantage (22-18) at the end of the first quarter despite the good shooting from Lenae Williams.
Amisha Carter (right) and Petra Stampalija had to work hard for SAHB during the second quarter after Clémence Beikes and Marina Solopova left the court for treatment.
The hosts took advantage to regain the lead but then suffered a blow when Caroline Aubert also had to leave the court for treatment. In the meanwhile Saint Amand regained control and went into the locker room in front (38-35).
All the injured players were back on court during the second half of the match for their side to go ahead shortly. With Nantes-Rezé not defending well and making things more complicated than required in attack, they allowed their guests to take the lead for good going into the final quarter (54-50).
SAHB then scored the first 6 points of the final quarter which enabled them to survive a bombardment from Yuliya Andreyeva.
With five minutes to play Laurant Buffard's side trailed (58-70) and more or less abdicated leaving Saint Amand the joy of celebrating their first victory in the Ligue Féminine this season.
Nantes-Reze 65-75 Saint Amand Hainaut Basket
Nantes Rezé: Tiphaine Melois DNP, Caroline Aubert 0 (3 assists), Tania Boucand DNP, Sarah Michel 2, Johanne Gomis 12, Lenae Williams 20, Yuliya Andreyeva 12, Regina Palusna 2, Doriane Tahane 17
Saint Amand: Amisha Carter 20 (10 rebounds, 2 steals), Tracy Albicy DNP, Carine Paul 2, Clémence Beikes 10 (11 rebounds and 4 assists), Emilie Silbande 5, Ashley Houts 13, Marie-Frédérique Aiyssi 0, Marina Solopova 7, Petra Stampalija 18
---
Lyon BF gave Bourges Basket a scare
For Lyon Krystal Thomas was in the line-up for the first time in the Ligue Féminine de Basketball but the team was still not complete because Leigh Aziz was absent.
The news from the club of Bourges Basket is that Cathy Melain is coming out of retirement to help the team because of injuries.
In topsy-turvy ten minutes Lyon were able to wrestle the lead at the end of the fist quarter with back to back scores from Thomas and Mame-Marie Sy-Diop (19-15).
The second quarter was hyper defensive with just 13 points scored between the teams. Lyon went into the locker room leading (26-20).
Lyon found their way to the basket during the first five minutes of the third quarter for a 9-point lead (33-24).
Bourges tightened up defensively while scoring 6 unanswered points. But Audrey Sauret stopped the Bourges run briefly with a couple of points.
Lyon still went into the final quarter with the lead thanks to a three-ball by Charline Servage (38-36).
Lyon's hold on the game ended with just over three minutes to play with Latvian international Ieva Kublina converting a pair of free throws (46-45).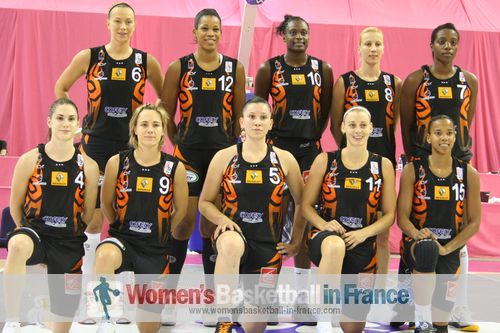 Lyon had a couple of chances to get the advantage back but the ball refused to drop. Finally the chance of upsetting the reigning Ligue Féminine de Basketball champions disappeared with a Styliani Kaltsidou three-pointer.
Bourges were able to control the last seconds while scoring 5-of-8 from the charity stripes to win (54-47).
Leslie Ardon who played for Bourges Basket in her youth days before going to Selton Hall in the USA scored the last points of the game and completed her first game in the LFB this season without fouling out.
Lyon 47-54 Bourges Basket
Lyon: Charline Servage 5, Géraldine Bertal 0, Julie Legoupil 3, Marion Arfélis DNP, Audrey Sauret 8 (6 assists), Sarra Ouerghi 0, Leslie Ardon 12, Mame-Marie Sy-Diop 15 (7 rebounds and 3 blocks), Krystal Thomas 4
Bourges Basket: Pauline Lithard DNP, Margaux Galliou-Loko DNP, Ieva Kublina 10 (9 rebounds), Nwal-Endéné Miyem 6, Styliani Kaltsidou 11, Céline Dumerc 5 (5 assists), Jennifer Digbeu 6, Marielle Amant 7, Kiesha Brown 9
---
Marion Laborde saves Basket Landes
Basket Landes trailed by 14 points with 15 minutes to play. But 10 minutes later they led by 6 points in a crazy match.
Cavigal Nice, playing at home, and looking for their first victory in the Ligue fought back with 30 seconds left to play when Aminata Konate put them back in front.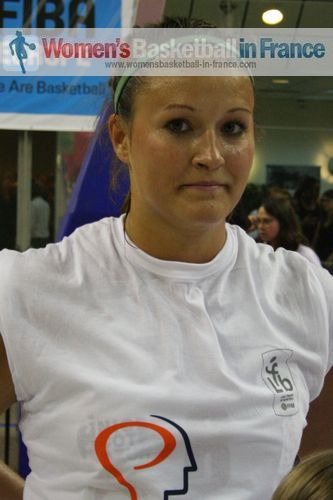 Nice then did a good job of not allowing Basket Landes a chance to shoot from the perimeter but then got caught sleeping as Marion Laborde was allowed to score from right under the basket.
The suspense was total as Cavigal Nice almost scrambled the win as Merike Anderson's effort failed to hit the target.
So the efforts of Krysten Boogaard (right) with 18 points and 10 rebounds were all in vain as Cavigal are now 0-and-4 for the season.
Nice 57-58 Basket Landes
Nice: Aminata Konate 6 (4 assists), Merike Anderson 10, Barbara Cousin 0, Kesley Bolte 0, Krysten Boogaard 18 (10 rebounds), Stéphanie Dubois 5, Elodie Decker 5, Fabienne Constant 7, Guiday Mendy 0, Jeanne Senghor-Sy 6 (10 rebounds)
Basket Landes: Camille Aubert 4, Katarina Manic 8 (4 assists), Bineta Diouf 5, Anaïs Le Gluher-Cano 0, Julie Barennes 13, Julia Borde DNP, Marion Laborde 19, Sarah Ousfar DNP, Jennifer Humphrey 9 (11 rebounds)
---
Mistie Mims and Romy Bär dictate the show
The home fans of Challes-les-Eaux were treated to a double act by their foreign stars from the previous season. Mistie Mims and Romy Bär combined for 40 points in the victory against Mondeville.
USO Mondeville had a poor shooting day and never threatened the hosts.
Challes-les-Eaux 74-59 USO Mondeville
Challes-les-Eaux: Anaël Lardy 1, Romy Bär 17 (6 assists and 7 rebounds), Alexia Plagnard 3, Mistie Mims 23, Mélanie Plust 2, Sara Chevaugeon 0, Manon Morel DNP, Danielle Page 15 (9 rebounds), Emilija Podrug 13 (7 assists)
USO Mondeville: Touty Gandega 7, Awa Sissoko DNP, Ingrid Tanqueray 7, Kadidia Minte 2, K. B. Sharp 7 (3 assists), Giedre Paugaite 4 (8 rebounds and 4 steals), Laëtitia Kamba 12, Eglė Šulčiūtė 12, Naignouma Coulibaly 8
Return to the top of Ligue Féminine de Basketball page
Challes-les-Eaux et Lattes Montpellier en tête du championnat
Après quatre journée de la saison régulière en ligue féminine de basket, seules Challes-les-Eaux et Montpellier restent invaincues.
Avant le prochain choc entre Lattes Montpellier contre Bourges Basket, les filles de BLMA ont assuré en vainquant les joueuses d'Arras Pays d'Artois Basket (76-66) qui - elles aussi avaient espéré de continuer leur parcours sans faute.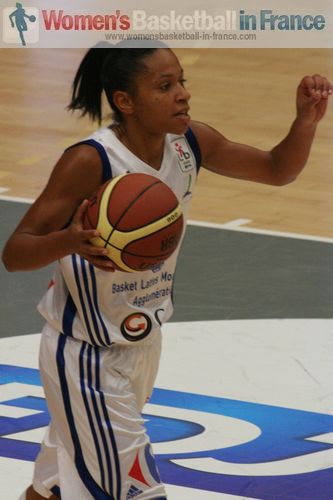 Pour Montpellier Edwige Lawson-Wade (dans l'image) menait sa troupe avec 15 points et 13 passes décisives mais elle a aussi assuré du côté des fautes provoquées avec 8 en total.
Lawson-Wade accumulait à elle seule plus de passes décisives et des lancers-franc en comparaison avec l'équipe d'Arras. Sa partenaire et capitaine Gaëlle Skrela était la meilleure marqueuse avec 16 points.
Leilani Mitchell contribuait dans la défaite 12 points et 10 rebonds.
Les formations promues cherchent encore leur première victoire: Lyon BF et Cavigal Nice n'ont pas su assurer de maintenir leur avantage en échouant à nouveau à la fin du match contre respectivement Bourges Basket (54-47) et Basket Landes (58-57) avec une Marion Laborde en feu avec 19 points.
Les Savoyardes, en particulier les deux étrangères de la saison dernière, Mistie Mims et Romy Bär ont contribué 40 points dans leur quatrième victoire affilée. La formation de Challes-les-Eaux ont facilement vaincu USO Mondeville (74-59) après un premier quart serré.
Après six minutes, Aix-en-Provence ont subi à nouveau une défaite malgré un départ canon (21-9) contre Tarbes (65-82). Mais Paoline Salagnac a mis son équipe sur le bon rail en marquant 26 points.
Nantes-Rezé n'échappe pas de son mauvais sort et perd une troisième fois dans la ligue féminine de basket. Pourtant les filles de Laurent Buffard n'ont pas fait mouche. Mais une nouvelle blessure - cette fois-ci c'est Caroline Aubert qui est obligé de rendre visite au dentiste - les ont laissé ramé sans leur capitaine.
Saint Amand Hainaut Basket est revenu plus fort dans la deuxième moitié de la rencontre avec Amisha Carter et Petra Stampalija qui ont dominé dans la raquette pour que leur formation remporte leur premier match du championnat (75-65).
Le vendredi sur LFB-TV Villeneuve d'Ascq, mené par Emilie Gomis et Kathy Wambe ont fait toute la course en tête pour une deuxième victoire (75-70) contre Charleville-Mézières.
Return to the top of Ligue Féminine de Basketball page
---
Go to Ligue Féminine de Basket 2011-2012 page
Leave Ligue Féminine de Basket - Season 2011-2012 page and return to home page
Return to the top of Ligue Féminine de Basketball page
Ligue féminine picture credits:


womensbasketball-in-france
Ann Dee Lamour (NDi)
Date created: 16 October 2011
---