Ligue Féminine de Basketball
Five teams sharing early lead
Shock for Tarbes
Five teams remain perfect in the Ligue Féminine de Basketball after two rounds of games.
Among the early pace makers are defending champions Bourges Basket.
En bas du page vous trouvez en français un résumé sur la deuxième journée de la Ligue Féminine de Basketball
Bourges Basket opened the weekend with a comfortable road victory against Villeneuve d'Ascq (79-60) in the opening game of the weekend.
For Villeneuve d'Ascq Jullian Robbins played her second and last match for the club. She is replaced by Cathrine Kraayeveld who has a similar profile to Elodie Bertal.
In the remaining games Tarbes were beaten at home by Mondeville in overtime while Basket Landes destroyed Charleville-Mézières. For Arras Romanian international Gabriela Mărginean went 18-of-20 from the three-throw line in her total of 38 points.
Cindy Lima went 5-of-7 from the field for Aix-en-Provence. But once she stopped scoring, her team disappeared allowing Montpellier to romp to victory.
Team rosters and scores from Ligue Féminine de Basketball round 2
Montpellier destroyed Aix during the second half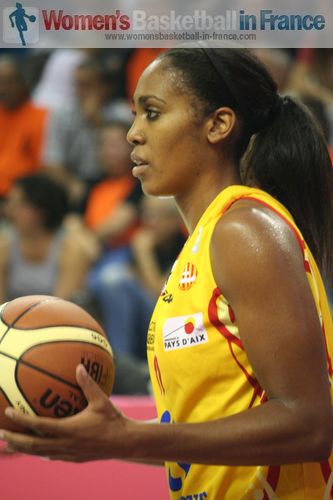 For 20 minutes Cindy Lima (in picture) was on fire at both ends of the court as Aix-en-Provence led Montpellier at the interval (36-34).
After the break Montpellier quickly neutralised Lima. In the third quarter after the third equalisation (40-40) they pulled away for good with a 12-4 run to lead (56-44) going in the the final quarter.
Aix had no more to offer in the final quarter leaving the way for Montpellier to cruise to victory (76-55).
Lattes Montpellier 76-55 Aix-en-Provence
Montpellier: Léa Blatrie 2, Virginie Brémont 6 (4 assists), Mathilde Roche 0, Edwige Lawson Wade 10, Kristen Mann 17, Ana Lelas 17, Gaëlle Skrela 4 (6 assists), Sandra Dijon-Géradin 9, Stephany Skrba 4 (13 rebounds), Fatimatou Sacko 7
Aix-en-Provence: Emmanuella Gorjeu 3, Claire Tomaszeski 2, Tamara Abalde 10, Nathalie Hurst 12, Kelly Corre 2, Sylvie Gruszczynski 3, Cindy Lima 12 (12 rebounds), Lina Jansone 10, Natty Chambertin 0, Laëtitia Jordier 0
Cavigal Nice: so near, yet so far
Last week during the Open LFB we interviewed
Aminata Konate
from Cavigal Nice after their match against Bourges.
Konate is positive and thinks that although being a new team to the Ligue Féminine de Basketball they should be able to battle for 8th place.
For the first home game of the season for Cavigal, Konate was in the starting 5 and finished the game with 7 points, 3 steals and 4 assists but ended up on the losing side.
Although Pauline Akongo-N'Simbo scored 15 points and dished out 3 assists for Arras it was her team mate Gabriellla Marginnean who stole the show with a game high 38 points. She went 18-of-20 from the free-throw line and was fouled 15 times during the game.
Cavigal Nice 70-77 Arras
Nice: Aminata Konate 7, Merike Anderson 6, Barbara Cousin 0, Kesley Bolte 12, Krysten Boogaard 3, Stéphanie Dubois 0, Elodie Decker 9, Fabienne Constant 6, Guiday Mendy 8, Jeanne Senghor-Sy 19
Arras: Joyce Cousseins-Smith 10, Alexandra Tchangoue 2 (5 assists), Adja Konteh 0, Krissy Badé 3, Pauline Akonga-N'Simbo 15, Juliana Mialoundama 0, Alexia Rol DNP, Nadezdha Grishaeva 9, Gabriela Marginean 38
Mondeville take down Tarbes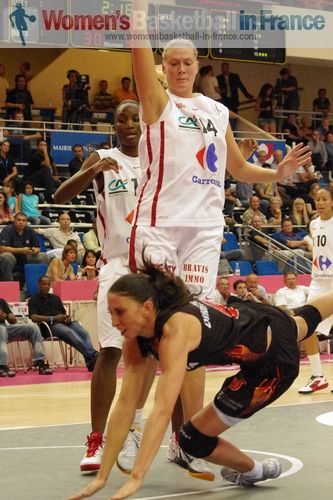 Tarbes were in front for most of the game although there were a total of 23 lead changes and 19 ties during the 45 minutes. However in the last minute of regulation time Lauren Neaves and K. B. Sharp had the chance to settle the game for their teams from the free-throw line but the ball decided not to drop in either case so the match went into overtime.
Mondeville held their nerve to take the game (74-70) with Lithuanian international Eglė Šulčiūtė (in picture) leading the way with 21 points.
Tarbes 74-70 USO Mondeville
Tarbes: Elodie Guillenteguy 1, Paoline Salagnac 15, Lauren Neaves 17, Isis Arrondo 1 (3 assists), Naura El Gargati 12 (12 rebounds), Florence Lepron 4 (4 assists), Lubica Drljača 3, Ana-Maria Cata Chitiga 15, Charlotte Preiss DNP, Daria Mieloszynska 2
USO Mondeville: Touty Gandega 4, Awa Sissoko DNP, Ingrid Tanqueray 16 (4 assists and 3 steals), Kadidia Minte 9, K. B. Sharp 3 (3 assists), Giedre Paugaite 6 (3 blocks), Laëtitia Kamba 15 (10 rebounds), Margaux Touraud 0, Eglė Šulčiūtė 21
---
Nantes Rezé are smiling at last
For the second game in a row Leslie Ardon from Lyon fouled out. She managed just 11 minutes and scored 9 points on her return to her former club Nantes-Rezé.
Nantes-Rezé made things difficult for themselves with a number of unforced turnovers which allowed Lyon to go into the final quarter leading (50-48). However in the final quarter the Nantes machine got to work as they conceded just 4 points to cruise to victory (66-56) with 17 points coming from Johanne Gomis.
Nantes-Rezé 66-56 Lyon BF
Nantes Rezé: Tania Boucand DNP, Caroline Aubert 4 (8 assists), Claire Stievenard 5, Sarah Michel 12 (3 steals), Johanne Gomis 17, Lenae Williams 12, Yuliya Andreyeva 8 (10 rebounds), Regina Palusna 11 (12 rebounds), Doriane Tahane 2
Lyon: Charline Servage 2, Géraldine Bertal 8, Julie Legoupil 6, Marion Arfélis 2, Audrey Sauret 5 (6 assists), Sarra Ouerghi 6, Leslie Ardon 9, Leigh Aziz 18 (9 rebounds and 2 blocks)
---
Challes-les-Eaux had to work hard to beat Saint Amand
Neither the match was pretty to watch nor the long distance shooting was good, yet the first 20 minutes were exciting with Challes-les-Eaux going into the interval leading (34-30).
Unfortunately the suspense did not continue in the third quarter as the hosts pulled away to open up a double-digit lead with 15 minutes left to play (45-34). Challes then paced themselves the rest of the way with the captain Mistie Mims top scoring 15 points.
Challes-les-Eaux 58-48 Saint Amand Hainaut Basket
Challes-les-Eaux: Anaël Lardy 8, Romy Bär 11 (5 assists), Alexia Plagnard 7, Mistie Mims 15 (7 rebounds), Mélanie Plust 3, Sara Chevaugeon 0, Manon Morel DNP, Danielle Page 8, Emilija Podrug 6
Saint-Amand: Amisha Carter 11, Tracy Albicy DNP, Carine Paul 2, Emilie Silbande-Petiteau 2, Ashley Houts 6, Marie-Frédérique Aiyssi 4, Marina Solopova 11, Petra Stampalija 10
---
Basket Landes walloped Charleville-Mézières
Basket Landes' home is their temple and despite a slow start (0-7) they ended up destroying the Flammes Carolo (74-37) with Julie Barness leading the way with 16 points while Katarina Manic dished out 13 assists.
Zoi Dimitrakou had 17 points for the guests.
Basket Landes 74-37 Charleville-Mézières
Basket Landes: Alexia LaCaule 3, Camille Aubert 6, Katarina Manic 7 (13 assists), Bineta Diouf 7, Anaïs Le Gluher-Cano 12, Julie Barennes 16, Julia Borde 0, Marion Laborde 12, Annabelle Caprais 0, Jennifer Humphrey 11 (17 rebounds)
Charleville-Mézières Amel Bouderra 2 (3 assists), Anne-Sophie Pagnier 0, Zoi Dimitrakou 17, Coralie Desprez 0, Elodie Pélissou DNP, Ekaterina Dimitrova 1, Magali Lacroix 8, Yacine Sène 2, Valeriya Berezhynska 7
Return to the top of Ligue Féminine de Basketball page
Quelques surprises pendant la deuxième journée en ligue féminine
Quoique Basket Landes ne perd jamais leur premier match à domicile, leur exploit contre Charleville-Mézières (74-37) était pourtant surprenant avec les Carolos presque invisibles dont seulement Zoi Dimitrakou avait marqué 17 de 37 points de son équipe.
Les Landaises sans Amélie Pochet ont montré que leur défaite à l'Open LFB était qu'un mauvais souvenir avec 13 passes décisives de Katarina Manic (dans l'images). Leur atout était le jeu collectif avec un total de 24 passes décisives et 10 interceptions. Et quatre joueuses avaient contribué plus de 10 points dans leur victoire.
Mondeville arrive à arracher la victoire de leur adversaire Tarbes sans leur coach Hervé Coudray (qui est à l'AfroBasket avec l'équipe de Mali) après une prolongation de cinq minutes (74-70).
La troisième formation sans défaite Challes-les-Eaux confirme leur forme en emportant leur deuxième match (58-46) contre Saint Amand Hainaut Basket.
Et aussi Arras avec une Gabriela Marginean qui a provoqué 15 fautes (38 points) et avec le sang froid de son équipe au lancer franc à nouveau a su gagner contre les promues Cavigal Nice (77-70).
La dernière équipe sur les plus hautes marches du podium Lattes Montpellier change le dynamique de Aix-en-Provence après l'interval pour facilement gagner (76-55) avec Ana Lelas et Kristen Mann, les meilleures marqueuses du match contribuant chacune 17 points.
Pour Nantes-Rezé l'équipe de Laurent Buffard a changé leur destin en remportant un match délicat contre Lyon (66-56).
Le premier match de la deuxième journée a été déjà joué un jour en avance: voici le lien pour le match Villeneuve d'Ascq 60-79 Bourges Basket
Return to the top of Ligue Féminine de Basketball page
---
Go to Ligue Féminine de Basket 2011-2012 page
Leave Ligue Féminine de Basket - Season 2011-2012 page and return to home page
Return to the top of Ligue Féminine de Basketball page
Ligue féminine Picture credits:


womensbasketball-in-france

Date created: 3 October 2011
---