Ligue Féminine 2 opens with a bang
Hillary Klimowicz: player of the week
It is too early to determine who the champions of Ligue 2 might be. But the results of the first weekend have already demonstrated that nothing is won in advance with two of the pre-season favourites falling at the first hurdle.
The CFBB had managed just three victories in 2010-2011. Yet they got the new LF2 season off to a perfect start by beating Dunkerque (83-77) in the very first match.
Voiron could not have asked for a better start in their home opener by beating Perpignan (84-74).
Magali Mendy's exuberance and 10 first-quarter points enabled the hosts to edge the first quarter (20-15). Voiron became excited during the second quarter which resulted in Mendy, Khadidiatou Gassama and Amanda Lassiter all having to sit down after picking up 3 fouls each.
The players from Perpignan were also fouling and were hence unable to take advantage. They went into the locker room trailing (38-45).
Agathe Nnindjem-Yolemp (22 points) did everything in her power to bring Perpignan back into the game. However the foul count against her team-mates came back to hurt them as they were not able to contest rebounds in the closing minutes.
Mendy led the scoring with 20 points while Lassister added 17 points. Faeza Bouderra dished out 7 assists.
The Ligue 2 match of the weekend saw Limoges win at home against COB Calais (71-68). For 30 minutes Limoges were in control and had a maximum lead of 19 points at one stage.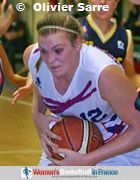 COB Calais went into the final quarter trailing by 15 points. But with four minutes to play they just trailed by 4 points. Limoges' problems got worse with top scorer and player of the match Hillary Klimowicz (in picture) fouling out of the game with just under three minutes to play with her side leading (65-59).
Limoges' remaining points came from the free-throw line as Calais continued to foul to stop the game clock. Although Calais chipped away at the score they still needed a three-pointer to force overtime as the clock was winding down.
Manon Sinico (22 points) had no choice but fire a long distance shot. It missed the target and Limoges could start celebrating.
Klimowicz finished the day with 23 points and 9 rebounds while Belinda Mboma and Lindsay Gonzalez contributed 13 and 12 points each.
The rest of the Ligue 2 basketball news from day one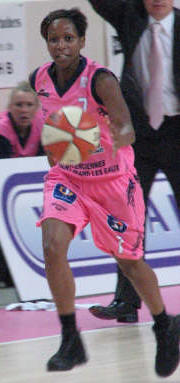 Bintou Diémé (in picture) went a perfect 14-from-14 from the free-throw line as Le Havre beat Léon Tregor (99-88). In this match Le Havre were awarded 50 free-throws against 22 for the visitors.
Léon Tregor had five players fouling out. Yet with five minutes to play they only trailed by 3 points (77-80). However they were unable stay in the game despite 25 points by their captain Aude Kernevez.
Diémé led the scoring for the hosts with 25 points while Ida Preetzmann added 21 points.
Roche Vendée got a road victory against Illkirch-Graffenstaden (73-63) with the trio Christelle Morel, Nadja Morgan and Elodie Gerard scoring 18, 16 and 14 points each. For the hosts Aline Fischbach was the only player in double digits with 18 points.
Roche Vendée have lost new signing Cora Duval for the season (ACL).
Reims were no match for Toulouse (62-77) despite the efforts of Anaïs Jomby with 20 points. Nina Bogicevic in her first official game for Toulouse led a balanced scoring attack with 16 points.
US Laveyron were less than 30 seconds away from beating SO Armentières. Etienne Faye, the coach from Laveyron, called a time-out with his team leading (63-60).
Once the play resumed Mia Fisher capitalised on a mistake to sneak in for her 16th point of the game. Laveyron still had the advantage. But with about eight seconds to play Héléna Akmouche profited by some poor ball handling for an interception and a score to win the game (64-63).
US Laveyron - playing at home - were without Aïda Fall, Jamie Braun and Madou M Bengue. Due to their absence Katia Forel who had retired from the first team at the end of last season joined the team and played for 13 minutes.
Week one / Ligue 2 results:
CFBB 83-77 Dunkerque
Le Havre 99-88 Léon Tregor
Reims 62-77 Toulouse
Limoges 71-68 Calais
Laveyron 63-64 Armentières
Illkirch-Graffenstaden 63-73 Roche Vendée
Voiron 84-74 Perpignan

---
Return to Ligue Féminine 2011-2012 index page
Leave Ligue Féminine 2 news and return to home page
Return to the top of page
Picture credits:


womensbasketball-in-france
Olivier Saare

Date created: 20 September 2011
---