2011-2012 Ligue Féminine 2
AfroBasket players shine
Dunkerque win North Derby
Toulouse lost their unbeaten record in Ligue Féminine 2 with a home defeat against Illkirch-Graffenstaden. This leaves Armentières as the only team with a perfect record in LF2 after 4 rounds of games.
Veuillez trouver en bas du page un sommaire en français sur la quatrième journée.
Last weekend AfroBasket Women came to an end with Angola beating Senegal in the final (62-54). The clubs in France with players in this competition are more than happy to welcome them back.
For Perpignan the return of Fatou Dieng did not go unnoticed. She dished out 7 assists and scored 11 points as Perpignan ran over Reims BF (85-44).
Perpignan took control with a 9-0 run to lead (21-8) with just under eight minutes played to never look back. Perpignan had five players in double digits with French international Pauline Lo leading the scoring with 14 points.
For Reims Astan Dabo's return from AfroBasket did not get them the victory. However she did score 10 points and collected 11 rebounds.
Toulouse came unstuck at home as they lost to Illkirch Graffenstaden (58-65).
Toulouse led by 8 points with seven minutes to play (55-47) and were set for victory. However Amina Njonkou (left) had other ideas and scored 7 points in a row to bring the SIG back into the game.
The SIG then went in front for good with a three-ball by Caroline Nestor. Njonkou finished the game with 15 points of which 10 came in the final quarter. She also picked up 16 rebounds and was credited with 4 steals in her player-of-the-week performance in her team's first victory of the season.
Armentières got through a tricky match against the CFBB (72-59) and as a result lead Ligue Féminine 2 alone. Mia Fisher played for 25 minutes and knocked in 20 points while Héléna Akmouche added 15 points against the team of her former trainer.
For the CFBB Assitan Koné continues to be the offensive leader with 14 points. Olivia Epoupa added 10 points and dished out 4 assists.
Three years ago Magali Mendy wanted to go to America to continue her basketball development and study but it did not work out. After leaving Reims she spent a season at Pleyber-Christ and today she is making her mark with Voiron.
She scored 17 points, collected 12 rebounds and came up with 5 steals as Voiron beat Roche Vendée (88-82). Amanda Lassiter and Khadidiatou Gassama led the scoring with 23 points each. Alexia Kusion was the top scorer for the hosts with 19 points.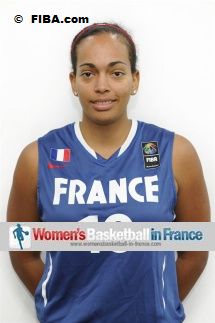 The ambitions of Léon Trégor Basket 29 are to play in the LFB soon. They blew away US Laveyron (27-6) in the first quarter and paced themselves to another victory (78-60) with 22 points coming from Adriana Gresnerova.
Le Havre may have the top scorer in the second division with Kayla Smith. But without Bintou Diémé they fell apart during the second half of their match against Limoges and ended up losing (55-62).
Elodie Chièze-Leroux led the scoring with 15 points but the match winner was Martine Barba (in picture) who went 5-of-6 from the field in scoring 10 points.
COB Calais lost at home in a derby match against Dunkerque Malo (65-67).
Dunkerque were the stronger team and led at half time (44-36). Calais turned things around in the third quarter with a 19-0 run which enabled them to lead (57-48) going into the final quarter.
Dunkerque tied the game with 30 seconds to play from the free-throw line with Dace Pierre-Joseph (65-65).
Calais had the chance to win the game but failed to execute the last play and then had to foul Elodie Dubasque to stop her from scoring. Dubasque did not tremble from the free-throw line for Dunkerque to win the game.
Return to the top of Ligue Féminine 2 new page
Armentières seule en tête
Perpignan
et Reims retrouvent leur joueuse respective revenant de l'AfroBasket. Mais c'est l'équipe de Perpignan qui confirme sa supériorité après un 9-0 pour prendre l'avantage (21-8) dès la 8ème minute.
Fatou Dieng (qui avait joué pour Sénégal) dans la victoire de son équipe (85-44) contribue 7 passes décisives et 11 points.
Le retour de Amina Njonkou de l'AfroBasket au sein de son équipe ramène un nouveau vent à Illkirch-Graffenstaden pour enfin signer leur première victoire.
Toulouse avait l'avantage jusqu'au moment ou Njonkou se révolte et marque 7 points pour réduire le déficit à 1 point dans la 4ème minute de la fin. Caroline Nestor (dans l'images) donne l'avantage à la SIG avec un trois-point pour un score final (65-58).
Armentières gagne à nouveau pour devenir la seule équipe en LF2 sans défaite. La CFBB n'était pourtant pas si facile à battre, mais avec une Mia Fisher en forme, les jeunes joueuses du Centre Fédéral cèdent (59-72).
La Roche Vendée perd contre Voiron (82-88) dont la performance de Magali Mendy avec 17 points, 12 rebonds et 5 interceptions montre son ascendance.
Le changement de son nom et adhésion à un autre club font de la magie pour Léon Trégor 29 qui remporte une nouvelle victoire (78-60), cette fois-ci contre US Laveyron.
Quoique Le Havre a Kayla Smith mais sans Bienté Diémé il leur manque un deuxième élément important. Donc il perd encore une fois (55-62) contre Limoges avec une presque parfaite performance de Martine Barba 5-of-6.
COB Calais avait l'avantage contre Dunkerque Malo. Mais le derby tournait en faveur de Dunkerque aux dernières 30 secondes pour gagner (67-65) avec Dace Pierre-Joseph égalisant avant que sa co-équipière Elodie Dubasquemet ses deux lancer-francs.
Evaluations des meilleures joueuses de chaque équipe:
CFBB 59 vs 72 Armentieres
Assitan Kone: 14 pts, 7 rbs vs Mia Fisher: 20 pts, 4 ass, 7 rbs

Léon Trégor 78 vs 60 US Laveyron
Adriana Gresnerova: 22 pts vs Elena Vishnyakova: 12 pts, 8rbs, 3 stls

Toulouse 58 vs 65 Illkirch-Graffenstaden
Carrem Gay: 18 points vs Amina Njonkou: 15 pts, 16 rbs, 4 stls

Le Havre 55 vs 62 Limoges
Kayla Smith: 17 pts, 12 rbs vs Martine Barba: 10 pts

Perpignan 85 vs 44 Reims BF
Helena Ciak: 9 pts, 7 rbs vs Jenny Fouasseau: 13 pts, 5 stls

COB Calais 65-67 Dunkerque Malo
Floriane Herrscher: 22 pts vs Dace Pierre-Joseph: 25 pts
Roche Vendée 82 vs 88 Voiron
Alexia Kusion: 19 pts vs Magali Mendy: 17pts, 12 rbs, 5 stls
Return to the top of Ligue Féminine 2 new page
---
Return to Ligue Féminine 2011-2012 index page
Leave Ligue Féminine 2 news and return to home page
Return to the top of Ligue Féminine 2 new page
ligue féminine 2 picture credits:


womensbasketball-in-france
FIBA

Date created: 09 October 2011
---