2011-2012 Ligue Féminine 2
Reims survive despite 31 points from Kayla Smith
Already now the match-up in the ligue féminine 2 seems interesting with Toulouse and Armentières showing LFB credentials.
Illkirch Graffenstaden's difficult start to the season continues with a home defeat against COB Calais (61-73) despite holding a double-digit lead during the first quarter. With AfroBasket ending the SIG should be back to full strength with the return of Amina Njonkou.
The top scorer for Calais was Manon Sinico firing in 26 points while Mélanie Arnaud had a double-double 16 points and 17 rebounds.
US Laveyron recorded their first victory of the season with a win against Perpignan (51-47) with Aïda Fall being the best player of the match with 19 points and 16 rebounds.
Perpignan are expecting back their point guard Fatou Dieng who is on duty for Senegal in AfroBasket.
The second club that finally recorded a win is Dunkerque Malo by beating Roche Vendée (83-77) that suffer their first defeat.
Dace Pierre-Joseph was the leading player for Dunkerque with 27 points and 14 rebounds supported by Taisiia Bovykina with 14 points while Americain Lynn Scott and Aurélie Durand added 13 points each.
Although Kayla Smith picks up the LF2 player-of-the-week award it was not enough for her side Le Havre to beat Reims (69-71) in overtime. Smith scored a total of 31 points, picked up 15 rebounds and was fouled on 9 times. However she only went 5-from-13 from the free-throw line.
For Reims in their first victory of the season Mélissa Micaletto top scored with 23 points while captain Anaïs Jomby added 16 points.
Armentières made up a 4-point first-half deficit to hand Voiron their first defeat (71-65). Aurélie Carmona (in picture) was Armentières best player with a double-double 26 points and 12 rebounds. Faëza Bouderra's 10 assists were not enough for the hosts to hold on to victory.
For Léon Trégor it was the turn of Marie Butard with 23 points to lead the scoring in their road win against Limoges (68-54). Her team mate Oumou Toure picked up a game high of 17 rebounds while scoring 12 points. For Limoges only Hillary Klimowicz was in double digits with 19 points and 10 rebounds.
In the remaining match Toulouse beat the CFBB (68-52) to remain unbeaten.
Toulouse et Armentières toujours invaincus
Pendant la troisième journée en ligue féminine 2 Dunkerque, Laveyron et Reims célèbrent leurs premières victoires pendant que Armentières et Toulouse restent invaincus.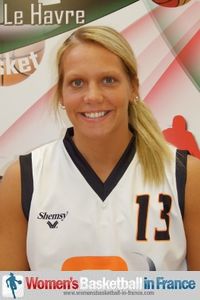 Quelques entraîneurs devraient être soulagés de enfin retrouver le reste de leurs effectifs partis pour l'AfroBasket. La SIG qui reste seule scotché en bas du classement retrouve Amina Njonkou et Perpignan qui perd contre Laveyron se rejouit de revoir leur meneuse de jeu Fatou Dieng.
Reims qui remporte le match contre Le Havre se voit enfin au complet avec la plus grande joueuse de LF2 Astan Dabo (2m03).
Cette semaine, c'est encore une fois une étrangère qui a la meilleure évaluation: Kayla Smith (dans l'images) avec 31 points et 15 rebonds. Pourtant ses efforts ne suffisent pas de remporter la victoire contre Reims.
Evaluations des meilleures joueuses de chaque équipe:
Dunkerque 83 vs. 77 Roche Vendée
Dace Pierre-Joseph: 27 pts, 14 rbs, 3 as vs. Elodie Gérard: 21 pts

Voiron 65 vs. 71 Armentières
Cyrielle Recoura: 15 pts vs. Aurélie Carmona: 26 pts, 12 rbs

Illkirch Graffenstaden 61 vs. 73 COB Calais
Céline Schmitt-Sendner: 14 pts vs. Manon Sinico: 26 pts, 3 as

US Laveyron 51 vs. 47 Perpignan
Aïda Fall: 19 pts, 16 rbs, 2 blks vs. Isabelle Strunc: 6 pts

Reims 71 vs. 69 Le Havre
Mélissa Micaletto: 23 pts, 3 as vs. Kayla Smith: 31 pts, 15 rbs

Limoges 54 vs. 68 Léon Trégor
Hillary Klimowicz: 19 pts, 10 rbs vs. Marie Butard: 23 pts, 7 stls & Oumou Toure: 12 pts, 17 rbs

CFBB 52 vs. 68 Toulouse

Assitan Koné: 15 pts, 9 rbs vs. Carrem Gay: 19pts, 4 stls

---
Return to Ligue Féminine 2011-2012 index page
Leave Ligue Féminine 2 news and return to home page
Return to the top of page
ligue féminine 2 picture credits:


womensbasketball-in-france
Aplemont basket

Date created: 03 October 2011
---