Pays d'Aix Basket 13 have already announced their LFB team roster for 2009-2010
---
---
The LFB team roster for
Aix-en-Provence
for 2009-2010 will completely differ from the one of the current season. There will be seven new players and a new coaching staff.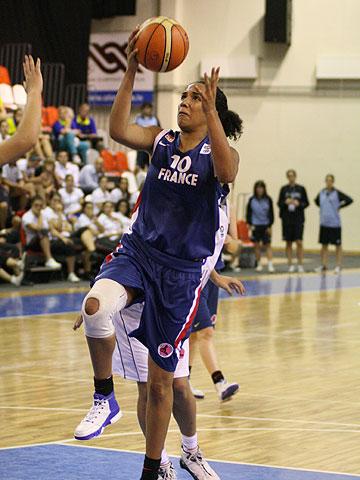 Erik Lehmann's (the current coach) two-year contract has expired and Emmanuel Coeuret, Clermont-Ferrand's head coach will replace him.
Coeuret comes with three players from Clermont-Ferrand: Guiday Mendy, Claudinha Das Neves and Claire Tomaszwski.
Two players from the CFBB 1991 generation Isabelle Strunc and Margaux Okou Zouzouo (right) will start their professional career at the club.
Tiffany Stansbury leaves Union Hainaut Basket and the North of France for the sun of the South of France.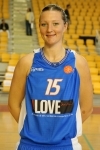 Julie Page (left) is the only player from outside France to join Aix-en-Provence.
She spent three years at the Eastern Washington University before starting her professional career at Saarlouis in Germany 2006-2007.
Page stayed at the club until the end of last season and won a German DBBL cup winner medal.
She played in Italy last season with Banco di Sicilia Ribera.
Page started her basketball career in England and was an England youth international. She was a member of the Great Britain Women EuroBasket Women qualification squad last season (2008) and played in two games.
Anaïs Deas, who is on a two-year contract, is the only player from the professional roster to remain at the club. Anaïs Viale, who comes up from the youth academy, will join the professional roster.
Yacine Séné will be joining USO Mondeville, while K. B. Sharp and Magali Lacroix are heading for Challes-les-Eaux.
Renae Camino will return to play in Australia with the Adelaide Lightning.
Nothing official has been said about the future of Hollie Grima and Lawrence Van Malderen at the time of writing this report.
Fanny Cavallo, who came from the CFBB and had signed for two years, will also be leaving the club.
---
Return from LFB team roster changes to women playing basketball blog
Return from LFB basketball news from around the clubs to LFB news
LFB basketball news picture credits:
Pallacanestro Ribera
FIBA Europe

Date created: 07 May 2009

---