LFB round 9: Villeneuve win in style
Villeneuve win the only LFB derby in the north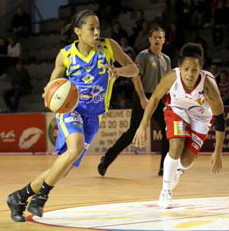 Villeneuve d'Ascq 95-66 Calais (28-19, 16-20, 30-13, 21-14)
The match started in typical derby fashion and the scores came from all over the court with the hosts having the better of the opening exchange (11-9). Kathy Wambe took over the game for Villeneuve with her deep runs and crisp passing that allowed her side to open up a 10-point lead by the end of the first period.
Allyson Hardy with 17 points from Calais was the main factor behind her side to make up the deficit to tie the match (30-30) during the second quarter. Lucie Bouthors took over from Hardy as she was taken off and briefly gave Calais the advantage with a 3-pointer. Géraldine Robert came to the rescue of Villeneuve and her side went into the interval leading (44-39).
Villeneuve's players, now fully concentrated and with Wambe accumulating assists, hit Calais 14-0 in the first five minutes of the third period (58-39). The guests soon trailed by 20 points with only Hardy able to put any points on the board as her side folded (64-42). Villeneuve went into the final quarter with a comfortable advantage (74-52).
Villeneuve increased their lead to 30 points with an 8-0 run and maintained it until the closing seconds to win (95-66).
Villeneuve d'Ascq: Bintou Diémé 14, Jucirama Dantas 14, Luba Drljaca 17, Géraldine Robert 20, Kathy Wambe 11 (14 assists), Fatimatou Sacko 12, Shala Crawford 4, Jasmina Ilic 3
Calais: Allyson Hardy 27, Lauren Neaves 10, Andrea Csaszar 2, Mariame Dia 3, Lucie Bouthors 6, Lina Brazdeïkyte 9, Aurélie Cibert 9 (5 assists)
---
Merith Alexis make good impression on LFB home début
Mondeville 68-65 Arras (22-16, 10-17, 21-21, 15-11)
Arras quickly made themselves feel at home and opened the game with 5-0 start. Caroline Aubert scored the first of 6 points for Mondeville quickly followed by a second trey by her during a lively opening session (9-7). With Sheana Mosch was restricted to 2 points as she was well guarded. So it was Marielle Amand who became responsible for scoring for Arras. An 8-3 run at the end of the first period enabled Mondeville to establish a lead (22-16).
The fatigue from the mid-week effort for Mondeville started to take its toll when they went through a poor shooting phase and only managed to hit 1-of-10 from the field. Although Mondeville kept Mosch scoreless during the second quarter, they had problems in containing Carla Thomas and Amand. As a result the hosts trailed (33-32) at the break.
Arras held to their 1-point lead going into the final period with Mosch and Sylvie Gruszczynski finding their marks. Merith Alexis for Mondeville became an important factor in the closing stages as her team regained the lead (62-57). Arras, still in the hunt, came back to within 1 point (62-61) but suffered two quick hits that broke their concentration. Pauline Jannault hit a 3-pointer for Mondeville and moments later Thomas picked up her fifth foul whose presence in the box was missed as Alexis (1.91m) put in a jump shot 36 seconds from the end and more or less securing the victory for the hosts.
Mondeville: Paoline Salagnac 12 (5 assists), Caroline Aubert 12(11 assists), Ingrid Tanqueray 0, Leane Williams 13, Naura El Gargati 7, Pauline Jannault 16, Meredith Alexis 8
Arras: Julie Bertin 0, Carla Thomas 15 , Bianca Vescan 0, Sheana Mosch 11, Natasa Ivancevic 6, Sylvie Gruszczynski 18 , Mélanie Arnaud 0, Marielle Amant 15 (13 rebounds), Anais Déas 0.
---
Another LFB double-double for Jessica Davenport
Challes-les-Eaux 78-68 Clermont-Ferrand (20-15, 20-23, 16-11, 22-19)
Challes-les-Eaux put their cards on the table right from the start as they went out aggressively to dominate the boards with Martina Luptakova hitting a 3-pointer from her very first shot of the game. Luptakova hit a second 3-pointer as Challes had the better of an early exchange (13-6) and maintained their lead (20-15) by the end of the first period. Although Clermont did not have the advantage on the boards but with clutch shooting went in front for the first time (37-36) through Pauline Krawczyk. However it was the hosts going into the interval leading (40-38).
During the third period Challes' domination on the boards was paid by an early 10-point advantage (52-42) which increased to 18 points after 37 minutes. Clermont managed to reduce the deficit towards the end of the match but it was a case of too little to late.
Challes : Tiffany Jackson 11, Laina Badiane 20 (10 rebounds), Emilie Duvivier 3, Slavka Frniakova 7 (5 assists), Stéphanie Dubois 3, Johanne Gomis 9 7 (assists), Martina Luptakova 10 , Jessica Davenport 15 (12 rebounds above in picture)
Clermont : Anael Lardy 7, Claire Tomaszewski 12, Guiday Mendy 10, Jennifer Butler 7, Pauline Krawczyk 10, Claudia Das Neves 13 (5 assists), Vita Kuktiene 7, Elena Nikipolskaïa 2.
---
The remaining LFB games
Saint Amand blasts Reims 20-0 in the third period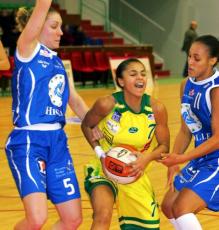 Reims:Anne-Sophie Pagnier 2, Mame Marie Sy 11, Anne-Marie Parau 10, Stéphanie Blanquart , Marie-Frédérique Ayissi 2, Manon Sinico 2, Zuzi Klimesova 11, Marie-Laure Fleury-Kindoki 3, Mia Fisher 7.
Saint-Amand: Marie Fouteret, Mélanie Plust 6, Clarisse Costaz 3, Magali Lopez 12, Fanny Ploegaerts, Tamara Moore 8, Laëtitia Kamba 4, Ines Ajanovic 15, Olena Ogorodnikova 5, Tiffany Stansbury 8.
Mourenx 57-67 Tarbes (15-15, 15-20, 12-14, 15-18)
Mourenx: Virginie Kévorkian 9 (6 assists), Isis Arrondo 0, Géraldine Devaux 2, Justine Agbatan 8, Ana Lelas 0, Béatrice Castets 3, Kaayla Chones 22, Polina Tzekova 13 (10 rebounds)
Tarbes: Kristen Mann 17 , Laure Savasta 15, Jaklin Zlatanova 0, Clémence Beikes 6 , Alexia Kusion 2, Liz Moeggenberg 12, Gisela Vega 15 (11 rebounds), Nelli Nevzorova 0
You will be able to find LFB match reports for the following games on this site by clicking on the following links:
Bourges 76-59 Valenciennes
Pays d'Aix 61-77 Lattes-Montpellier

Return from LFB Match to LFB Information Directory

LFB pictures courtesy of Alain Christy, the Ligue Féminine de BasketBall and L'union press
Date:16 December 2007