Bourges win important LFB match
Hot LFB match between Bourges and USVO
This was the 97th meeting between these two sides in the fixture referred to as "EL classico" in France. With no draws allowed during the regular season one team's unbeaten record was at stake in this match. The home of Bourges Basket,
Prago
, was full to the beam with a capacity crowd. The travelling supporters in their traditional yellow and black shirts were in good voice before the start of the game.
Bourges Basket 76-59 Valenciennes (15-17, 23-16, 22-13, 16-13)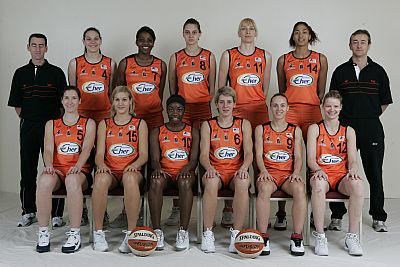 Nobody scored in the first three minutes as both sets of players cancelled each other out.
Emilie Gomis
finally broke the deadlock from the free-throw line and seconds later again to give USVO the first lead of the match (5-0). With the pleasantries over
Sonja Petrovic
responded with a basket for Bourges and the game was on. USVO held on to their advantage after the early exchange (12-8). The game became rather technical and was not pleasant to watch as they continued to exchange baskets with USVO leading at the end of the first period (17-15).
Belinda Snell and Endeme Miyem getting to work during second period
USVO struggled after the short pause and suffered a 7-2 reversal as
Endeme Miyem
went to work on the inside and scored 5 points as Bourges went in front (22-19).
Belinda Snell
(left in picture), better known for her 3-point shooting, also started working inside and off a 3-point play extended her team's advantage (30-25). USVO managed to unsettle the hosts briefly with back-to-back scores by Sabrina Reghaissia and Francesca Zara for USVO and then levelled the match for the last time off the work by
Nicole Ohlde
(31-31).
Bourges went back in front as Snell scored the next 5 points for her side and Miyem then went on to score the last points of the first half. Bourges went into the interval leading (38-33) of which 11 points came from Snell and 12 from Miyem.
Team basketball wins over individuality
Emilie Gomis, already on four personal fouls, left Ohlde on her own to take on Bourges. She battled bravely and when Laurie Koehn came into action and hit a shot from beyond the arc (41-39) it appeared that USVO had found a solution. The joy for the guests was short lived as Pierre Vincent simply changed his line-up as well as his system.
The move of the match involved Snell as she made a blind pass to Emméline Ndongue who then concluded with a basket (47-39). This prompted Hervé Coudray to use a time-out which made no difference as Bourges went on to complete a 15-point run (56-39) to become the largest gap in the game. USVO at least found their legs and with Ohlde still battling away reduced their deficit slightly as they trailed (60-46) going into the final period.
Ohlde continued her one-lady campaign at the start of the fourth quarter as she hit 5 quick points to bring USVO back into contention. (62-51). Afterwards Bourges put a simple system into place to make Ohlde less effective as they paced themselves to victory (76-59).
This result leaves Bourges on top of the LFB table.
LFB match roster:
Bourges: Sonja Petrovic 9, Belinda Snell 16, Cathy Melain 4 (7 assists), Endene Miyem 16, Céline Dumerc 2 (8 assists), Carine Paul 0, Sonja Kireta 9, Florence Lepron 0, Emméline Ndongue 16 (10 rebounds), Nora Bujdoso 4
Valenciennes: Emilie Gomis 5, Laurie Koehn 3, Nicole Ohlde 23 (10 rebounds), Sabrina Reghaïssia 11, Francesca Zara 4, Amélie Pochet 3, Reka Cserny 0, Camille Aubert 2, Krissy Bade 8
Return from LFB Match to LFB Information Directory

1. Bourges Basket team photo is courtesy of the Ligue Féminine de BasketBall
2. LFB match picture with Belinda Snell is courtesy of Olivier Martin from basquetebol.org

Date:15 December 2007