2011 LFB championship play-off semi-final
Bourges and Tarbes win first match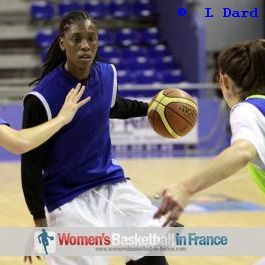 Roneeka Hodges
(in picture) and Brooke Smith paced Tarbes to victory in game one of the LFB championship play-off semi-final encounter against Challes-les-Eaux (72-60). The two Americans scored 18 points each.
Tarbes were without Jelena Dubljevic who served her last match of suspension, while Challes-les-Eaux were unable to play Romy Bär.
Mistie Bass did her best to carry Challes-les Eaux with a game high 22 points while Alexia Plagnard contributed 15 points.
Tarbes must travel to Challes-les-Eaux for the rest of the series.
Bourges Basket lost twice during the regular season to Montpellier but made no mistake in the post season with a comfortable victory (72-45).
Bourges delivered the knock-out blow with a 20-4 run during the second quarter and were not troubled the rest of the way.
Bourges Basket now have home court advantage for the rest of the series.
Tarbes are one win away from another LFB championship final
Tarbes went on the attack from the tip-off with Brooke Smith (left) scoring on the very first attack. She then doubled the advantage a minute later with the second score of the game (4-0).
However Challes scored twice within 20 seconds but once again Smith scored to keep Tarbes in front (6-4).
Tarbes, slightly more aggressive, pulled away with 2 points by Naura El Gargati and 5 points by Roneeka Hodges (13-8).
Aldo Corno, the coach from Challes, was not happy with the officials and started to contest their calls to the displeasure of the home supporters who started to boo.
His strategy appeared to work as Mistie Bass started to throw her weight about and finished the first quarter with 10 of her team's 18 points.
Tarbes weathered the storm and with Hodges hitting her second trey managed to edge the first quarter (22-18).
Tarbes maintained an impressive shooting percentage all the way through the second quarter and led by as many as 9 points before setting with a (38-31) lead going to the locker room.
Tarbes did everything to make home advantage count. Alain Jardel was able to turn his bench more frequently.
Florence Lepron's passing was causing Challes problems while El Gargati (right) did not allow Bass any room to work her magic.
Hodges continued to find her way to the basket as Tarbes went into the final quarter ahead (60-46).
Tarbes stretched their lead to 20 points (66-46) with seven minutes left to play while Bass had a rest.
However Tarbes have a bad habit of letting big leads slip and Challes went on a 12-0 run. But with a minute to play Smith ended the fightback and then Hodges completed the scoring for Tarbes to win (72-60).
Tarbes: Roneeka Hodges 18, Ivanka Matic 15, Pauline Lo 2, Biljana Pavicevic 0, Isis Arrondo 0 (4 assists), Naura El Gargati 13 (8 rebounds), Florence Lepron 6 (7 assists), Darline Nsoki DNP, Brooke Smith 18
Challes-les-Eaux: Bianca Thomas 4, Alexia Plagnard 15, Sabrina Palie 4, Mistie Williams-Bass 2 (8 rebounds), Magali Lacroix 6, Clarisse Costaz 0, Jennifer Fleischer 9 (8 rebounds)
Bourges Basket take first point in LFB post season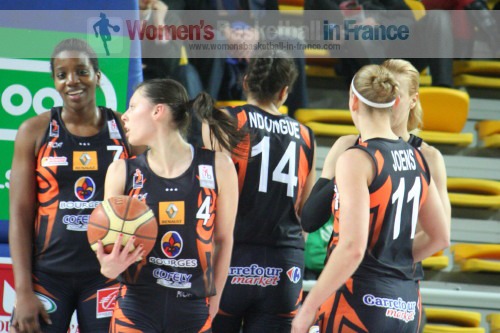 Bourges Basket scored the first 6 points of the game but failed to turn their early advantage into more points.
Montpellier slowly came into the game and went in front for the first time in the game with a Sandra Dijon-Gérardin trademark shot in the paint (14-13) after 8:30 with what turned out to be the last score of the first quarter.
Bourges went to work defensively in the second quarter, allowing Montpelier just 1 basket from open play and a couple of free throws.
Bourges scored 20 points and went into the locker room leading (38-20).
Pierre Vincent turned his bench regularly all through the second half of the match as his team cruised to victory with Paoline Salagnac leading the way with 15 points.
Lattes-Montpellier 45-72 Bourges Basket
Lattes-Montpellier: Virginie Bremont 5, Alicia Poto 5, Iva Perovanovic 13, Cyrielle Hugues DNP, Mathilde Roche 2, Ana Lelas 6, Gaëlle Skrela 2, Sandra Dijon-Gérardin 2, Ines Ajanovic 4, Fatimatou Sacko 6
Bourges Basket: Anaël Lardy 3, Maja Miljkovic 9 (5 assists), Nwal-Endéné Miyem 10, Styliani Kaltsidou 13, Jennifer Digbeu 2, Catherine Joens 6 (5 assists), Paoline Salagnac 15, Emméline Ndongue 10, Ilona Burgrova 8
---
Return from LFB Basketball News to Ligue Féminine de BasketBall index
Go to Women Playing Basketball In France Home Page
Return to the top of page
---
LFB Basketball news picture credits:
womensbasketball-in-france.comLFB
Laurant Dard

Date created: 21 April 2011
---