LFB news from round 9
After a couple of defeats the LFB news from Tarbes is better after beating Aix-en-Provence (93-69). A full match report will be added later in the evening.
Elsewhere Arras had no real problems on the road in winning against Limoges (85-56), while COB Calais made no mistakes this weekend in holding off Basket Landes (76-65).
Bourges Basket had to wait until the last five minutes to break the resistance of Villeneuve d'Ascq and win (66-52). USO Mondeville required the last-minute inspiration of Clarisse Costaz to hold off Challes-les-Eaux (73-69).
At Nantes the old school reunion between Lindsay Taylor from Nantes-Rezé and Mia Fisher from Armentières was won by Taylor who scored 12 points in Nantes-Rezé's victory (69-61).
Toulouse fell at home to Montpellier (76-81) in overtime.
You can read our LFB news game report from Tarbes and brief basketball news from the other games by clicking on the links below or by scrolling down the page:


Tarbes make things hard for Aix-en-Provence

What happened elsewhere in the LFB

Match results and box scores

---
---
Tarbes waited until third period to take control
Tarbes were at full strength for the match and had four players in double digits with Charde Houston finishing the game as top scorer with 18 points.
LFB News: Julie Page 3-of-4 from beyond the arc
But the player of the match was
Fatimatou Sacko
with 17 points and 9 rebounds.
Frida Eldebrink finished with 15 points while Isis Arrondo contributed 9 points and Florence Lepron dished out 6 assists in the victory against Aix-en-Provence (93-69).
Aix-en-Provence, without Ivona Matic who picked up a knock during the week, used only eight players during the game.
Aix' physical game once again came to haunt them with key players getting into foul problems early in the game.
Claudia Das Neves led the scoring with 17 points.
Julie Page (right) fought tooth and nail during the game and contributed 16 points. Tiffany Stansbury and Guiday Mendy added 12 and 11 points each.
Tarbes remain in first place while Aix occupy 13th place.

LFB news game report
Claudia Das Neves and Anne Breitreiner had exchanged three-pointers as the game finally took off (5-5) after two minutes of play.
Aix-ex-Provence were more aggressive with Julie Page and Das Neves in particular causing problems for the hosts.
Isabelle Yacoubou-Dehoui from Tarbes was giving all although she was not so lucky with scoring but she took 8 rebounds during the first quarter. Frida Eldebrink was as usual dangerous from behind the arc.
The two teams traded baskets for the rest of the first quarter with the lead changing hands four times. Yet Aix-en-Provence were edging the first quarter (24-20) with Page hitting a three-pointer buzzer beater for her 9th point of the quarter.
The second period did not start well for Page, who went down at the start and had to leave the court for treatment. Yet she returned later in the quarter.
Tiffany Stansbury came in for Page and scored 4 points for Aix as her side held on to the lead (28-26).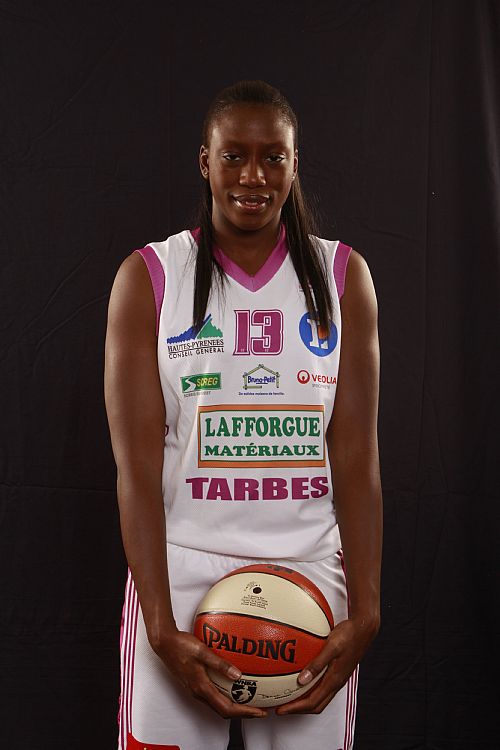 LFB News: Player of match Fatimatou Sacko
Fatimatou Sacko
and Charde Houston recovered their scoring touch for Tarbes to briefly go ahead (31-28).
Aix were back on level terms once more (31-31) after a trey by Anaïs Déas.
However the incident of the quarter was the technical foul given to Claire Tomaszewski after contesting a call with the officials.
This resulted in 4 successful free-throws for Tarbes, of which 2 for Houston who was the fouled player. Breitreiner took the free-throws for the technical.
Hence Tarbes stretched their advantage after 2 more points from Sacko to (40-36).
The last three minutes before the interval were scrappy and Tarbes went into the locker room leading (42-40).
Déas opened the third quarter with the seventh three-pointer of the game for Aix to go back in front. However two minutes later Tarbes were back in front after Isabelle Yacoubou-Dehoui muscled her way in the paint to score.
Tarbes' full court press put Aix under pressure. This resulted in back to back scores for them to open their biggest lead of the game (54-49).
Emmanuel Couret from Aix called an immediate time-out. His tactics worked as Tarbes were not able to continue with their attacks. Instead Das Neves hit a trey to complete a fast break for Aix.
This was the start of a series of three-pointers with Isis Arrondo hitting the first one for Tarbes. This was quickly followed by another three-pointer for Page.
Tarbes stepped on the accelerator and took advantage of the foul problems of their guests to finish the quarter with an 11-0 run to lead (70-56) at the end of the third period.
Eldebrink continued the run for Tarbes with another three-pointer. Houston completed a 16-0 run to bring the game to its end as a contest (75-56) with just under eight minutes to play.
Tarbes scored at will, while Stansbury and Page fouled out for Aix-en-Provence. Tarbes went on to win (93-69).
Return to the top
---
---
The rest of the LFB news from the weekend action
Limoges have a habit of giving teams a scare in the opening with their shooting from beyond the arc. They did the same to Arras. Anaïs Jomby and Awe Gueye were hitting the target on numerous occasions.
Arras, trailing (5-10), weathered the early storm to lead (22-15) by the end of the first period. They stretched their advantage with four minutes into the second period (34-18).
Arras were not troubled for the rest of the game despite the efforts of their hosts. They won comfortably (85-56).
Arras had five players in double digits with Johanne Gomis (left) coming out on top with 17 points. Leilani Mitchell had another solid game with 14 points, 5 assists and 2 steals.
Pauline Akonga-Nsimbo, Sarah Michel, Marielle Amant added 16, 15 and 14 points each.
For Limoges Gueye led the way with 19 points. Kerline Verjuin and Erica Davis contributed 13 and 11 points each.
For the second time this season Villeneuve d'Ascq have fallen apart in the closing minutes of a game.
They went into the final quarter leading against Bourges Basket (45-44) and ended losing the game by 14 points.
Jolene Anderson (14 points) scored the last points for Villeneuve with five minutes left to play (52-56).
Emméline Ndongue and Styliani Kaltsidou (10 points) saw Bourges Basket through with the remaining points as they went on to win (66-52) with Ilona Burgrova leading the scoring with 11 points.
When it comes to LFB news about fireworks, drama and suspense this season, often enough Mondeville and Challes-les-Eaux are involved.
So it comes as no surprise that the match between the two teams went almost to the wire.
In a game where the lead changed hands 11 times, Mondeville, the hosts, appeared to have everything in control leading by 11 points with seven minutes to play. But they forgot to tell Kirby Copeland (24 points) from Challes.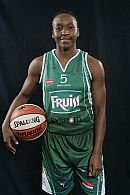 LFB News: Kirby Copeland 24 points
Copeland
went on a scoring spree in which she scored 12 points for Challes to reduce Mondeville's advantage (61-62) with three minutes left to play.
Valeriya Berezhynska (21 points) and Lenae Williams (17 points) experience in these type of US style shoot-outs kept the hosts in front.
But when Copeland came off second best in a collision with Aurélie Bonnan and was taken out of the game that the pendulum swung in favour of the hosts.
Bonnan hit the free-throws for Mondeville. Yet Elina Babkina was on hand to score from down-town to maintain the suspense.
Mondeville leading (66-64) secured the victory with Clarisse Costaz running the show with 1 assist and the last 3 points.
The sad news from the match was the injury to Caroline Aubert from Mondeville late in the final quarter.
Nantes-Rezé went into the locker room leading (43-26) against Armentières and looked set for a comfortable victory.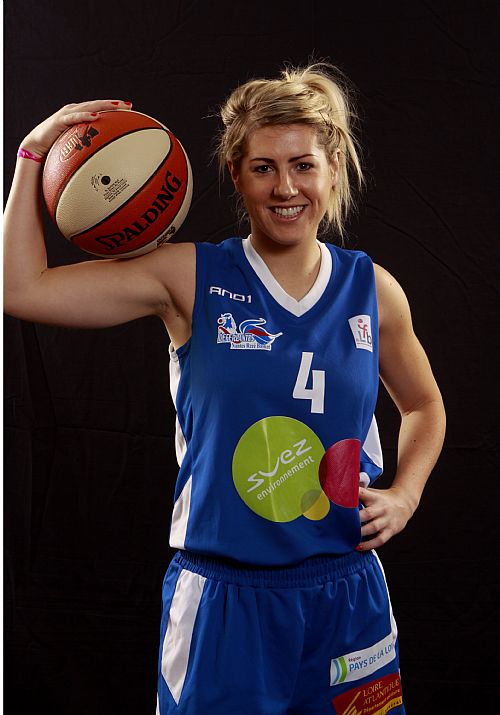 LFB News: Kathleen MacLeod 14 points & 7 assists
The third quarter was not nice to watch but the hosts still had a 15-point lead going into the final period.
With three minutes left to play Laurant Buffard, the head coach from Nantes-Rezé called a time-out with his side leading by only 5 points (59-54).
Clutch shooting from Camille Aubert and Leslie Ardon was not enough to unsettle Buffard's nerve as Cora Duval was scoring for the guests.
However with just under 30 seconds left to play Kathleen MacLeod delivered the knock-out blow with a three-pointer, which then allowed Nantes-Rezé to finally take the game (69-61).
Toulouse and Montpellier had a ding-dong battle for 45 minutes. The two teams were level (58-58) at the end of regulation time.
Toulouse had two opportunities in the last seconds to win the game but it was not to be.
Pauline Krawczyk (25 points) put Montpellier back in control during overtime (66-60).
The remaining two minutes were littered with fouls from both sides.
Toulouse needed to stop the clock while Montpellier did not give Leah Metcalf (20 points) the opportunity to shoot.
Montpellier held on to win (81-76).
COB Calais took control of their encounter with Basket Landes in the second period and did not allow their guests a chance of regaining the lead.
Jennifer Humphrey who played at Basket Landes last season led the Calais attack with 18 points. Joyce Cousseins-Smith followed up with 16 points.
Aminata Konate and Julie Barennes scored 18 points each for Basket Landes, while Aja Parham had a 0 day.
Return to the top
---
LFB round 9 results and box scores
Nantes Rezé 69-61 SO Armentières
Villeneuve d'Ascq 52-66 Bourges Basket
COB Calais 76-65 Basket Landes
Mondeville 73-69 Challes-les-Eaux
Toulouse 76-81 Lattes Montpellier
Return to the top
---
Return from LFB news to Ligue Féminine de BasketBall index
Return to "what new" - WBBiF page
Return to women playing basketball in France home page
LFB News Week 8: Bourges Basket end the perfect record of Tarbes
LFB news picture credits:
Ligue Féminine de Basket - LFB
Date: 14 November 2009
---