Martina Luptakova is 2007-2008 regular season LFB MVP
---
---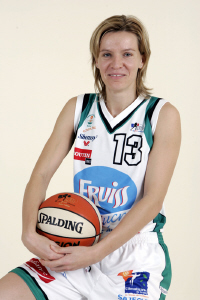 Martina Luptakova-Gyurcsi: LFB MVP 2007-2008
Martina Luptakova-Gyurcsi married just before the season started. She continued using her maiden name though on her team jersey for this season. She has just completed her seventh season in France.
In a challenging season with Challes-les-Eaux, Luptakova, the club's captain, has been the locomotive on the court.
Despite her side's roller coaster season Challes finished fifth at the end of the regular season to secure the club European basketball next season.

Luptakova finished the season with a efficiency ranking score of 17.6 and scored 14.8 points per match. She also finished with 6.7 rebounds, 3.2 rebounds and 2.6 steals per game. Only Caroline Aubert who played in 13 regular season games had a better efficiency ranking score than Luptakova.
LFB Most Valuable Player all star team has the WNBA feeling
Luptakova is joined in the Ligue Féminine de Basketball all star MVP regular season team by four Americans with three players representing the WNBA.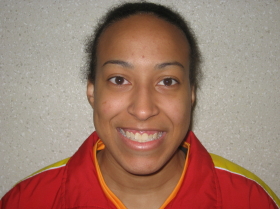 K. B. Sharp finished the season as the most consistent point guard and averaged 11.4 points and 4.2 assists per game. She also played for an amazing 39.5 minutes per game.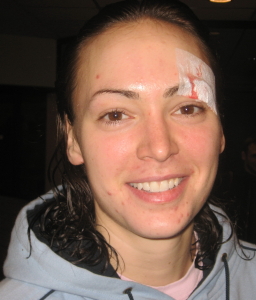 The shooting guard award went to Sheana Mosch, the former Duke star and the only member from the American quartet not to play in the WNBA. She also finished the season as the top scorer with 19.2 points per game.

Off the court ever smiling Tiffany Stansbury took the post for power forward. She finished the season shooting 50% from the field with 13.5 points per game. Stansbury led the Ligue Féminine in rebounding with an average of 10 per game.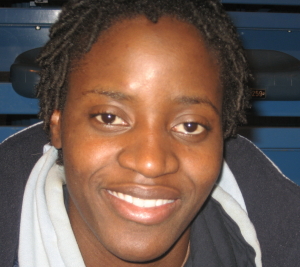 Carla Thomas in her first season abroad has enjoyed her overseas experience. Once she made the adjustments to the French game, she became a very regular all-rounder consistent player. Thomas takes the award for pivot (centre/center) with 14.6 points and 8.5 rebounds per game.
Statistic leaders in Points, Rebounds, Efficiency and Assists
Return from LFB MVP to "What's New" page
Return from LFB MVP to Basketball LFB News
Date: 19 April 2008
---