First LFB match derby went to Villeneuve d'Ascq
---
---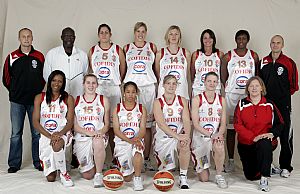 Villeneuve d'Ascq had to do without
Florence Lepron
for the first LFB match of 2009.
She had to serve a one-match suspension because of collecting three technical fouls this season.

In addition Lady Comfort's clearance papers had not been received so she was not able to play for her new club.
Asptt Arras, on a losing streak of six games, were quickly into their stride and scored the first 7 points of the game and led (21-9) by the end of the first period.
Villeneuve picked up during the second period. With Geraldine Robert and Jolene Anderson finding their scoring touch their side made up all but 1 point of their deficit by the interval (33-34).
The third quarter was a typical northern French derby, with both teams matching each other practically basket for basket.
Arras held on their advantage with Bernie Mosby dominating the show as the game went into the final period (47-44).
Villeneuve kept their fans in suspense as they took their time to finally take control of the game during the last period.
Robert, as usual all over the court. Fatimatou Sacko and Milijana Evtoukhovitch did their best to neutralise the threat of with Mosby.
In addition Jolene Anderson showed her versatility in playing two positions. .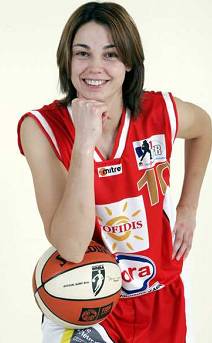 Villeneuve took the lead for only the third time late in the final quarter (56-55) and then finished the game with a 10-4 run to secure the victory and hand Arras their seventh straight defeat
Robert was the player of the match with 17 points and 10 rebounds. Ljubica Drljaca (left) and Sacko had 13 and 12 points each.
Anderson scored 11 points including 3-of-4 from beyond the arc. She also dished out 5 assists and took 6 rebounds.
For Arras Mosby led the scoring with 18 points. Murielle Amant scored 12 points. Sarah Michel scored 11 points. She had 3 steals , 2 assists and fouled out in her first LFB game of the season.
LFB basketball news Box Score
---
Return from LFB Match to "What's New" page
Return from LFB basketball news from around the clubs to LFB news
LFB basketball news picture credits:

Ligue Féminine de BasketBall
Date created: 07 February 2009

---