Third LFB match of the season
---
---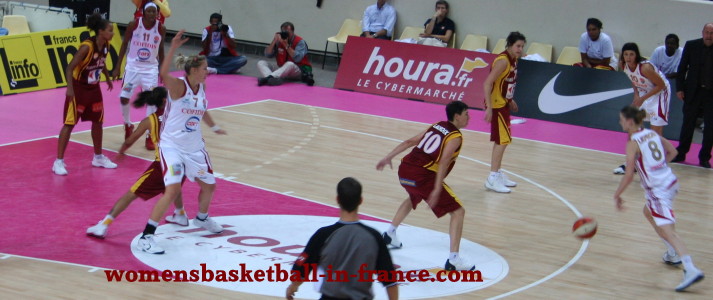 Villeneuve d'Ascq winning third LFB match at the Open
This turned out to be a very technical LFB match with most of the scoring coming from inside the paint. Robert led her team with a double-double 14 points and 12 rebounds.
Djljaca, Sacko and Lepron (5 assists) all finished in double digits with 13, 12 and 11 points respectively while Rehchova also had 12 rebounds.
Aix also had a poor shooting day 32% compared to their opponents' 39% from the field. Grima led the scoring with 13 points and was joined in double digits by Séné and Camino with 11 and 10 points apiece.
The audio interviews with Jolene Anderson and Laurie Datchy can be found after the match report.
---
Open LFB match report
Aix had most of the ball for the first four minutes but were unable to score, while Villeneuve on their few excursions into the opponents' half scored to lead (6-0).
Hollie Grima finally opened the account for Aix. But their luck did not change as the ball only dropped once more for them. So Villeneuve maintained their advantage (10-4) after Fatimatou Sacko hit a jump shot in the paint.
Erik Lehmann decided to call for a time-out with three minutes left to play in the first period. Aix continued to attack.
Back to back baskets by Grima and Magali Lacroix forced Abdou N'Diaye, the Villeneuve head coach, to call for a time-out as the game was tied.
Just before the period ended Mijijana Evtoukhovitch from Villeneuve scored from the land of many to go into the second quarter ahead (13-10).
The second period was very technical as both sides cancelled each other out. Villeneuve held onto the lead (21-20) midway through the quarter.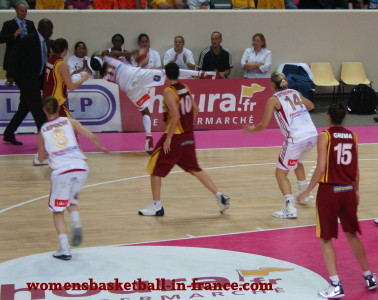 Géraldine Robert tried to fire up her side as she managed to make a score out of nothing after winning rebound after rebound at both ends of the court.
All the same Villeneuve did not manage to score. Once again Aix were back in the game as first Ranae Camino stripped Robert's ball and went on to score.
Aix scored twice more to take the lead for the first time in the game (26-23). However the head coach of Villeneuve changed things around and even used a time-out.
His words appeared to have worked as Jolene Anderson scored with five seconds left to play to put Villeneuve back in the lead.
Yet the joy was short lived as K. B. Sharp drove to the basket and drew the foul on the buzzer. She hit the free-throws for Aix to go into the locker room leading (28-27).
The game was not pretty to watch. But Villeneuve started to take control with Anderson knocking down a three-pointer. Afterwards she scored 2 more points from the charity stripes to give her team the lead. Then Evtoukhovitch extended the advantage (35-33).
Villeneuve were not able to translate their domination of possession into points and only led by 3 points (41-38) with just under 90 seconds to play in the quarter.
Florence Lepron, who was having as solid game, started to run with the ball more and scored on the buzzer to take Villeneuve into the final period with an advantage of 5 points(45-40).
Erik Lehmann, Aix head coach, was not happy with the progress of his side and called a time-out with 7:24 to play. His team was then trailing (44-49). He wanted to take advantage of Sacko's withdrawal from the game on picking up her fourth personal foul.
Aix were having problems moving the ball around the court and fell further behind as Robert hit a difficult jumper for Villeneuve (53-44) to open the biggest lead of the game.
With Ljubica hitting big shots and Robert on fire Villeneuve stretched their lead (60-44) with just under four minutes to play.
Aix were left with no option but to change the game. But time was not on their side as they trailed (48-60) with 1:22 to play.
Villeneuve did not lose control and went on to win (64-52).
---
LFB after-match comments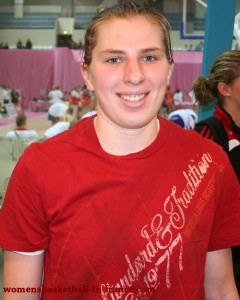 Jolene Anderson
has been to France before and is happy to be back again. She is loving every moment.
---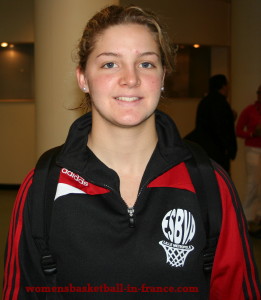 Laurie Datchy speaks in French about her expectations and the work she needs to put in after two years in NF1. She is happy that her team won the first LFB match as it is important for the season.
She also speaks about her summer with France U18, the disappointment in finishing fourth but the joy of qualifying for the U19 Championship in 2009. She also talks about her performance during the championship.

(Note: If you are using Internet Explorer click twice on the triangle)


---
Return from LFB Match to "What's New" page
Return LFB Match 1 from the "Open LFB - Basket and the City 4" to LFB news
Picture credits: Womensbasketball-in-france.com
Date created: 27 September 2008

---