LFB match 6 of the Open in Paris
---
---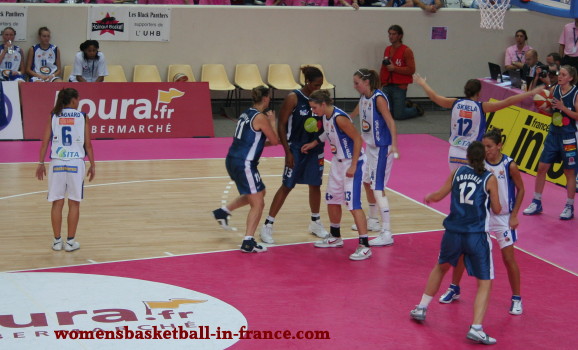 Montpellier's easy victory
Montpellier controlled their LFB match against Nantes and scored 9-of-19 from beyond the arc which Sheana Mosch's perfect record of 5-of-5 and 22 points. She was joined by Pauline Krawczyk with 15 points.
Montpellier put the game out of reach of their opponents with 52-13 scored in the second and third period.
Sandrine Ronot scored 10 points for Nantes.
---
Open LFB match report
Sylvie Gruszczynski opened the scoring with a three-point shot form the top of the key for Monpellier after 90 seconds of observation.
Then Sandrine Ronot hit the first points of Nantes-Rezé in the LFB after 21/2 minutes play with a baseline jumper. Nantes was to take the lead shortly after as their captain Maria Vicente Santa Cruz pulled off a jump shot.
The lead was to change each time a team scored with Nantes holding onto the advantage (8-7). Not much happened except for a long discussion between Michele Van Gorp and the officials after picking herself up after being knocked to the floor.
Montpellier managed to score 5 points during a patchy phase of the first period and we had to wait until the last 8 seconds of this period for something to get the crowd on their feet.
Ronot hit a mid-distance jumper for Nantes. Just before the buzzer Sheana Mosch hit a trey for Montpellier to lead (15-10).
Montpellier controlled the whole of the second period. Midway through it they led by 13 points (27-14).
They scored 11 unanswered points in a six-minute spell before Van Gough ended the drought for Nantes-Rezé (16-34).
Yet Montpellier went into the interval with a 20-point advantage (36-16).
Then Montpellier started the third period with a 13-0 run (49-16). Afterwards they went for a second run 13-0 which included a sequence of 3 consecutive three-pointers to lead (61-19).
They even had the luxury of ending the third quarter with a three-pointer on the buzzer to go into the final period with a commanding advantage (67-23).
The game played itself out with Montpellier giving everybody some time on the court. They won (79-41).
---
Return LFB Match 1 from the "Open LFB - Basket and the City 4" to LFB news
Picture credits: Womensbasketball-in-france.com
Date created: 28 September 2008

---