LFB match report : Nantes-Rezé 44 vs. Pays d'Aix Basket 13
---
---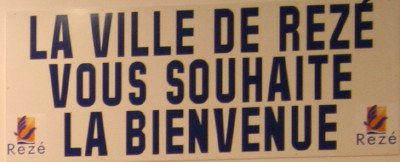 The LFB match was decided in the last seven minutes as Nantes allowed a 10-point lead evaporate to allow Aix to record their second win of the season (56-51).
K. B. Sharp's never-die attitude during the closing minutes was enough to lift her team and inspire Yacine Séné. Séné was to hit the important three-pointer, that turned the game around.
Sharp finished with 13 points and was joined in double digits by Grima and Séné with 12 and 10 points apiece.
Van Gorp was the only player for Nantes-Rezé in double digits with 10 points.
You can listen to some after-match comments from Sharp and Séné from Aix and Chapdelaine from Nantes as well as from both coaches.
---
Aix-en-Provence leaving it late but not too late
Simon Guillou went for a different starting line-up from their previous home game with Leslie Ardon and Doriane Tahane in the starting five.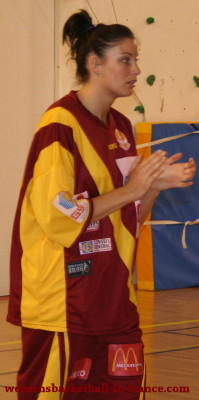 Nantes adopted a zone defense at the start of the match which caused Aix all kinds of problems during the first period. The guests were unable to penetrate the zone and were forced to shoot from far.
Nantes quickly got into their stride offensively with Michele Van Gorp putting the first points on the boards.
The two teams then turned the ball over a few times before Hollie Grima (right), who was left wide open, scored for Aix after almost two minutes of play.
Tahane who was picking rebounds at both ends of the court was rewarded with back to back baskets as Nantes went on the offensive. They opened the first lead of the match (13-6).
Erik Lehman, the head coach from Aix, then called for a time-out and changed his team's offensive system.
K. B. Sharp and Renea Camino started to use their pace to run at the Nantes defense more.
This enabled them to close the first period with a 5-0 run and reduce their deficit to 2 points (11-13) and keep the hosts scoreless for almost four minutes.
Nantes-Rezé finally ended their barren spell with just over a minute in the second quarter with a Van Gorp hook shot.
In the meantime Anaïs Déas was brought into the game for Aix. Her introduction resulted for Sharp playing off guard.
Déas and Kaela Chapdelaine had an interesting battle for several minutes with the latter finally winning the battle.
Chapdelaine managed to get away from Déas and hit her second trey of the match (22-18). At the next time-out Déas was taken out of the game.
The pace of the game had picked up and players from both sides were beginning to hit their shots.
Aix were hampered with team foul problems and Nantes increased their advantage from the free-throw line (28-22).
Nantes went 10 points up as Ardon (right) hit a mid-range jumper and Van Gorp a couple of free-throws to end the first half leading (32-22).
Tahane got the second half off to an explosive start as she battled her way through a host of bodies to lay up right under the basket. Grima responded on the next attack for Aix.
Both sides cancelled each other out defensively as they left no room for open shots.
Once again Van Gorp pulled out a shot from her armoury for Nantes-Rezé to hold on to their advantage (36-24).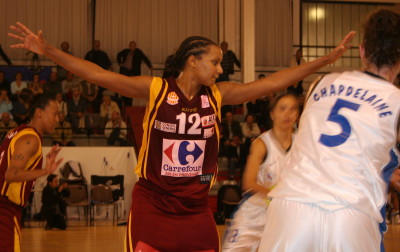 Aix were playing more physically. With scores from Laurence Van Malderen, and free-throws from Séné (left) it appeared that Aix were about to come back.
Van Gorp had other ideas and used her trade mark low post volleyball flick-out to Ardon who hit a baseline three-pointer. Van Gorp followed up with a jump shot in the paint on the next attack (41-30).
Grima ended the homeside's dominance. Yet the reprieve was short lived as Julia Andreyeva scored her first points of the game.
Nantes-Rezé went into the final period leading (44-34).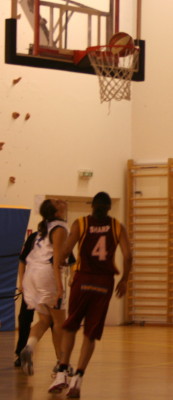 Carine Brossias opened the scoring in the last quarter as she concluded a fast break. However Van Malderen was on hand to score quickly for Aix.
Sharp went on a solo run and was fouled as she went for the basket. She made no mistake from the free-throw line. This action waas quickly followed by a score from Van Malderen.
Chapdelaine was in no mood to let this game escape her side and managed to get from the baseline into the paint before handing off to Brossias who scored and was fouled by Sharp (49-38).
Aix did not panic. When Marie Vicente Santa Cruz was called for a foul on Van Malderen from beyond the arc the pendulum was starting to swing towards Aix.
Van Malderen only hit 1-of-3 from the free-frow line. But a trey from Séné and further baskets from van Malderen brought Aix to within 3 points (46-49).
Sharp then went on a coast to coast and was knocked flying as she attempted to lay up. She picked herself up and scored her free-throws.
Van Gorp was fouled by Séné on the next attack and hit her free-throws to end the 10-0 run by Aix .
Just as the game entered money-time Grima put Aix to within 1 point (50-51).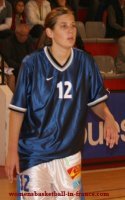 Sharp once again went on one of her runs. She appeared to have been stopped by Brossias (left) when she pulled off a shot to give Aix the lead (52-51) with 47 seconds left to play.
With 27 seconds left Vicente Santa Cruz fouled out as she fouled Sharp. Sharp then hit the free-throws to give Aix a 3-point lead with 14.3 seconds to play.
Nantes had no choice but to foul to stop the game clock. So Grima added 2 more points to the Aix account from the free-throw line (56-51).
Nantes still had 13.3 seconds left to save the game but were unable to score.
Ligue Féminine de Basketball Box score information has been removed from linking site.
---
---
After-match comments
All the LFB match interviews with the exception of K. B. Sharp are in French.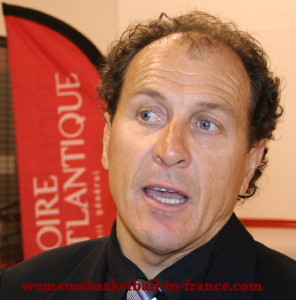 Simon Guillou reflected on the last four plays that his side turned over. He concluded that a lack of concentration at the end may have cost them the victory in this LFB match.



---
Kaela Chapdelaine is looking forward to the time that they can stay focused for the full 40 minutes and commit less turnovers.
---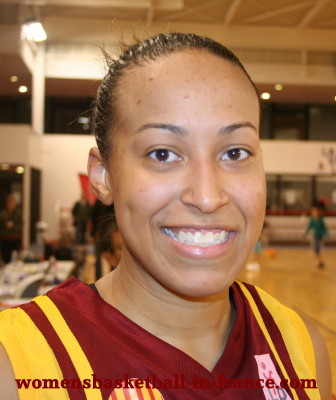 K. B. Sharp was not happy with the first half of the LFB match as nothing worked for them at both ends of the court. However she explained that the key was to remain calm which they did and find ways of scoring.



---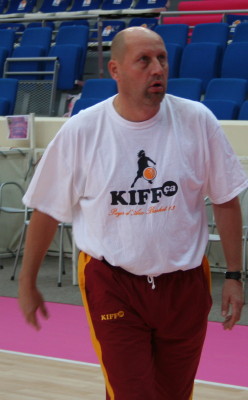 Erik Lehmann was delighted with the victory, especially after fighting back from 12 points down in the final quarter. He was also impressed by the way his team played collectively and that they never gave up which he believed was good for the moral.



---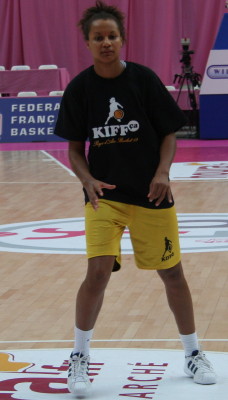 Yacine Séné said that the objective was the victory but it was not easy. She went on to explain that if they did not defend properly then they were making things difficult for themselves.

She was happy to win this LFB match but stressed they still had a lot of room for improvement although they were getting better.




(Note: If you are using Internet Explorer click twice on the triangle)


---
Previous LFB match report: Nantes-Rezé 37 -53 USO Mondeville
Return from LFB match report to women playing basketball blog
Return from LFB match report to LFB news
LFB match picture credits: womensbasketball-in-france.com
Date created: 08 October 2008

---