Clermont-Ferrand win the second LFB match of the Open LFB in Paris
---
---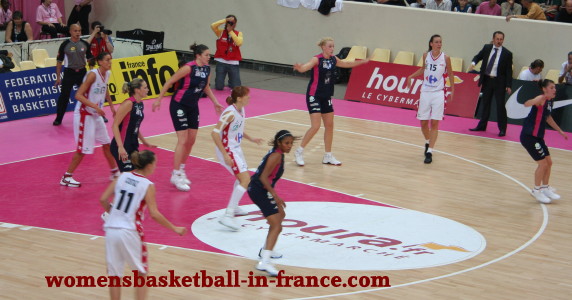 Clermont making a successful début into new season
This was a LFB match success for Emma Randall as she top scored with 25 points in the Clermont-Ferrand victory against Mondeville. She was supported by Claire Tomaszeweski and Claudia das Neves with 19 and 17 points apiece.
Paoline Salagnac led the scoring for Mondeville with 17 points, while Jennifer Digbeu and Nyree Roberts contributed 13 and 12 points respectively.
Emmanuel Coeuret, Clermont's head coach, Emma Randall and Mondeville's captain Paoline Salagnac audio comments can be found after the LFB match report.
---
Open LFB match report
Both sides did not waste much time in attacking each other and left their defense at home.
Roberts
scored first for Mondeville.
Randall
equalised soon after for Clermont-Ferrand.
The two teams continued to trade basket for basket with Mondeville taking the first lead (14-9) on the back of a coast to coast by Salagnac.
Clermont clawed their way back and reduced their deficit to 2 points (17-19) before losing their way slightly at the end of the first period. Ingrid Tanqueray from Mondeville was given all the time in the world to close the period with a buzzer-beater three-pointer from NBA land (27-20).
Mondeville scored the first 4 points of the second quarter (31-20) to open the biggest lead of the match so far. Clermont came storming back with 5 straight points. Thereafter both sides traded basket for basket for the remaining period.
Mondeville went into the locker room leading (43-35).
Das Neves hit a three-pointer to start the second half of the match for Clermont-Ferrand. Randall then did the rest of the scoring to tie the game (43-43).
Salagnac broke Mondeville's six minutes barren spell with one of her drives to the basket to put them back in front again. However Randall continued her personal assault against Mondeville until Salagnac managed to pull her in to committing her fourth foul with 4:14 to play in the third period.
The cat and mouse continued between the two teams with Mondeville going into the final quarter leading (58-55).
The last period turned into a pure shooting competition which favoured Clermont-Ferrand. Tomaszeweski put them in front with a shot from way behind the arc (62-60) with seven minutes to play.
Tomaszeweski was to hit another shot from the land of many a minute later to give them their largest lead of the match (68-64).
Olivier Hirsch from Mondeville called for a time-out. On resumption Pauline Jannault nailed a three-pointer and seconds later Clarisse Costaz put Mondeville back in front with a running jump shot in the paint (69-68).
It was then the turn of Emmanuel Couret to call for a time-out. His team responded well by scoring the next 5 points concluded by a sole effort by das Neves (73-69).
Mondeville came to within 1 point (72-73) after Jannault split a pair of free-throws after Tomaszeweski was called for an international foul at the midway line.
With 26 seconds left to play Randall finished a nice move for Clermont-Ferrand (75-72). This resulted in the Mondeville head coach calling for a time-out.
Mondeville failed in their play leaving the game for Clermont to win (72-76).
---
LFB after-match comments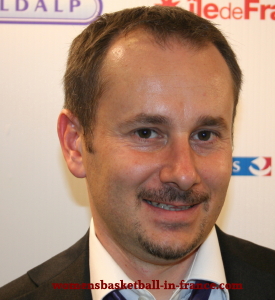 Emmanuel Coeuret
was delighted with and the way his side pushed their opponents into making mistakes. He was full of praise for all his players. He speaks in French.
---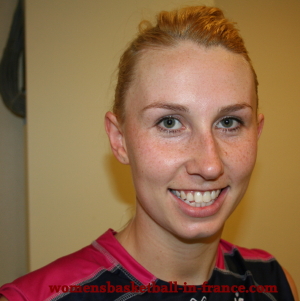 Emma Randall has been in France for just over two weeks and hopes that the club will win silverware at the end of the season.
She also explained some of the issues at the club currently with the possible election of a new president.
Emma likes Clermont-Ferrand and her team-mates and hopes to have a lot of fun while playing basketball in France.
---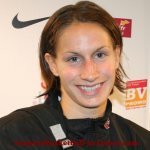 Paoline Salagnac explains in French that they have to pick themselves up for the next match on Wednesday and show what they are capable of as they did not do themselves justice this evening.
---
(Note: If you are using Internet Explorer click twice on the triangle)


---
Return LFB Match 1 from the "Open LFB - Basket and the City 4" to LFB news
Picture credits: Womensbasketball-in-france.com
Date created: 27 September 2008

---