LFB match 7, the North derby match turned into an Open LFB classic
---
---
UHB snatched victory
UHB went to the wire with COB Calais in the last LFB match of the first round at the LFB Open in Paris. Sabrina Reghaissia was at hand at critical moments with 5-of-8 from behind the arc and 23 points in total. However the last act belonged to Sabina Palie as she hit 8 points including back-to-back threes to win the game. She finished on 12 points.
Lauren Neaves had a pick game for Calais with 15 points and 12 rebounds but it was not enough to win the match.
After-match comments from both coaches, Reghaissia, Wambe Neaves and Brazdeikyte can be found after the LFB match report.
---
Open LFB match report
The opening of the match started lively by both sides as they went on the attack. Calais had the better of the early exchange (11-6) with Anne-Sophie Pagnier scoring 5 points.
Fabrice Courcier was not happy with what he was seeing and called for a time-out. Calais' rhythm was broken but UHB were not able to an offensive run.
Joyce Cousseins-Smith was called for an international foul on Bintou Dieme. This decision did not please Cyril Sicsic, the Calais head coach, who then called for a time-out.
Calais continued to move the ball around but were not able to make any shots. With 40 seconds left to play Chioma Nnamaka stripped the ball off Pagnier and went down the court only to be fouled by Pagnier while shooting.
Nnamaka hit her free-throws to level the score (11-11). There were no more points until the second quarter.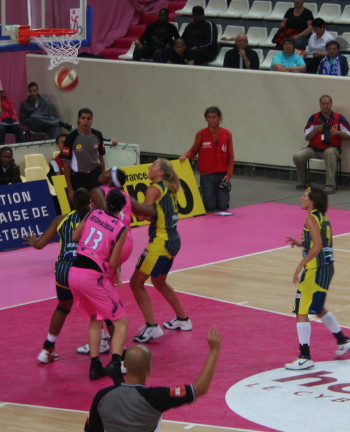 After over two minutes of running up and down Mariame Dia ended the deadlock and scored for Calais.
UHB responded on the very next play on the fast break with Sabrina Reghaissia hitting a trey.
She was to hit a second three-pointer 90 seconds later to open UHB largest lead (17-14).
The game picked up in pace and intensity as neither side was ready to surrender a centimetre of space.
UHB were in foul problem in this period which worked to Calais' advantage as they regained the lead (20-19) from the foul line.
Pagnier went on a coast to coast. This was soon followed by a Lina Brazdeïkyte lay-up (24-19). The 6-0 run by Calais forced Courcier to use a time-out.
However his words did not make much difference. Apart from a three-pointer from Bintou Dieme, Calais fired off the final 8 points leading (32-22) going into the break.
Pagnier was leading the scoring on her COB début with 11 points.
Pagnier continued her festival with a shot from down-town to open the third period. Afterwards Aurélie Cibert went on a coast to coast with a trademark hop-skip jump push-up to finish (37-22) to complete a 13-0 run.
Reghaissia ended the Calais run with a 45-degree jump shot. She was again on hand to score for UHB, this time from behind the arc (29-39).
UHB found it difficult to get past Lauren Neaves who was having a solid game at both ends of the court.
Calais continued to move the ball around. Sicsic even went small in playing Leeman, Cousseins-Smith and Christell Morel at the one time. However a fluffed three-point shot by Cousseins-Smith drove Sicsic mad as UHB scored. He called an immediate time-out (47-38).
Reghaissia had the hot hand for UHB and hit another three-pointer. Meanwhile Dieme finished the scoring from the free-throw line as Calais' advantage was reduced by the end of third period (49-43).
All pleasantries ended as both sides went at each other at the start of the final period. Laetitia Kamba went on a run into the paint and knocked Dia flying but got the foul and hit her free-throw. Clémence Beikes then hit a baseline jumper to bring UHB back to 1 point of Calais (48-49).
Neaves went on a charge in the UHB box and scored with a foul to hit her free-throw.
Calais had one problem and that was Reghaissia who hit another shot from the land of many. Seconds later she managed to recover a ball in the Calais paint and scored again to give UHB the lead (53-52).
With six minutes left to play Sicsic called a time-out. The game was getting hotter and hotter and the lead changed on the next two scores and the teams were back level (55-55) with less than five minutes to play.
Sicsis called for a time-out but Calais' luck had run out as Palie fired in 8 points and then UHB controlled the last two minutes to win the last LFB match of the Open (63-57).
The final LFB matches comments from Basket and the City 4
With the exception of Lauren Neaves all comments are in French. Summaries and picture will be added later
---
Fabrice Courcier UHB head coach
---
Sabrina Reghaissia
---
Kathy Wambe
---
Cyril Sicsic, COB Calais head coach.
---
Lina Brazdeikyte
---
Lauren Neaves
(Note: If you are using Internet Explorer click twice on the triangle)


---
Return LFB Match 1 from the "Open LFB - Basket and the City 4" to LFB news
---