LFB match: UHB's third quarter ended Calais' hopes for victory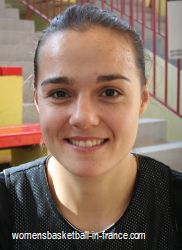 Clémence Beikes
(left) was the star player in the LFB derby between Union Hainaut Basket-Saint Amand and COB Calais.
She finished the game with 18 points, 6 assists, 7 rebounds, 1 steal and 1 block for her evening work as UHB beat Calais (70-53) at home.
About 350 people managed to get to the game despite the snow storms and freezing conditions.
UHB struggled to get going at the start of the match and missed shot after shot allowing their guests to go ahead with (0-8) with three minutes played.
Both sides continued their festival of missed shots with UHB reducing the deficit (6-8) with seven minutes played.
Beikes gave the fans something to finally cheer about with back to back scores for the hosts to go in front. UHB's 14-0 run came to an end with a free-throw from Sylvie Gruszczynski.
Calais' Greek international Pelagia Papamichail finished the scoring for the first quarter leaving her side trailing (11-14).
The second quarter was scrappy. Noémie Lemaire stretched the hosts' advantage (19-11) with 13 minutes on the game clock.
However Calais slowed UHB down with a zone defense while coming back to level terms (27-27).
UHB managed to go into the locker room leading thanks to a buzzer beating triple by Amanda Jackson (30-27).
The LFB derby finally took off in the third quarter. Calais switched for a player-to-player marking system. But this did not stop Emilie Duvivier, Jasmon Covington and Jackson from scoring to go 10 points clear (37-27) with less than three minutes played in the third quarter.
UHB kept up the pressure and with Beikes running the show and Alison Bales stepping up UHP took a 14-point lead into the final quarter (51-37).
Despite Calais fighting tooth and nail in the final quarter they were unable to bring down the deficit.
Union Hainaut: Amanda Jackson 7, Emilie Duvivier 12 (6 assists), Clémence Beikes 18 (6 assists), Emilie Silbande-Petiteau DNP, Noémie Lemaire 10, Céline Girard NP, Laëtitia Kamba 7 (13 rebounds), Jasmon Covington 12, Elsa Martins DNP, Alison Bales 4
COB Calais: N'Deye N'Diaye 3, Sylvie Gruszczynski 6 (5 assists), Mélanie Devaux 7, Aurélie Cibert 7, Mélanie Arnaud 6, Manon Sinico 6, Pelagia Papamichail 10, Brigitte Ardossi 8
---
Return to the index: LFB games for the current season
Return to Ligue Féminine de BasketBall index
Go to Women Playing Basketball In France Home Page
Return to the top of page
---
Picture credits:


Womensbasketball-in-france.com

Date created: 18 December 2010

---