LFB match: Tarbes stroll to victory against Nantes-Rezé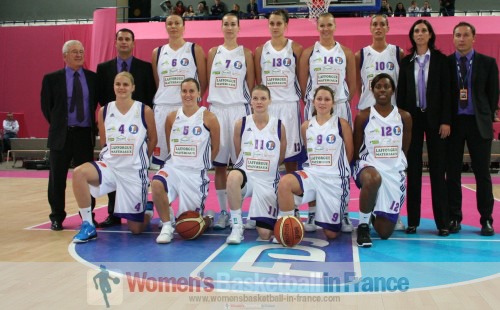 Tarbes Gespe Bigorre who were without Ivanka Matic for this LFB match had the best start with a (6-0) opening. But they relaxed a little too much allowing their guests with the three-point shooting of Yuliya Andreyeva to take the first quarter.
However from the second quarter onwards Tarbes controlled the game and by the final quarter Nantes-Rezé conceded defeat (70-42).
Ana Cata-Chitiga was the match winner for Tarbes. She was all over the court and top scored with 16 points and picked up 9 rebounds.
All the players from Tarbes scored in this match with Jelena Dubljevic and Vaida Sipaviciute finishing in double digits with 10 points while Florence Lepron dished out 9 assists.
For Nantes-Rezé Emilija Podrug and Yuliya Andreyeva led the way with 16 and 11 points each.
You can read our LFB game report below:
LFB game report: Tarbes kept it simple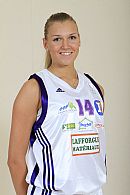 Tarbes were quickly into their stride with 4 quick points by Vaida Sipaviciute and a basket by Ana Cata-Chitiga for a (6-0) start with a couple of minutes played.
Yuliya Andreyeva started the revolt for Nantes-Rezé with a triple which was quickly followed by a couple of points by Mame-Marie Sy-Diop.
Joyce Cousseins-Smith complete the 7-0 run for Nantes as her side briefly went in front.
Both teams were made to work hard for their points. Tarbes regained the advantage with back to back scores by Jelena Dubljevic.
However Nantes edged the first quarter (14-12) with a second triple by Andreyeva.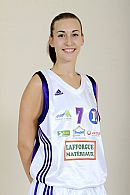 Tarbes stepped on the accelerator at the start of the second quarter with back to back points from Pauline Jannault-Lo (right) before taking control with Naura El Gargati and Cata Chitiga (10 points in the first half) going to work inside.
The coach from Nantes-Rezé Laurent Buffard was forced to call his first time-out after Erin Thorn hit a triple (25-18) with six minutes left in the quarter.
Tarbes were forced to finish the quarter without Dubljevic. Yet they continued to stretch their advantage (31-21) with a couple of points by Darline Nsoki.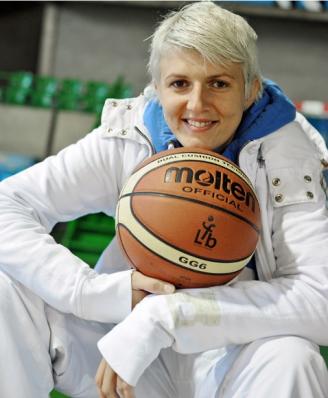 Nantes-Rezé's troubles in scoring continued (9-from-28 in the first half) despite Emilija Podrug (left) scoring her 8th point of the match. Tarbes ended the first half with an advantage (31-23).
Nantes encountered more difficulties at the start of the third quarter with 3 team fouls in less than 60 seconds.
Only after three minutes the first points of the quarter were scored through Thorn.
Podrug replied on the next attack for Nantes. Then it was one-way traffic in the direction of Tarbes as they went 14 points clear (39-25).
Buffard had no option but to call a time-out with 24 minutes on the game clock.
Tarbes' lead grew to 17 points with a minute remaining in the quarter. Jenna Smith and Podrug closed the scoring as Nantes reduced their deficit going into the final quarter (33-46).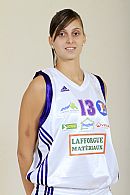 Podrug opened the scoring in the final quarter for Nantes. But it was Tarbes with Dubljevic, Jannault-Lo and Sipaviciute hitting the target.
Despite 5 points by Andreyeva, Tarbes were on a run and went 20 points clear through Cata Chitiga (right) (60-40) with six minutes remaining in the game.
Any chance of Nantes coming back disappeared with Andreyeva picking up her 5th foul with five minutes left to play.
Alain Jardel introduced Bulgarian youth international Hristina Tyutyundzhieva during the last three minutes who managed to score and pick up 3 rebounds as Tarbes cruised to victory (70-42).
Tarbes: Jelena Dubljevic 10 (4 assists), Erin Thorn 9, Pauline Jannault-Lo 8, Marija Eric 2, Naura El Gargati 5, Florence Lepron 6 (9 assists), Darline Nsoki 2, Ana Maria Cata Chitiga 16 (9 rebounds), Vaida Sipaviciute 10, Hristina Tyutyundzhieva 2
Nantes-Rezé: Florine Basque 0, Caroline Aubert 0 (6 assists), Joyce Cousseins-Smith 2, Emilija Podrug 16, Mélanie Plust 5, Allison Hightower 2, Yuliya Andreyeva 11, Mame-Marie Sy-Diop 2, Jenna Smith 4, Sabine Niedola 0
---
Return to the index: LFB match for the current season
Return to Ligue Féminine de BasketBall index
Go to Women Playing Basketball In France Home Page
Return to the top of page
---
LFB match picture credits:
womensbasketball-in-france.com
LFB
20 minutes

Date created: 28 November 2010

---