LFB championship play-off finalists are known
---
---
The LFB championship play-off semi-finals did not go to game three in either games as Bourges Basket and Lattes Montpellier won their series 2:0.
Both games are available on the video demand section: LFB championship play-off which you can reach by clicking on this link: LFB Championship Semi-final series Live on LFB TV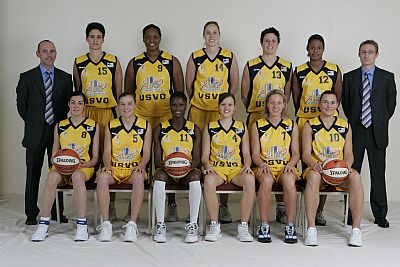 USVO ended LFB history on a sour note
USVO's disappointing season came to an end when Aurélie Bonnan hit the last basket of the match three seconds before the final buzzer.
With this defeat USVO closed their chapter in the history of French Women's basketball. The identity of the merger USVO/Saint Amand is not known yet.
The match itself was everything expected of a play-off match: passion, tensions, tears, magical moments and joy.
USVO ended the first period in front (23-21) as Francesca Zara hit a period-ending buzzer beater. Montpellier recovered their composure and went into the lead (30-28) midway through the second quarter. USVO switched to a full court press for a while and then regained the advantage (38-35).
USVO were to lose control of the game when Sabrina Reghaissïa was called for an unsportmanslike foul on Grace Daley. This just fired up the ladies from Montpellier as they finished on a 7-0 run and went in front before going into the locker room (42-38).
Grace Daley continued her assault on USVO and Montpellier stretched their lead (51-43). The game became increasingly hot on and off the court. The coaching staff of USVO, Hervé Coundray and his assistant Cédric Binault picked up technical fouls.
USVO trailed (47-55) going into the final period. But with the team all fired up they made up the deficit and passed in front (64-62) after Sarah Michel hit a three-pointer from way behind the NBA three-point line. This action was followed by a three-point play (2+1) by Emilie Gomis.
With two minutes to play Montpellier somehow found the energy to hit back and level the score through Daley and Elodie Bertal (66-66). Bonnan finished the job and the defending champions were out!
LFB championship play-off Box Score
---
Injury did not help the cause of Villeneuve d'Ascq
Villeneuve had only six fully fit players for this match and were never really able to settle in. Bourges never allowed Villeneuve to settle in the game and were leading (11-2) after only five minutes (24-7) by the end of the first period.
Villeneuve made a game of it during the second and third period but were never in a position to trouble their hosts and went on to lose (72-44).
The two teams will meet again in the Coupe de France final later in May.
LFB championship play-off Box Score
Ligue Féminine de BasketBall Championship Play-off semi-final results
Bourges Basket 72-44 Villeneuve d'Ascq (Bourges Basket sweep series 2:0)
USVO 66-68 Lattes-Montpellier (Lattes-Montpellier sweep series 2:0)
---
Return from LFB Championship play-off to Basketball LFB News
Look back at the first leg report
Team pictures courtesy of Ligue Féminine de BasketBall


Date: 01 May 2008
---