LFB championship play-off starts with a bang for Lattes-Montpellier
---
---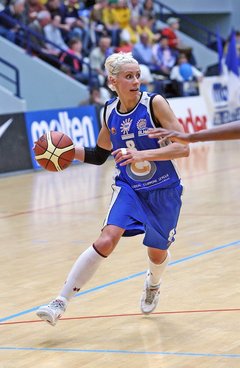 Montpellier must have wished that the LFB championship play-off was of the same format than the LFB challenge round. They crushed USVO by 24 points to win the first match in the three game series (83-59).
Gunta Basko from Montpellier was the player of the match as she compiled a double-double, 23 points and 10 rebounds. She also dished out 4 assists in her 27-minute performance.
USVO were transparent for most of the match. If there were not the consistency of Sabrina Reghaïssia with 16 points and the late burst of Francesca Zara the end result could have been worse.

At the beginning of the game both teams adopted a player to player marking system. Kathy Bade scored on USVO's first attack. Montpellier took a while to settle. They finally drew level after Basko entered into the zone before handing the ball over to Aurélie Bonnan who finished the move with a simple tap-in.
Sandra Dijon used her experience early on to gain a psychological advantage over her markers as she provoked a couple of fouls. Dijon then exploited the extra space in drawing her markers closer, which gave her the chance to feed the ball out to Basko who hit a three-pointer that gave Montpellier the lead for good (5-2).
Basko continued to cause problems all over the court and Montpellier went on a 14-0 run (19-5). The last action for Montpellier came from Charline Servage who hit a difficult shot from the land of many.
USVO found it difficult to break down Montpellier's defense. They brought on two youth players Camille Aubert, who was to hit a trey on the period-ending-buzzer, and Sarah Michel. Both players were aggressive and helped USVO reduce their deficit (23-12) by the end of the first period.
Montpellier continued the indivudal defence and after a series of three-pointers, two from Grace Daley and one from Gaëlle Skréla they stretched their lead to (36-17).
Valéry Demory, the Montpellier coach, decided to play 2-3 zone while USVO continued to mark the players individually.
Reghaïssia hit a trey for USVO. This was Valenciennes' last point from open play in the period. Hervé Coudray changed his defensive options after Basko hitting Montpellier's fourth three-pointer of the quarter.
Bade came on and had the task of marking Dijon. She did a good job and forced Dijon into committing a couple of fouls. Dijon, then in foul trouble, had to sit out the remaining three minutes of the second period. However USVO were unable to take advantage of Dijon's absence and Montpellier went into the interval leading (44-26).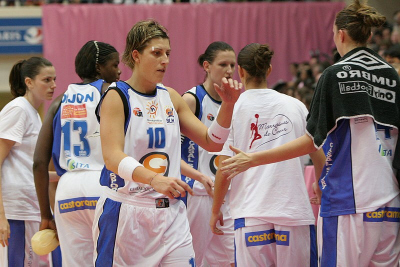 With a number of players from Montpellier hit by a bug this week and some still protecting injuries, the Montpellier's head coach turned his bench. He made numerous changes in order to conserve his players' energy. But USVO were not able to make any inroads as key players failed to make an impression. So Montpellier increased their lead (60-39) by the end of the third period.
During the final quarter Montpellier and USVO played all their youth players as the game fizzled out. Michel from USVO and Servage from Montpellier took full advantage of the opportunity. The loudest cheer of the evening came when Manon Vierne hit a baseline three-point jumper (79-52) for Montpellier.
Basko continued her offensive festival and finished the game with Montpellier's last 4 points. Zara scored the very last point of the match with a simple three-pointer as the clock ran down.
Montpellier have four days to recover before they go into the second match in the series.
LFB championship play-off Box Score
Bourges Basket beat Villeneuve d'Ascq
On Friday night
Belinda Snell
scored 24 points as she led Bourges in scoring when they beat Villeneuve d'Ascq for the fourth time this season to take a 1:0 lead in the series.
Bourges went into the interval with a slight advantage (37-35). But they lost their lead briefly as Jasmina Illic, who was on fire, put Villeneuve in front by scoring from beyond the arc (39-38).
Bourges then put their foot on the accelerator and put an 8-0 run together. They never looked back and went to win (75-60).
LFB championship play-off Box Score
Ligue Féminine de BasketBall Championship Play-off semi-final first leg results
Villeneuve d'Ascq 60-75 Bourges Basket
Lattes-Montpellier 83-59 USVO
---
Return from LFB Championship play-off to "What's New" page
Return from LFB Championship play-off to Basketball LFB News
Look back at the Championship Play-off preview
Pictures are courtesy www.basquetebol.org


Date: 26 April 2008
---
---