LFB challenge round quarter-final news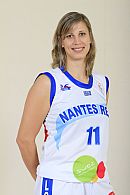 The first night of LFB challenge round action was intense with suspense all the way to the final quarter in three games.
However the star of the evening was Yuliya Andreyeva (left) from Nantes-Rezé who gave a master class in the art of three-point shoots connecting 10-from-13 attempts.
She finished with 30 points as Nantes-Rezé came out on top (79-64).
Villeneuve d'Ascq played Arras for the sixth time this season and it was drama all the way with the two teams finishing tied (77-77).
Union Hainaut Basket were beaten at home by USO Mondeville (60-70) in the most technical game of the evening.
Aix-en-Provence were unable to hold back Basket Landes (52-76).
Julie Barennes ended the match with the shot of the evening on the buzzer from mid court.
The quarter-finals will be concluded this weekend with matches on Friday and Saturday, 22/23 April 2011.
Basket Landes have one foot in the LFB challenge round semi-final
Basket Landes started the game aggressively and within five minutes led (12-5). They maintained that advantage until the end of the first quarter (23-16).
Despite losing Jennifer Humphrey, who collided with Hollie Grima during the second quarter, Basket Landes went into the locker room ahead (35-29).
Aix-en-Provence, already without Sabrina Réghaïssia, also had to to do without Natalie Hurst for the whole of the second half.
Basket Landes took full advantage and with Julie Barennes (left) leading the way opened up an 18-point lead going into the final quarter (54-34). They then paced themselves to victory.
Aix-en-Provence 52-76 Basket Landes
Aix-en-Provence: Emmanuelle Gorjeu 7, Claire Tomaszewski 6, Zoi Dimitrakou 18 (4 steals), Isabelle Strunc 2, Anaïs Viale 3, Natalie Hurst 2, Manon Cuomo 0, Sabrina Réghaïssia DNP, Viviane Adjutor 0, Hollie Grima 14
Basket Landes: Aminata Konate 0, Katarina Manic 7 (5 assists), Bineta Diouf 6, Anaïs Le Gluher 9, Julie Barennes 19 (10 rebounds), Julia Borde 5, Marion Laborde 13, Laurie Lapeyre 4, Jennifer Humphrey 13
---
LFB challenge round defending champions get off to a good start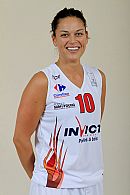 The battle between former college team-mates Kristen Mann (in picture) and Lindsay Taylor lived up to its billing during the first 20 minutes with both players leading the scoring with 11 and 10 points each.
Charleville-Mézières took advantage of Nantes-Rezé's reduced roster to finish the first half with an 11-3 run to go into the interval in front (40-33).
Laurent Buffard, the coach from Nantes-Rezé, was upset that his players allowed Djéné Diawara and Mann to combine for 22 points during the first half and switched to zone for the second half of the match.
He was rewarded with a 17-0 run by Nantes which gave his team a 10-point advantage (50-40) with 26 minutes played.
Charleville-Mézières fought back with an 11-0 run of their own but were unable to hold the lead for long.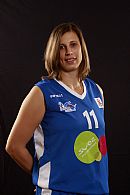 Mélanie Plust and Yuliya Andreyeva (right) with shots from beyond the arc enabled Nantes to lead (56-51) going into the final quarter.
Charleville-Mézières continued to play aggressively and when Mann was left wide open from just beyond the arc the teams were level once more (58-58).
Andreyeva then went on the war path hitting 4 three-pointers in a row for her side to to gain the upper hand (70-63) with just under three minutes left to play.
Taylor and Mame-Marie Sy-Diop took over the scoring for Nantes-Rezé. But Andreyeva had the last word with another trey.
Charleville-Mézières 64-79 Nantes-Rezé
Charleville-Mézières: Amel Bouderra 5 (6 assists), Belinda Mboma 0, Sarra Ouerghi 8, Alexia Kusion DNP, Ekaterina Dimitrova 12 (4 steals) , Kristen Mann 19 (4 assists), Djéné Diawara 15 (12 rebounds), Eléonore Grossemy 5
Nantes-Rezé: Florine Basque 0, Caroline Aubert 3 (11 assists), Joyce Cousseins-Smith 0, Mélanie Plust 3, Yuliya Andreyeva 30, Mame-Marie Sy-Diop 11 (11 rebounds), Lindsay Taylor 22, Sabine Niedola 10
Villeneuve against Arras: game six
The sixth meeting between these clubs this season was a ding dong affair with both coaches having a hard time controlling their emotions.
Arras led for most of the match. Yet with 29 seconds left to play they lost the advantage when Carla Thomas banked a shot in for the hosts.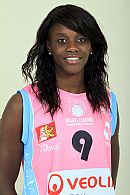 Worse was to come for Arras when Marjorie Carpréaux went 2-of-2 from the charity stripes.
Arras had 12 seconds to save the game with Bruno Blier asking for two time-outs to draw up a play.
Arras used up only 9 seconds when Johanne Gomis (left) hit the trey to tie the game.
Although Villeneuve did manage to get a shot off on the buzzer it failed to drop. The next LFB derby between the teams will have to end with a winner.
Villeneuve d'Ascq 77-77 Arras
Villeneuve d'Ascq: Carine Paul 0, Ingrid Tanqueray 7 (4 assists), Marjorie Carpréaux 9, Laurie Datchy 7, Elodie Gomis 19 (4 assists), Carla Thomas 13, Olayinka Sanni 18 (11 rebounds), Adrijana Knezevic 4
Arras: Leilani Mitchell 7 (4 assists), Laury Aulnette DNP, Krissy Badé 4, Sarah Michel 5, Johanne Gomis 14 (4 steals), Olesia Malashenko 13, Adja Konteh 6, Marielle Amant 6, Aija Putnina 4, Pauline Akonga N'Simbo 18
---
A rather technical LFB play-off tie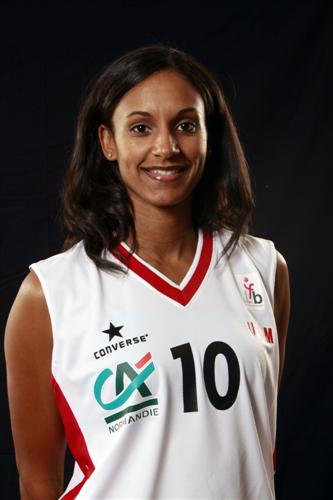 Jasmon Covington returned to UHB after her injury. Her side was trailing (11-12) when she made her appearance. Her presence on the boards sparked her team into action to finish the first quarter leading (18-15).
UHB held on to the lead for the first seven minutes of the second quarter (30-25) to then collapse.
Mondeville went on a 13-0 run and headed into the locker room leading (38-30) to never look back.
Lenae Williams (right) and K. B. Sharp paced Mondeville the rest of the way with a combined total of 31 points and 12 assists.
Union Hainaut 60-70 USO Mondeviile
Union Hainaut: Amanda Jackson 8, Emilie Duvivier 16, Clémence Beikes 11 (5 assists), Emilie Silbande-Petiteau 8, Noémie Lemaire DNP, Céline Girard DNP, Laëtitia Kamba 4, Jasmon Covington 13, Elsa Martins DNP, Alison Bales 0 (11 rebounds)
USO Mondeville: Touty Gandega 0, Anne-Sophie Pagnier 3, Esther Niamké-Moisan 0, Aija Brumermane 5, K. B. Sharp 14 (6 assists), Lenae Williams 17 (6 assists), Yacine Séné 7, Pauline Thizy 0, Aurélie Bonnan 12 (14 rebounds), Valeriya Berezhynska 12
---
Return from LFB Basketball News to Ligue Féminine de BasketBall index
Go to Women Playing Basketball In France Home Page
Return to the top of page
---
LFB Basketball news picture credits:
LFB


Date created: 20 April 2011
---